At 500 Service Hours: What You Need to Know
At 500 Service Hours: What You Need to Know
Release date:2022-09-13 18:00:45
If your machine hasn't seen the inside of a service bay in a while, it might be time. The last thing you want is for your equipment to depreciate, especially if it's preventable. Even so, most people let their machines operate well past their recommended service intervals. According to IIoT World, 82% of companies report they suffer from unplanned downtime. A broken machine will cost you time, money and stress. Let's skip all that.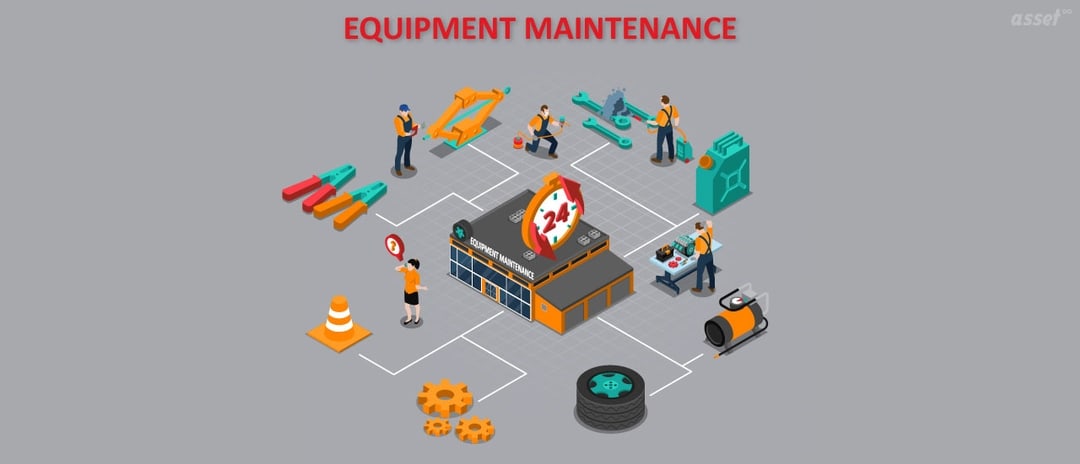 How Do I Know What Maintenance I Need?
Different circumstances dictate exactly what you need to do to your machine. It's worth your time to consider each of these factors before you bring your machine into the service bay:
Model - Every manufacturer has different required and recommended services. Models from the same OEM can vary when simple maintenance like fluid and filter changes need to be performed.
Age and State - It's only natural that older machines require more maintenance than newer machines. Parts might need to be replaced more often. This is doubly so if you have put off bringing in the machine; you can expect there will be a few things that need to be fixed which may not be detailed in the owner's manual.
Type of Work - Where you're using your equipment and how you're using it can affect different parts of the machine. Quarry work, for example, will quickly wear down the rollers and sprockets, and likely cause dents and scratches to the body. Road work, on the other hand, will wear down your tracks.
Budget - You may not always know what prior service has been done, especially if you have a pre-owned piece of equipment. Be prepared for costs that may be higher than you expect, and have a good understanding of how much you're willing to spend to improve the state of your machine.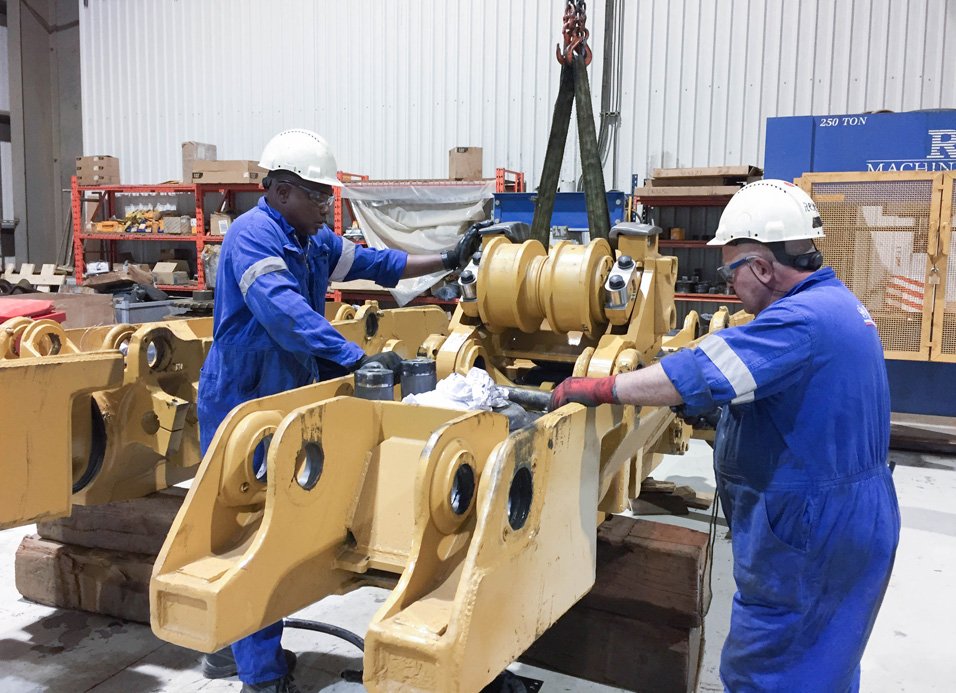 Daily and Weekly Checkups
It's never a convenient time to bring your machine in for service. But, here's an idea - double-dip and have the techs do regular, routine maintenance while you're there. Might as well make the trip even more worth it. First and foremost, you should inspect and refill all of your fluids. This includes your engine oil, fuel, hydraulic fluid and coolant. It's also important to confirm all moving parts in the machine are properly greased, and there are no visible leaks in the water separator, engine or hydraulic system. If your machine has tires, it's also worthwhile to check the pressure and fill them with air accordingly. Not only will this protect the tires themselves, but it will help prevent unnecessary wear on the undercarriage.
Issues with any of these parts could very quickly lead to a breakdown. Having a professional check these for you will prevent these issues from costing you time and money on the jobsite.
On the Outside
Now that you've reached the 500 service hour mark, your machine has likely experienced some wear and tear. This is your opportunity to identify and fix these issues. However, it's much more difficult to find issues on a dirty and clogged-up machine. Dirt, dust, mud, rocks and other debris build up fast. And although we might not like to admit it, keeping a piece of construction equipment clean can seem a bit redundant. With your machine in service, however, you have the opportunity to start fresh.
Once clean, give the exterior of the machine a very thorough check. Likely, at 500 hours, you'll find common wear items have degraded, so it is time to replace them. This can include anything from miscellaneous bolts to sprockets. Depending on the kind of work your machine carries out in its day-to-day operation, some of these might even be damaged. You'll want to replace these to prevent further damage to the machine.
For safety reasons, you should check that all the decals on the machine are in clean and legible condition. If not, finding replacement decals is inexpensive and easy to apply.
You'll also want to check the natural wear of your tracks, rollers and tires. These can be very expensive to replace, but operating with thin, worn or damaged tires can cost you much more.
Attachments such as buckets are also worth inspecting at this time. This is especially true for the teeth on your attachments, as they both wear down quickly and are easy to replace. Other attachments might have dents or nicks in their blades or be missing smaller parts. Replace them and prevent further damage to more integral parts of the equipment.
The cab is just as important to the health of the machine as any other part. Things like cracks in the windshield might seem minute now, but they can quickly grow into giant breaks. You can find replacement glass to fix these issues, as well as replacement mirrors, step ladders and other items to fix up your cab. It is extremely important at this time to check that your controls are in top shape – not only for the overall health of the machine, but for the safety of the operator.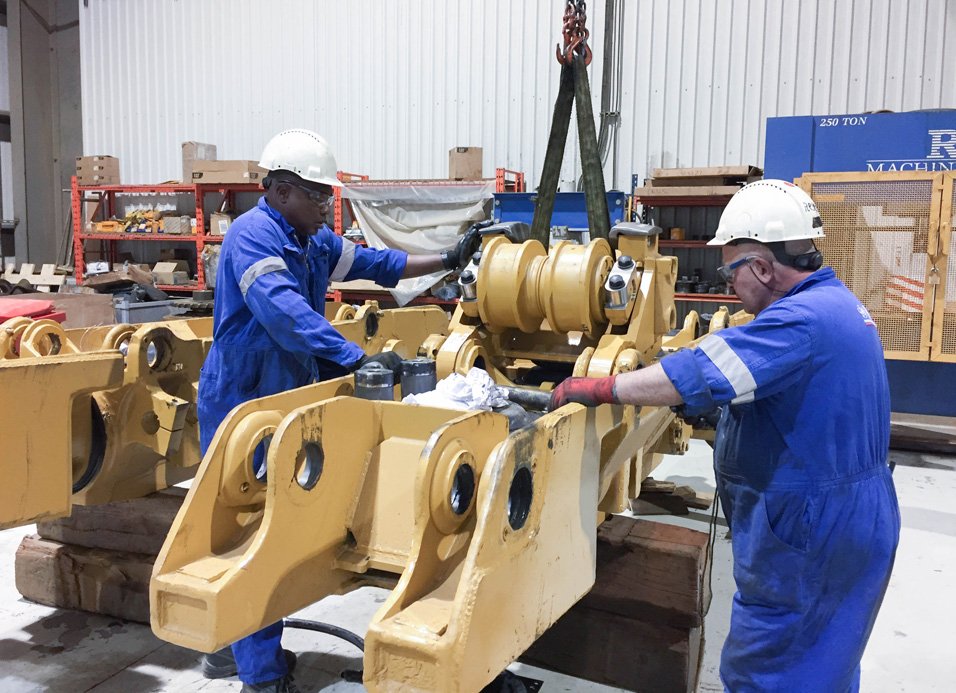 Under the Hood
With the exterior of your machine cleaned and serviced, it's time to turn to the internal parts. Each service mark - 250, 500 and 1,000 hours, will always include draining and replacing all fluids. This is different from the daily task of simply replenishing the engine oil, coolant and hydraulic fluid. Not only does fresh oil allow your machine to run more smoothly, but you will also want to flush all of your tanks and hoses while servicing. Then, refill the empty tanks with new fluid.
While your hoses and tanks are empty, it is best to inspect them for cracks, leaks and even dry rot. Even with brand new fluid, your machine will experience more breakdowns and long-term issues if these latent problems persist. Replacement hoses are easy to find and worth your time to install.
Other items on your machine have also experienced general wear and tear, especially if it's been awhile since your equipment was serviced. Belts, for example, are liable to fray or tear with regular use. This can also be said about bearings and o-rings, as well. As smaller parts, they are easy to overlook, but definitely worth taking the time to closely inspect and properly replace.
Another essential piece of 500-hour service is replacing your filters. In particular, you absolutely need to replace your fuel filter by this point. Likely, you'll also want to replace your oil, hydraulic and air filters. You can find individual filters, as well as filter kits to make replacement much easier.
Having an eye for detail is the best way to keep the inner workings of your equipment in good shape. Even if a frayed belt or loose bearing isn't causing an issue now, replacing it ahead of time will prevent a breakdown in the future.
In the End, Trust the Process
While it might initially seem inconvenient to bring your machine in for maintenance, taking care of your equipment will pay off in the long run. Fewer breakdowns mean more operating time and therefore an uptick in productivity. Eventually, you will notice that in your bottom line. For all your replacement parts needs, you can check out the machmall.com.