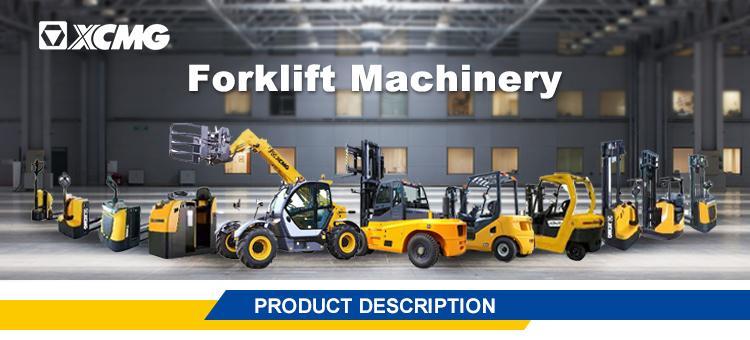 XCMG brand new automatic gear forklift 3 ton diesel with 2m mast height XCB-DT30.
XCMG brand new automatic gear 3 ton diesel forklift with 2m mast height XCB-DT30 provides you with multiple choice as per your real need, we have different reliable engines for choice. All these engines have been tested that they can be trusted through all kinds of tough working condition and get recognition from millions of clients across the worldwide.

These engines are specifically designed for the forklift use,with low fuel consumption,less noise and vibration,all these features improve the whole performance of the forklift.

High efficiency is also delivered through the performance of the axles,the excellent brake system make sure the forklift operate with safety,the steering axle provide prompt and precise feedback to the driver when steering.


Highlights:
1.Cleaner, more efficient Engines.
New engines, compliant with worldwide stagelll A emission regulations(/SUZU C240PKJ, Mitsubishi S4S Diesel poweredengine
2.Easy Maintenance.
Detachable side covers and a wide-opening hood for convenient Inspection and simple mainten- ance. Integral layout of electrical parts and other system devices.
3.Easier entry and exit from an extra-wide step.
The secure step with enlarged food space enables greater comfort and less fatigue while entering and exiting the vehicle.

| | | |
| --- | --- | --- |
| Project | Unit | Parameter |
| Model |   | XCB-DT30 |
| Load capacity | kg | 3000 |
| Load center | mm | 500 |
| Power unit |   | Diesel |
| Operator type |   | Driver/seat |
| Tire type |   | Pneumatic |
| Wheel |   | 4 |
| Max. lifting height | mm | 3000 |
| Free lift | mm | 150 |
| Fork size | mm | 1070*125*45 |
| Overall length(without fork) | mm | 2705 |
| Total width | mm | 1225 |
| Mast height (fork lowering) | mm | 2075 |
| Overall height fork raised | mm | 4250 |
| Height to head guard | mm | 2140 |
| Turning raduis(outside) | mm | 2445 |
| Front face of fork to front axle | mm | 480 |
| Max Travelling (full/no load) | km/h | 18/19.5 |
| Lifting (full/no load) | mm/s | 450/500 |
| Lowering (full/no load) | mm/s | 450/420 |
| Power shift (full/no load) | kg | 1500/1000 |
| Manual shift (full/no load) | kg | 1550/1000 |
| Power shift (full/no load) | % | 18/20 |
| Manual shift (full/no load) | % | 18/20 |
| Truck weight | kg | 4380 |
| Wheelbase | mm | 1700 |
| Fuel tank capacity | L | 70 |
| Hydraulic system pressure | kg/cm² | 180 |