Summary
Specifications
Weight:

2000.000kg

Condition:

New

Moving Type:

Other

OEM:

Yes

ODM:

Yes
High Current Intelligent Power Distribution Unit PDU
An Intelligent Power Distribution Unit (IPDU) is a networked power distribution unit that increases the efficiencies of data centers with real-time remote power monitoring, environmental monitoring, and data center infrastructure integration. Intelligent rack PDU deliver technologies which enables a smarter IT infrastructure so you can stay ahead of problems before they occur. They help achieve the ultimate goal of any data center manager, maintaining uptime while reducing cost.
We Provide Customized Smart Power Distribution UnitAssembly According To You Needs.
We Are 24 Years Professional Manufacturer, Providing Customized And OEM ,One Station Solution.
Technical Parameters:
Dimensions: 320L*249W*68H mm
Working voltage: DC9V~DC36V
Working temperature: -40℃~80℃
Storage temperature: -40℃~80℃
Anti-seismic performance :Meets 10~500Hz (three-way 3g/8h) test standard
Salt spray resistance: 48-hour salt spray test standard
Voltage interference :Meets C-1 forward 110V, C-2 forward 170V, D reverse 320V test standards
Protection grade: IP66
Shell material: ADC12 aluminum alloy
Module weight :2.55KG
Reverse connection protection: Yes
Communication interface: CAN can support up to 2 HS-CAN, 1 support CANFD
Power connection: one channel 200A power supply + DC-DC input, one channel 80A dual source power steering
IO resources: 43 channels output, 3 channels 50A, 5 channels 30A, 1 channel 80A dual source power steering, 8 channels 15A output, 26 channels 10A output
Features:
All aluminum CAN bus controller, in line with CAN2.0B standard, protection grade up to IP66
Professional automotive-grade components, imported high-power chips, stronger controlability, higher reliability and longer life
Can directly drive high-power components such as motors and lamps without relay transition
Programmable setting of control logic and protection current for all channels, real-time monitoring of the load status of all access channels
With output over-current protection, short circuit protection and other functions
Adopt German BOSCH and VDO company design standards, follow the "fault-oriented safety" design concept, technically guarantee that even if there is a failure, the line safety can be guaranteed
Installation Notes:
1. When designing the installation location of the power distribution box, please install it as close to the battery as possible to reduce the length of the harness
2. The power distribution box is fixed to the side wall of the electric cabin through the four fixing holes on the periphery, and is fixed by M6 steel bolts, plus flat pads and spring pads, and the torque is 15NM
3. Please purchase the plug-in corresponding to the harness end of the power distribution box from regular manufacturers to avoid assembly difficulties caused by counterfeiting errors

Jining Zhineng Construction Machinery Co., Ltd. was established in 1996 and have developed to be a professional manufacturer and providing customized of machinery cabin assembly and electrical assembly. We are a High-Tech. Enterprise in China, Our company is certified according to ISO 9001:2015. Our fixed assets are more than 8 million dollars, the factory covers an area of more than 20,000 square meters.
We providing electronic instrument assembly, cabin assembly, steering assembly, seat assembly, wiring harness assembly, air conditioner, control box, sensors etc. for variety of construction machinery, agricultural machinery, special vehicle machinery. You can choose in combination or individually according to your needs.
In our company 60% of employees are R&D personnel. Hence, we have good ability to research and develop new technologies and products which help us to be one of the leaders in China markets. We can design and develop the products with advanced technical performance as per the clients' requirements, and suitable for various construction machines .
We have steering rack workshop, seat workshop, wire harness workshop, assembly workshop, sheet metal processing workshop, spray paint and powder coating workshop ,instruments workshop.
Zhineng products have achieved high reputation in construction machinery industry at home and aboard, which are regarded as "the leader in China "by universal customers. Our partners have Shantui, XCMG, Liugong, Zoomlion, Yishan, Junlian, CRCC etc and have been distributed into more than 30 countries and regions such as Korean, Indonesia, Malaysia, Philippines, Singapore, Vietnam, Thailand, India, Pakistan, Qatar, Oman, Kuwait, Kazakhstan, Turkey etc.
Our orientation: Strive to provide high-quality products and contribute to increase satisfaction for our clients through our advanced technique, perfect process, reasonable prices and considerate service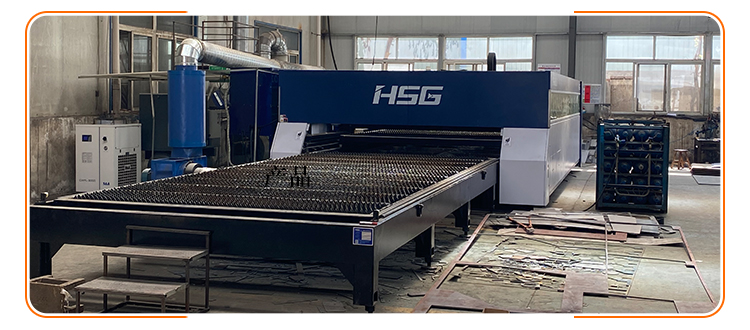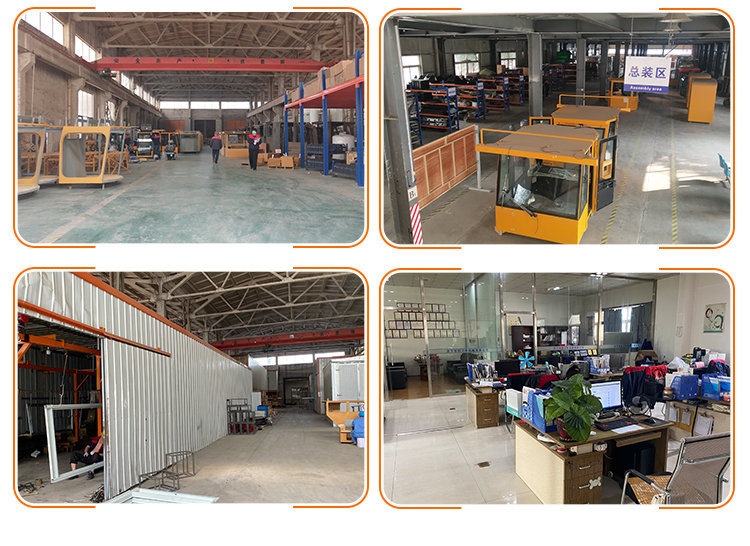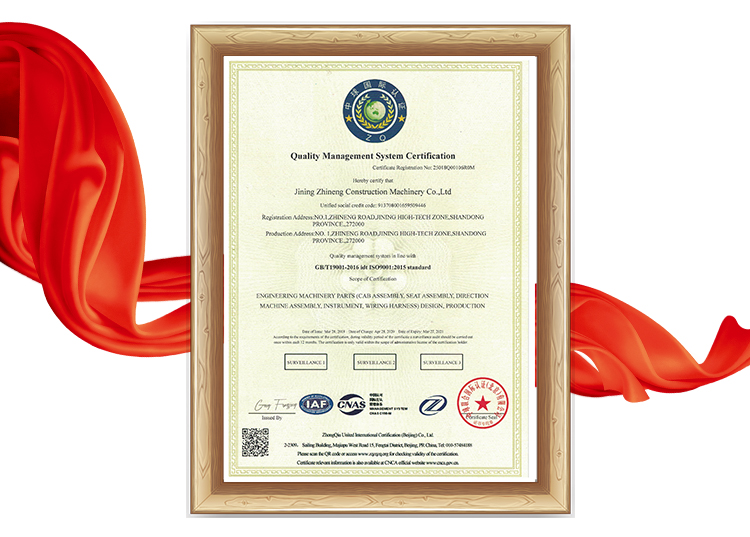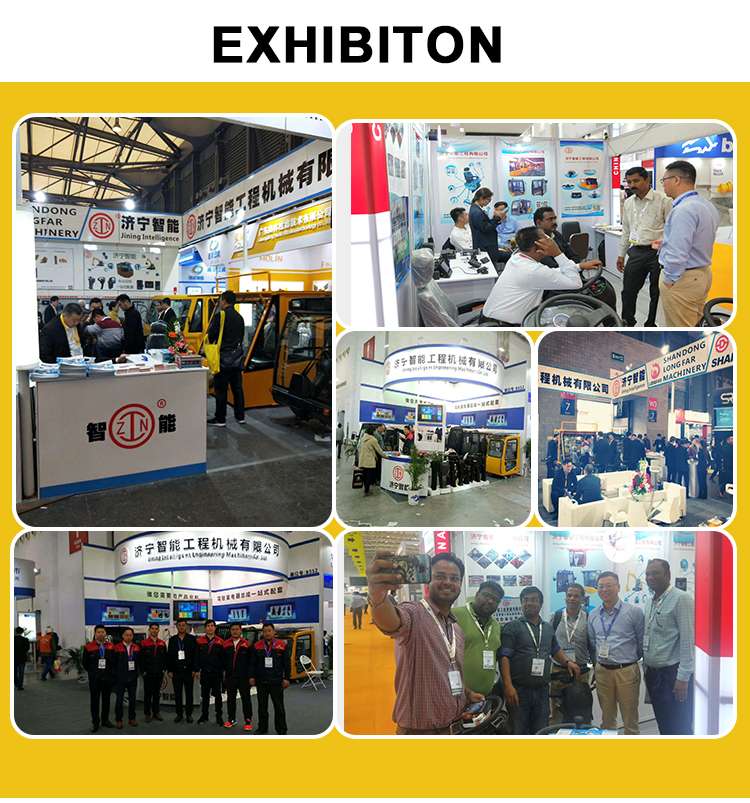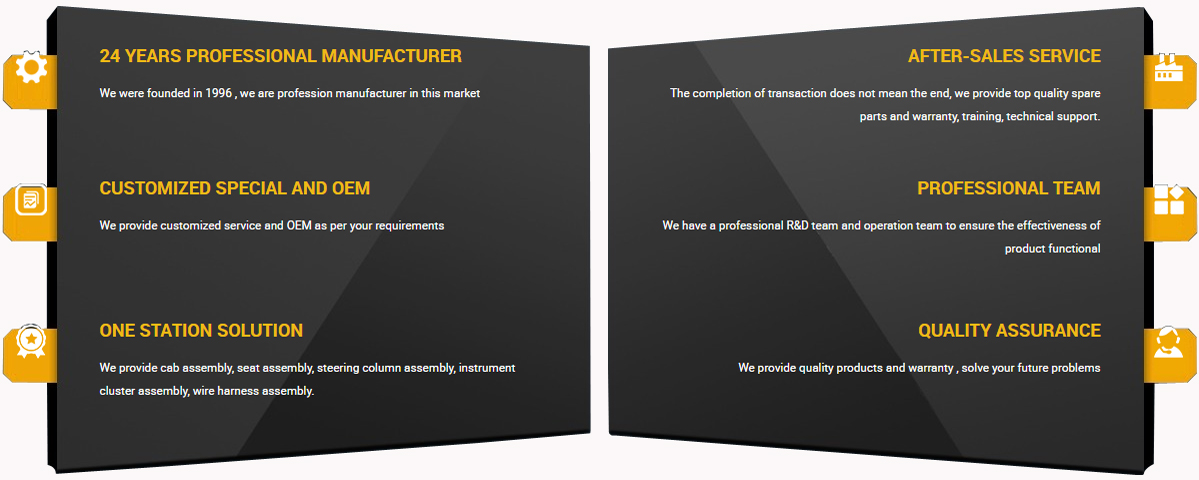 Response Time : 00:00-24:00
We are professional manufacturer, custom special & OEM, we provide one station solutions.