Summary
Model Number:

DG100

Brand Name:

XCMG

Place of Origin:

China

Size:

17000×2550×3960mm

Fuel Type:

Diesel

Emission Standard:

Euro 4

Tank Capacity:

0kg

Horsepower:

551hp

Transmission Type:

Manual

Type:

Aerial

Drive Wheel:

12×4/8

Certification:

ISO9001/CCC

Max. Work Height:

100m
Details
Product Name:

G5B63F890F0486

Display online time:

2019-11-07

weight:

64250.000kg

After-sales Service Provided:

Engineers available to service machinery overseas

Warranty:

12 Months

Condition:

NEW

Moving Type:

wheel

Max. Working Height:

100m

Max. Platform Capacity:

400kg

Max. Working Range:

27m

Water monitor rated flow:

48L/s

Water monitor rated pressure:

≤1.0MPa

Water monitor rated spray range:

≥55m

Max. Travel Speed:

≥80km/h

Min. Turning diameter:

≤27m

Max. Grade Ability:

0.3

Braking distance (speed is 30Km/h):

≤10m


DG100 Aerial Platform Fire Truck

1. Germany Benz Actros6555 12×4*8 class-II chassis is used, maximum net power of engine is 405Kw,
2. The rescue capability of the vehicle is strong.
3. Fire fighting system has full functions, is equipped with American Darley PSP1500 water pump, Akron 3578 (monitor body)/ 5177 (monitor head) + 3626 (foam monitor head) electric control fire monitor.
4. The structure of vehicle control system is advanced.
5. Hydraulic system uses dual variable pump constant pressure system and proportional valve control system, to achieve the high-precision control and real-time status display for high altitude rescue and to ensure personnel's stable sense of safety and clear sense control.
6. The vehicle has complete safety protection system.

7. Based on international configuration.







Ⅰ
.Table of main technical parameters of driving status
Description

Unit

Parameter value

Overall length

mm

17000

Overall width

mm

2550

Overall Height

mm

3960

Axle distance

mm

1700+3300+1350+1350+1450

Wheel distance

mm

2087/2087/2087/1804/1804/2045

Front overhang/rear overhang

mm

2740/3650

Front protraction/rear protraction

mm

172/1288

Max. vehicle speed

km/h

≥80

Min. turning diameter

m

≤27

Approach angle

°

≥10

Departure angle

°

≥9

Braking distance (vehicle speed 30km/h)

m

≤10

Min. ground clearance

mm

331

Max incline capacity

%

≥30

Fire extinguisher rated loading quality

Water

kg

Foam liquid

Overall mass

Total mass

kg

64250

1 Axle

8650

2 Axle

8900

3 Axle

8900

4.5 Axle

25900

6 Axle

11900

Maximum permissable total mass

Total mass

kg

64400

1 Axle

8800

2 Axle

8900

3 Axle

8900

4.5 Axle

25900

6 Axle

11900

Model

Germany Benz 6555

Category

Class-II

Driving type

12×4

Manufacturer

Daimler AG

Engine

Model

OM502 LA.Ⅳ/2

Type of fuel

Diesel

Emission/ Max. Net power

mL/ kw

15928/405

Emission level

National IV

Manufacturer

Daimler AG

Leaf Springs Number

4/4/2+_/5/2+

Specification of tire

385/55R22.5/315/70R22.5/445/65R22.5

Number of tires (Excluding the spare tires):

16

Cab allowed capacity

2
































































































































Ⅱ.Table of main technical parameters of operation status

Description

Unit

Parameter value

Max working height

m

≥100

Max. working range

m

≥27

Max. probing depth of aerial platform

m

13.7

Rated load of aerial platform

kg

400

Outline dimension (Length × width × height)

m

2000×1050×1100

Fire fighting Pump

Model

PSP1500

Rated flow

L/s

≥40

Rated pressure

Mpa

≥1.9

Fire

fighting

cannon

Water cannon

Model

5177+3578

Rated flow

50

Rated pressure

≤0.7

Range

≥70

Foam cannon

Model

3626+3578

Rated flow

48

Rated pressure

≤1.0

Range

≥55

Cannon slewing range (driving status) Up and down

°

-45~90

Cannon slewing range (driving status) left and right

°

±90

Boom length

the first boom

Basic boom

mm

14070

Full-extending boom

mm

61570

the second boom

Basic boom

mm

15000

Full-extending boom

mm

35000

Curve boom

mm

1800

Elevating scope

No. 1 boom (relative to level)

+1°~+84°

No. 2 boom (relative to level)

-76°~+74°

Crank (relative to No.2 boom)

80°~180°

Boom motion time

s

≤610

outrigger extending time

s

≤40

Boom slewing speed

r/min

0.4~1.0

Outrigger span (Longitudinal span x Lateral span)

mm

8275×8000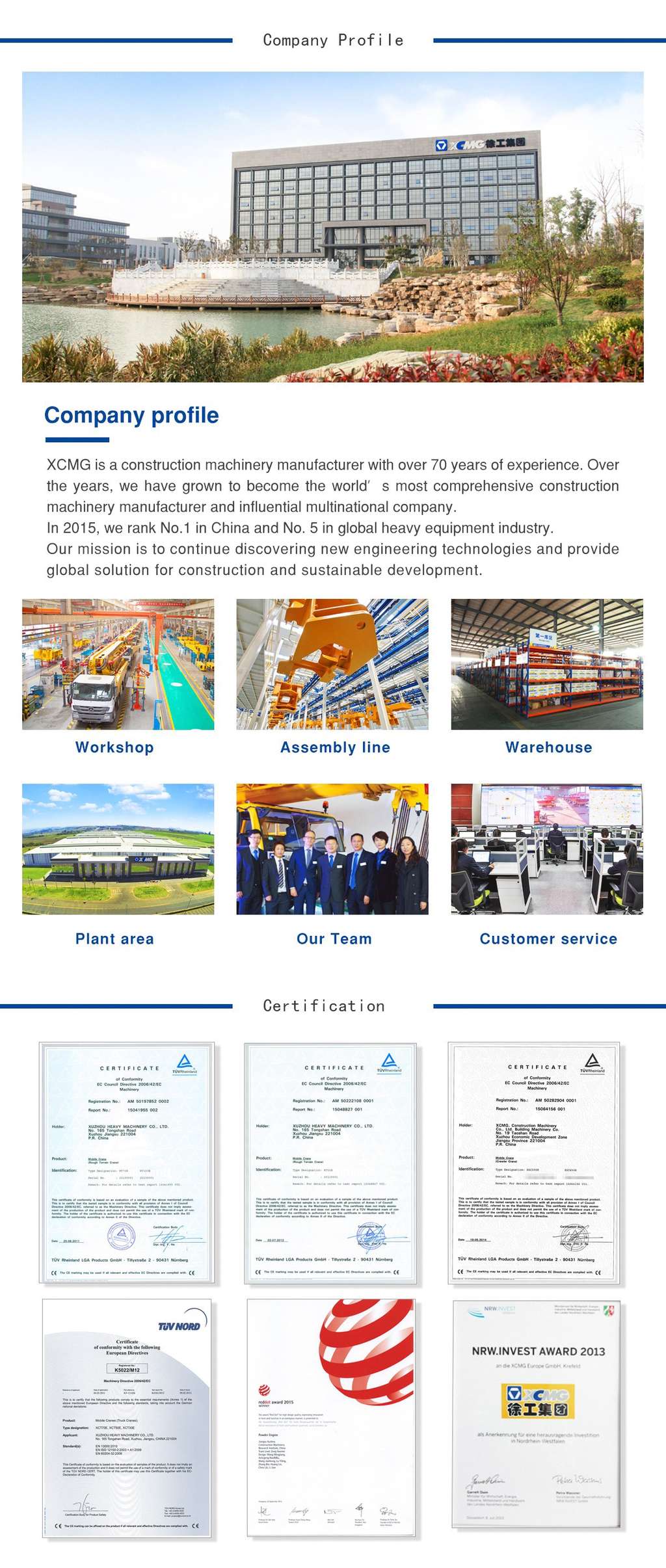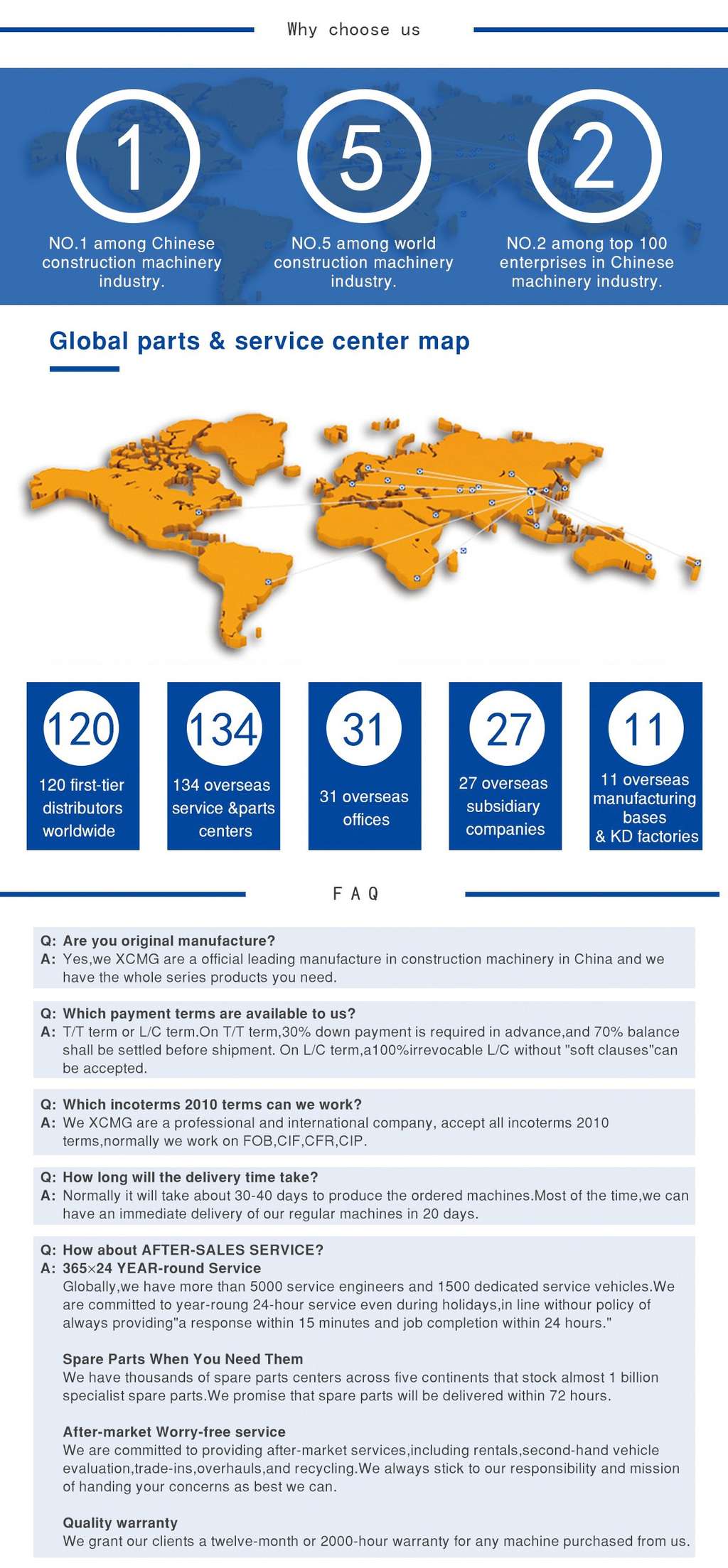 Response Time : Within 24 hours
Xuzhou Construction Machinery Group Co., Ltd. XCMG was founded in 1943. Since then, XCMG has stood at the forefront of the Chinese construction machinery industry and developed into one of the domes