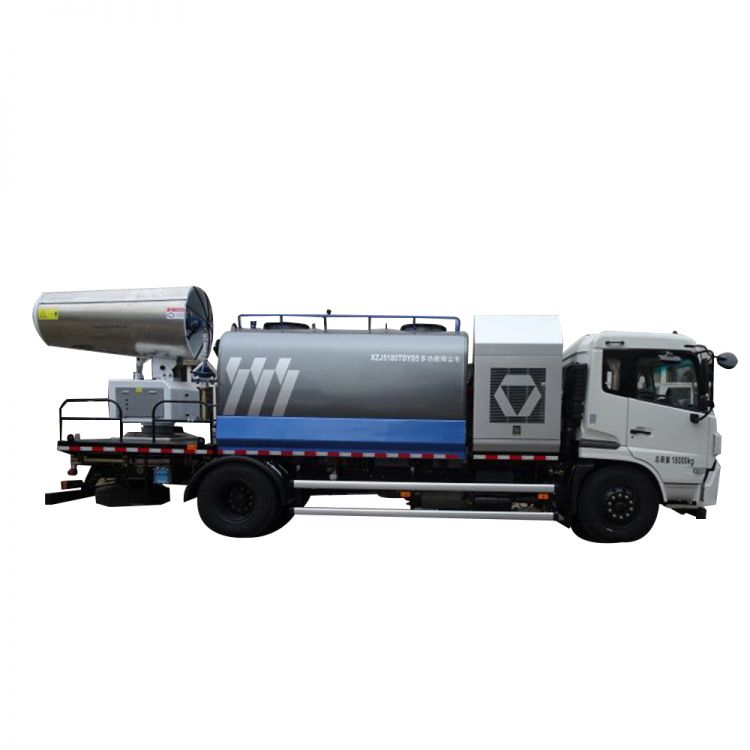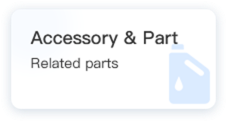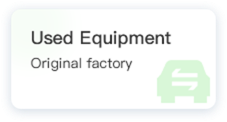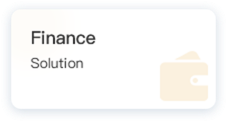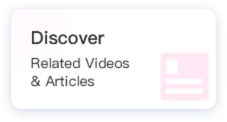 Select 3 models for comparison
Certification
Dimension(L*W*H)
Weight
Model Number
Brand Name
Place of Origin
Rated Loading Capacity
Overall Dimension(L*W*H)
Weight
Model Number
Brand Name
Place of Origin
Certification
9650×2500×3630 mm
11240kg
XZJ5180TDYD5
XCMG
China
CE/ISO9001
Summary
Overall Dimension(L*W*H):

9650×2500×3630 mm

Weight:

11240kg

Model Number:

XZJ5180TDYD5

Brand Name:

XCMG

Place of Origin:

China

Certification:

CE/ISO9001
Specifications
weight:

11240.000kg

Condition:

New

Moving Type:

Wheel

Chassis Model:

DFH1180BX1V

Chassis Power:

ISD210 50/155kw

Gun range of Dust suppression system:

≥100 m

Fog shot height of Dust suppression system:

≥30 m

Spray flow of Dust suppression system:

≥150 m

The droplets of Dust suppression system:

20~200 um

Pump pressure of Dust suppression system:

0.8~2.0 Mpa

Fog pitching angle of Dust suppression system:

﹣10°~40°

Fog gun angle of Dust suppression system:

±120°

Fog working noise of Dust suppression system:

≤90 dB

Sprinkler width of Low pressure sprinkler system:

≥16 m

Front flush width of Low pressure sprinkler system:

≥24 m

Post green spray width of Low pressure sprinkler system:

≥14 m

Rear gun range of Low pressure sprinkler system:

≥38 m

Clean water flow of Low pressure sprinkler system:

400~600 L/min

The actual volume of water tank of Low pressure sprinkler system:

≥14 m³

Maximum speed:

90 km/h

Maximum climbing angle:

30 %

Braking distance:

≤10 m

Minimum turning diameter:

19 m

Kerb mess:

11240 kg

Total mess:

18000 kg

Wheelbase:

5000 mm

Approach angle:

24°

Departure angle:

10°

Minimum ground clearance:

250 mm

Sprinkler quantity:

90

Rotary mode of sprayer:

Worm gear + mechanical selflock

Left and right watering device:

√

Spray system driving mode:

Double loop layout

Sprinkler arrangement:

The auxiliary engine drives the generator set


XZJ5180TDYD5Multifunction Dust Suppression Vehicle
1)Efficient operation
The dustsuppression device shall be produced by well-known brands in China, with largemist quantity, large range of grain size and good effect for dust particle withmultiple dimensions. Compared with the products at the same level, the fog gunis provided with a long spray distance. Moreover, the pitching angle isadjustable, capable of meeting the demands of different working conditions. Itis driven by motor, with high transmission efficiency.
2) Rich functions
This producthas rich functions, including dust suppression and all functions of thewatering cart. Therefore, it has a variety of functions (including "watering"and "dust suppression"). The dust suppression system can be used for spraying,for the purpose of wet type dust falling. Besides, it can also be used forwater spraying and cooling at various public places (e.g. sports field).Moreover, it can also be used to spray pesticides for vegetation insectskilling and to spray deodorant for deodorization of waste yard.
The wateringsystem has all functions of the watering cart. The sprinkler has a variety oftypes. A duck-mouth nozzle or a round-head nozzle is installed in front, acylindrical sprinkler mound at rear and a shower nozzle on the side, capable offront washing and rear watering. Besides, a rear working platform is providedas well, on which a sprinkler gun is installed. It is adjustable among directflow, heavy rain, intermediate rain, drizzle and fog. The sprinkler gun canalso be used for pesticide spraying, and can be rotated by 360°, whichextremely enhancing the vehicle applicability and improving the use ratio.
3) Convenient use
(a) Few blocking faults The water pipeline isprovided with multiple filter devices. Coarse filter is combined with refinedfilter, minimizing the blocking probability of pipeline, nozzle and water pump.
(b) Convenient water filling The water pump isprovided with the function of self-suction and the filter screen protection,capable of pumping in and out and wild water filling. A fire fighting couplingis provided at various water filling ports of the pipeline. Water can be filledfrom the fire water pipeline. The cover of the tank can be opened and closedfreely, making the water pipe fill water into the tank.
4) Fine design
(a) The tank body is made of high-performancesteel plate. The tank inside is separated into a cabin by baffle. Duringdriving, start and stop of the vehicle, it can effectively reduce the impactcaused by the liquid in the tank.
(b) The water tank is provided with a meteringpipe, so as to check the water volume of the tank and effectively avoidmisoperation caused by insufficient water.
(c) The water tank is provided with anoverflow device. It is capable of timely overflow and avoiding overloading incase of excessive water filling.
(d) A closing cover is arranged at the upperend of the water tank, which is used for direct water filling or for theoverhaul personnel to go in and out of the tank. It is used in combination witha ladder, making it convenient for climbing.
(e) Thevehicle is provided with a low water level alarm device. When the water levelis lower than the required position, the controller will interrupt the waterpump automatically, give a audible and visual alarm reminder, thus making surethat the water pump will not be damaged due to no-water idling.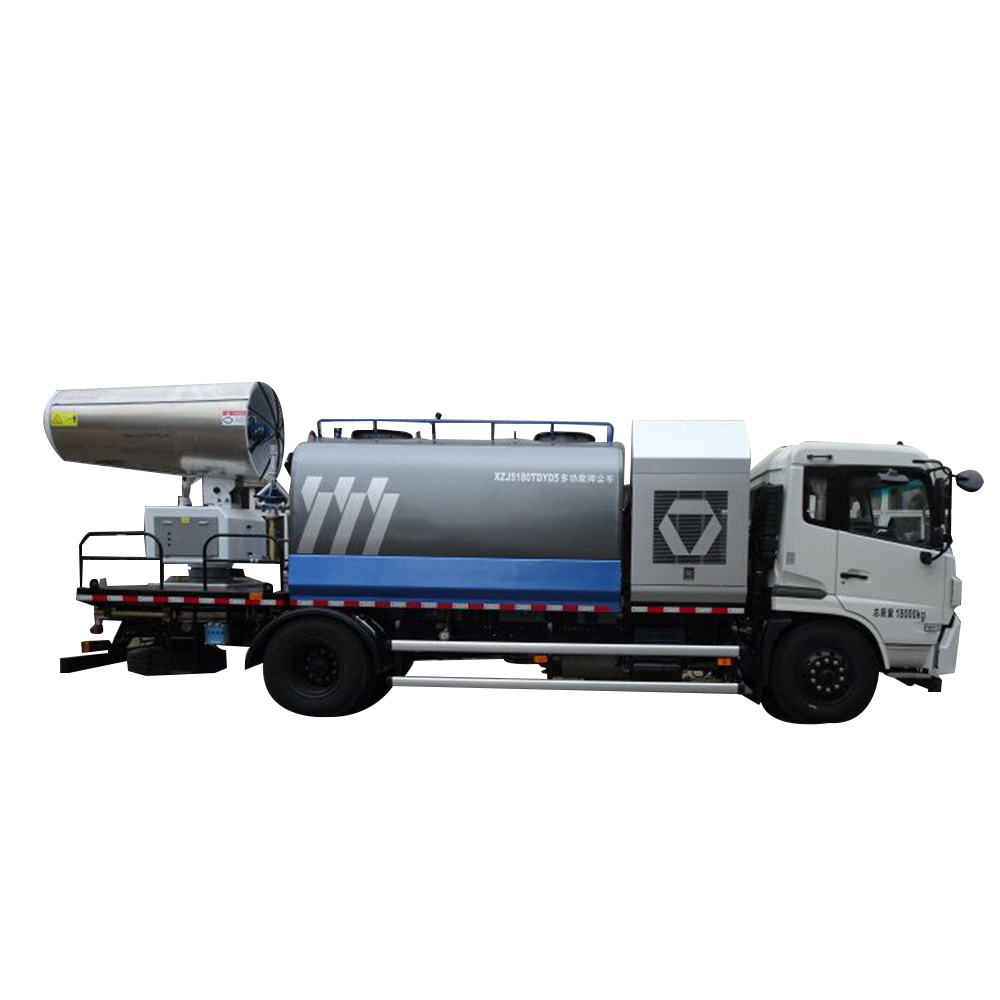 Items

Contents

Parameter

Chassis

Model

DFL1250A13

Engine standard model / power

ISD245 50/180kw

Dust suppression system

Gun range

≥120m

Fog shot height

≥30m

Spray flow

100~400 L/min

The droplets

20~200 um

Pump pressure

0.8~2.0 MPa

Fog pitching angle

-10°~50°

Fog gun angle

±120°

Fog working noise

≤90 dB

Low pressure sprinkler system.

Front flush width

≥24m

Sprinkler width

≥16m

Post green spray width

≥14m

Rear gun range

≥38m

Clean water flow

400~600 L/min

The actual volume of water tank

≥14 m³

Driving performance

Maximum speed

90 km/h

Max. climbing angle

30%

Braking distance

≤10m

Minimum turning diameter

19m

Quality parameter

Curb mess

16220kg

Total mess

25000kg

Vehicle structure and size.

L.W. H

11055×2500×3946mm

Wheelbase

4350+1300

Approach angle

24°

Departure angle

10°

Minimum ground clearance

250mm

Sprinkler quantity

100

Rotary mode of sprayer

Worm gear + mechanical self - lock.

Left and right watering device

√

Sprinkler arrangement

Double loop layout

Spray system driving mode

The auxiliary engine drives the generator set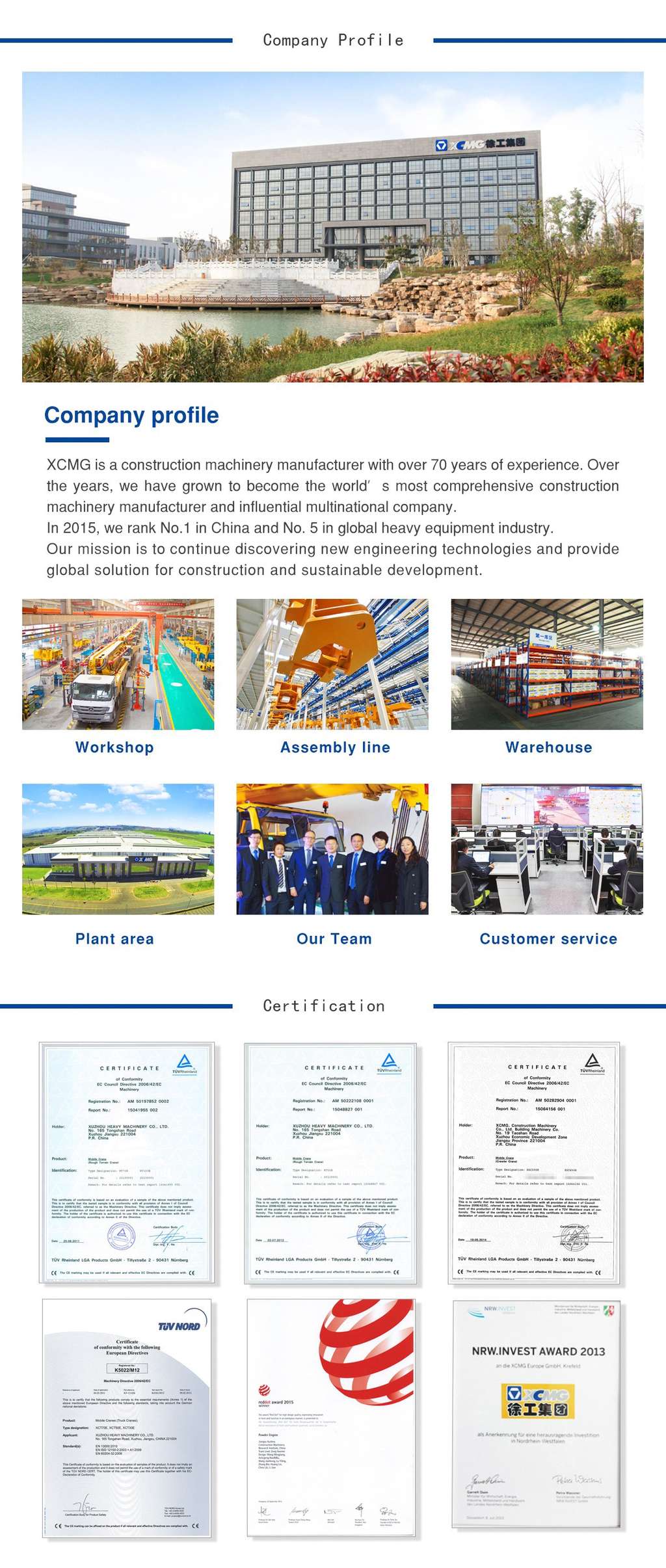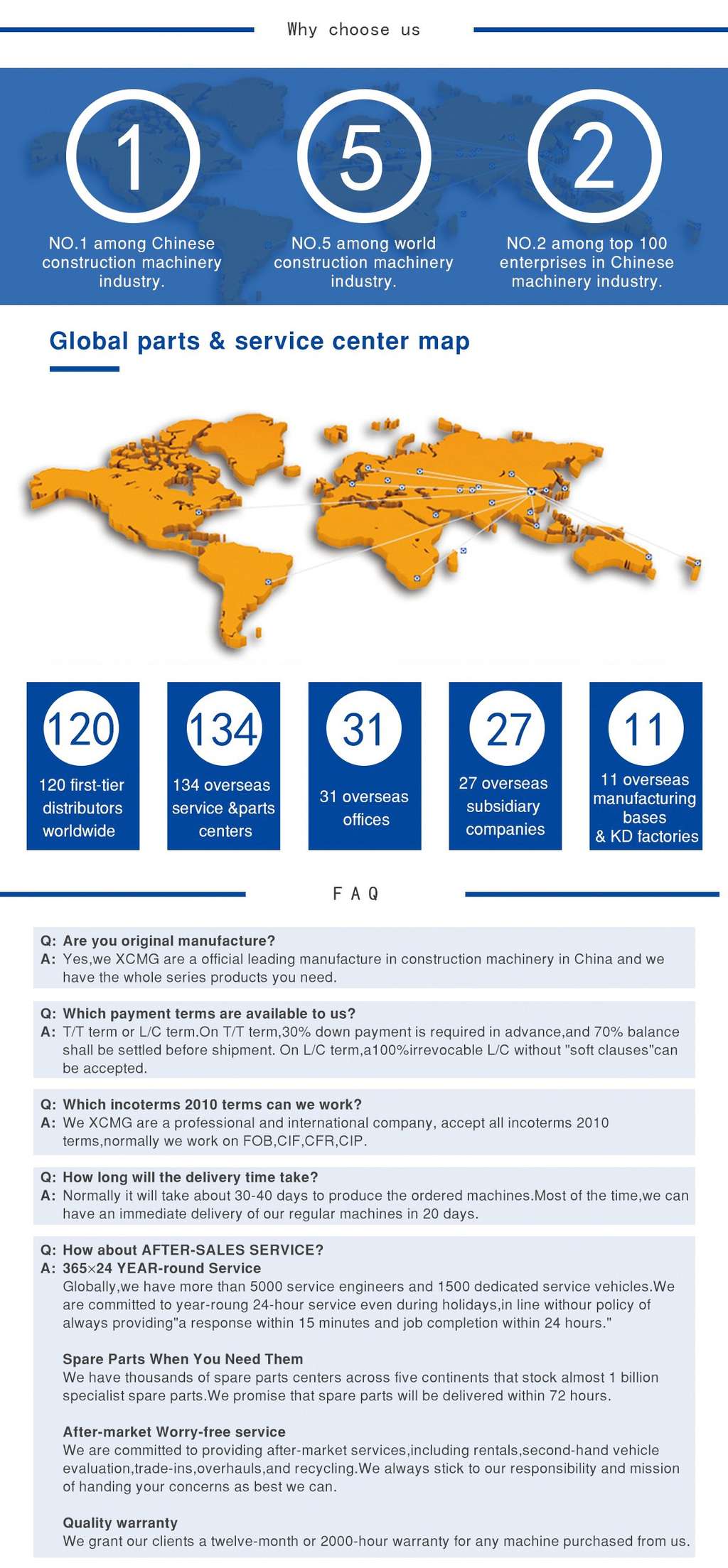 ---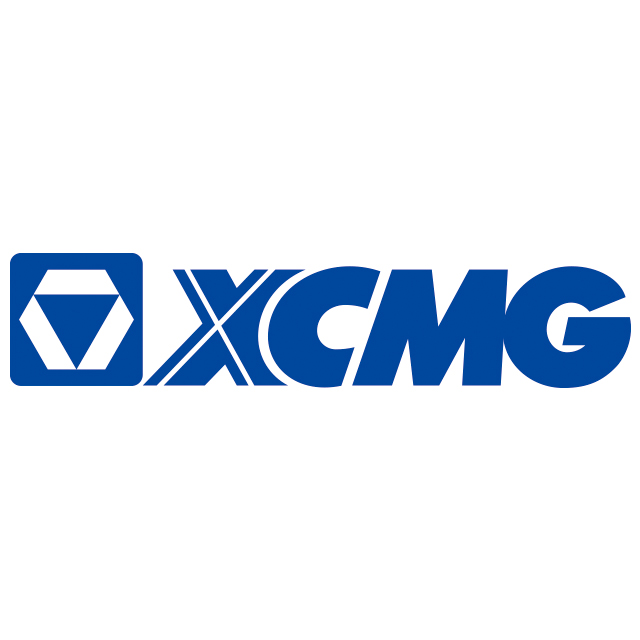 Certified for 3 years
Response Time
Within 24 hours
Year of establishment
Established in 1943, XCMG ranks NO.1 in China and NO.3 in the world's construction machinery industry. Our earth-moving machinery, road machinery, engineering & construction crane and concrete machinery are leading the world.
Company Address
C1c5, Software Park, Xuzhou, Jiangsu, China

Add a Product