Summary
Model Number:

XZJ5315JQJC4

Brand Name:

XCMG

Place of Origin:

China

Certification:

ISO9001

Weight:

31000kg
Details
Product Name:

G5B6424E773FD3

Display online time:

2019-10-28

weight:

31000.000kg

After-sales Service Provided:

Engineers available to service machinery overseas

Warranty:

12 Months

Condition:

NEW

Moving Type:

wheel

Overall length of unit:

12900mm

Overall width of unit:

2500mm

Overall height of unit:

4000mm

Max.horizontal working range:

20.6m

Max.overcoming barrier:

4.8/5.4m

Max.overbridging of sidewalk:

3.0/3.5m

Max.overcoming barrier of show car:

4.0/4.5m

Max.overbridging of sidewalk of show car:

2.8/3.3m

Max.lowering depth:

9.0m

Max.crossing box grider:

7.8m

Max.plyload of platform:

800kg

Max.plyload of platform front:

400kg

Max.platform width:

1.10m

Rotation range of 1st slewing organization:

0-90°

Rotation range of 2nd slewing organization:

0-180°

Walking speed:

≥13m/min

Chassis model:

解CA1310P63K2L6T4A1E4 (国IV)/CA1310P63K1L6T4E5

Max.net power of engine:

320Ps(国V 236kw)


XZJ5315JQJC4 Bridge Inspection Truck
1、Bridge inspection truck is a special vehicle, whichsupply work platform for person while working, it can be equipped with bridgedetector, used for mobile inspection and maintenance work. Bridge inspectiontruck can be divided into bucket type.
2、Under-bridge access equipment type according to workingequipment.
under-bridge access equipment type use access platform, with goodstability and big carrying capacity, it is convenient for personnel enteringthe platform from bridge or return to bridge.
3、bucket-type aerial platform, with compact structure,work is flexible, almost is not subject to the limit of bridge structure, itnot only an inspect under bridge but also can inspect the upper structureoutside the bridge, sometimes it can be used as an Aerial work platform.



| | | |
| --- | --- | --- |
| Description | Unit | Parameter value |
| Overall length of unit | mm | 12900 |
| Overall width of unit | mm | 2500 |
| Overall height of unit | mm | 4000 |
| Total weight of unit | kg | 31000 |
| Max. horizontal working range | m | 20.6 |
| Max. overcoming barrier | m | 4.8/5.4 |
| Max. overbridging of sidewalk | m | 3.0/3.5 |
| Max. overcoming barrier of show car | m | 4.0/4.5 |
| Max. overbridging of sidewalk of show car | m | 2.8/3.3 |
| Max. lowering depth | m | 9.0 |
| Max. crossing box girder | m | 7.8 |
| Max. payload of platform | kg | 800 |
| Max. payload of platform front | kg | 400 |
| Max. platform width | m | 1.10 |
| Rotation range of 1st slewing organization | ° | 0~90 |
| Rotation range of 2nd slewing organization | ° | 0~180 |
| Walking speed | m/min | ≥13 |
| Chassis model | | Jie Fang CA1310P63K2L6T4A1E4(State IV)/CA1310P63K1L6T4E5(StateⅤ) |
| Max.net power of engine | | 300Ps(State IV 220kw)/320Ps (StateⅤ 236kW) |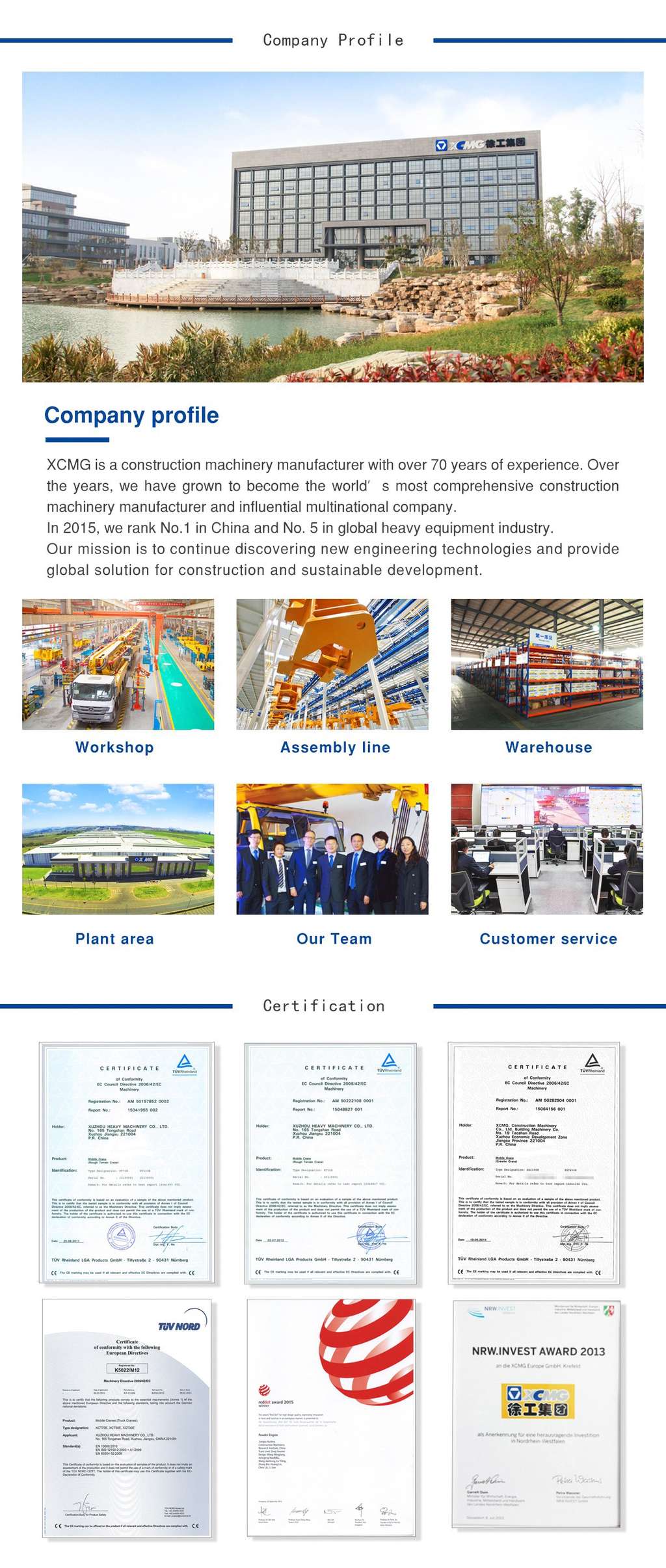 Response Time : Within 24 hours
Xuzhou Construction Machinery Group Co., Ltd. XCMG was founded in 1943. Since then, XCMG has stood at the forefront of the Chinese construction machinery industry and developed into one of the domes