Engineering & Construction Machinery
>
Engineering & Construction Crane
>
Rough Terrain Crane
>
XCMG
>
XCMG Official RT60A Rough Terrain Cra...
Summary
Model Number:

RT60A

Brand Name:

XCMG

Place of Origin:

China

Certification:

CE/ISO9001
Specifications
weight:

40810.000kg

Condition:

New

Moving Type:

Wheel


RT60A Rough Terrain Crane
1、Specialized energy-saving hydraulic system.
2、Due to powerful power configuration, specific off-road tires and all-wheel drive, the crane can easily handle various tough terrains.
3、The crane is designed by conforming with the safety standards of Europe, North America and China, for optimal active protection.
4、Developed jointly by Chinese and German engineers, with advanced design concept.
5、Accumulation of experience in boom crane design for 70 years.
6、Top class modern plate machining center, and first class NC machining center.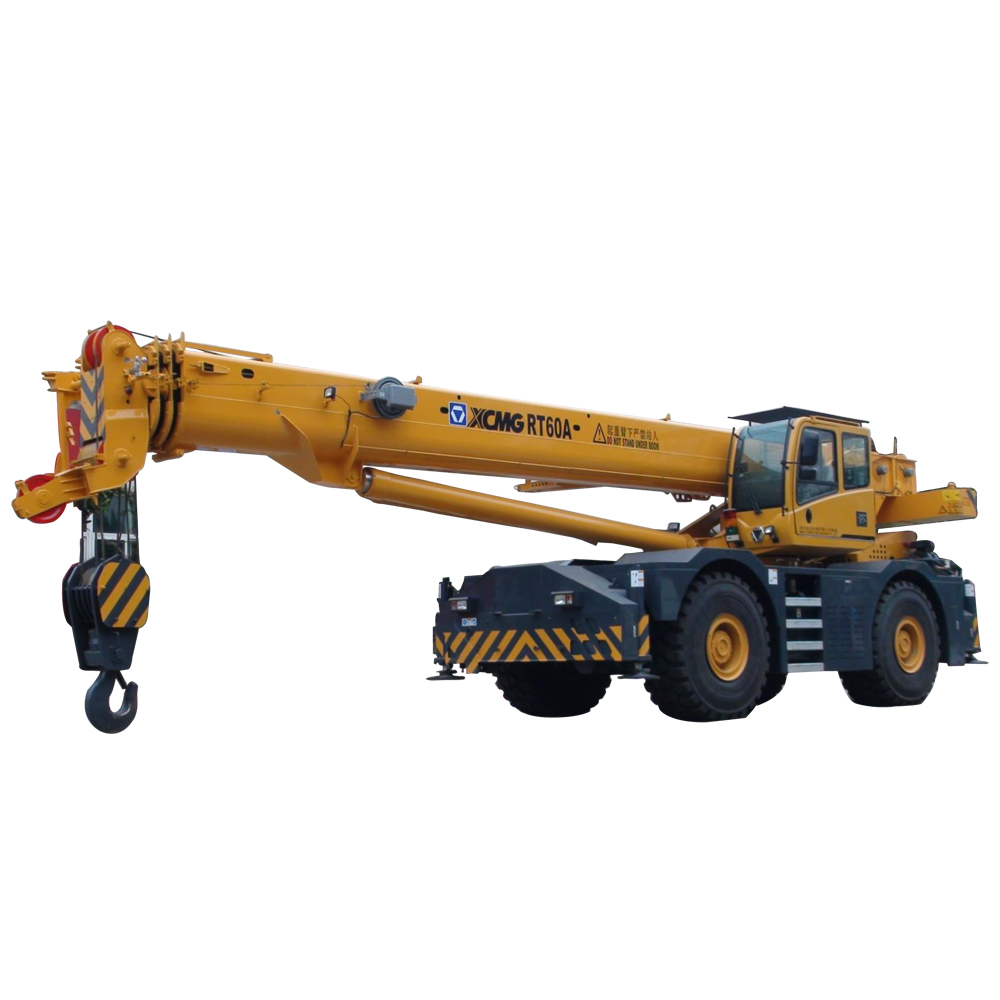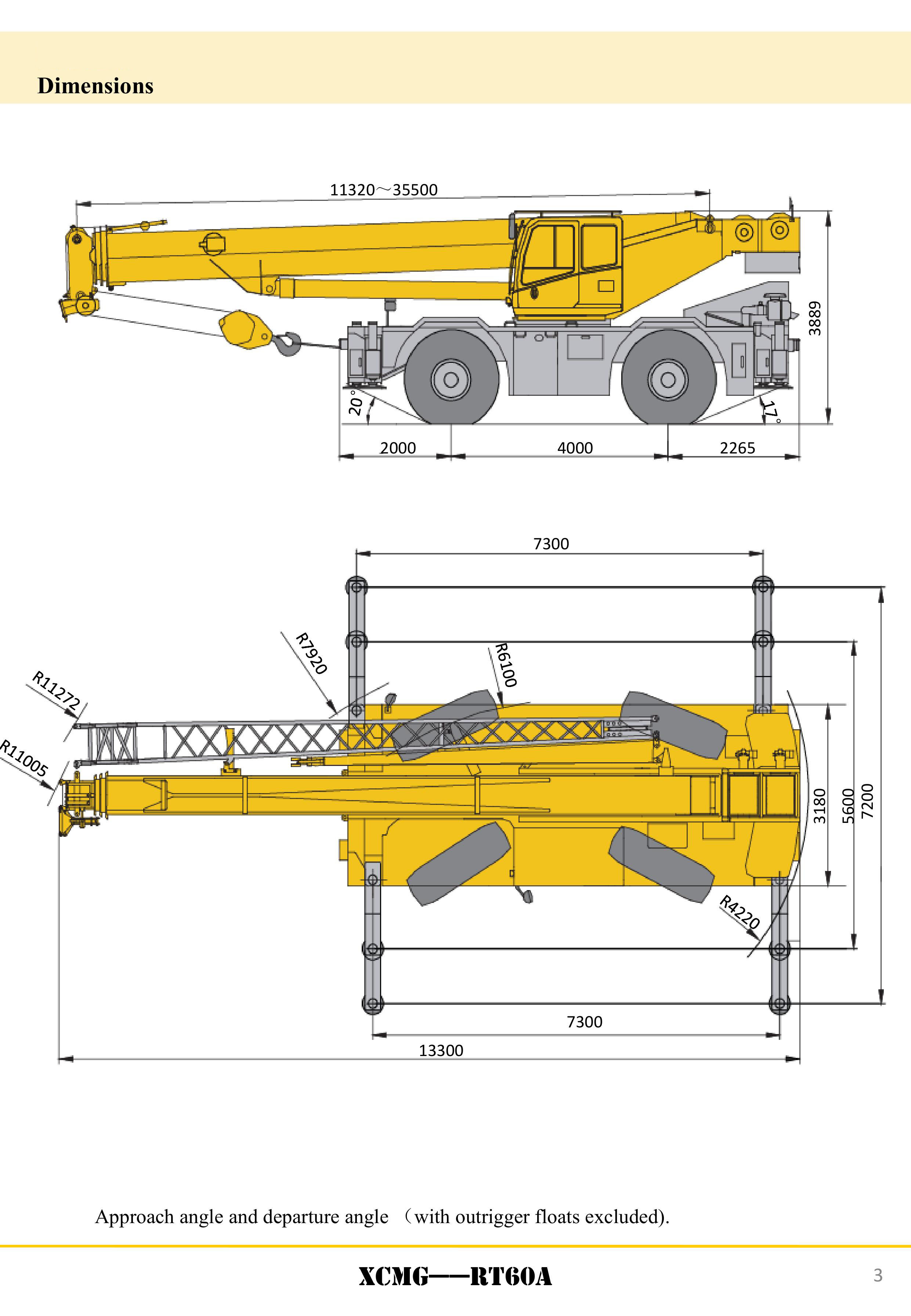 Technical specifications

Frame

Turntable and frame are made of fine grainec high strength steel, with anti-torsion large cross-section frame structure, has heavy loadbearing capacity.

Boom

Ibasic boom and 4-telescoping sections, quadrilateral cross section welding structure. Double-cylinder plus ropes telescoping mechanism is for synchronous plus sequential telescoping.

6 pulleys on boom head are standard.

Boom length:11.32m~ 35.5m.

Outriggers

4 outriggers, H-shaped arrangement, which are controlled by electrical and hydraulic and located at both sides of chassis frame. Front and rear towing brackets are available.

Operator's cab

Integrated design, appearance is simple and artistic, equipped with all-weather and large arc glass, which has a wide vision, as well as spacious and comfortable due to ergonomic inner design.

Engine

QSB6.7-C 260-30, in line six-cylinder water- cooled compression ignition diesel engine, manufactured by Dongfeng Cummins, rated power 194kW/2200rpm, max. torque 990Nm / 1500q)m, off-road EU Stage 3A emission standards.

Fuel tank capacity : Approx. 300L

Safetydevices

Hydraulic balance valve, hydraulic relief valve, hydraulic double-way valve and LML Lowering limiter is equipped in winch to prevent rope over-releasing. Anti-two block is fitted on the boom head to prevent rope overwinding.

Hydraulic system

The constant delivery pump is connected to the transmission through PTO for controlling the movements of crane.

Oil tank capacity: Approx. 700L.

Counterweight

Total weight is 5t, fixed counterweight,

Operating mode

Hydraulic controlled pilot operation system isequipped with two levers controlling the main movements of the crane.

Electrical system

DC 24 volts is in series with two 12-volt battery packs.

Gearbox

6WG210, automatic transmission imported from ZF Germany, with 6 forward and 3 reverse gears available.

Additional equipment

Axles

Exclusive axles imported from KESSLER Germany, with both front axle and rear axle fbr driving and steering.

Auxiliary which system

Driven by hydraulic motor through planetary gear reducer and with built-in constant closed brake, equipped with anti-winding wire rope.

Suspensions

Front axle is connected with frame rigidly, swing rigidly lockable hydraulic suspension is used for rear axle. Road shock is buffered and travel smoothness is improved when driving on roads, the rear suspension cylinder may be locked to rigid state so as to meet the requirement for travel with a load suspended.

Jib

2-section,lattice and box welding structure, with 0° , 15° and 30° jib offset angles available.

Jib length:9.5m ~ 16m.

Tires

4 tires, each axle is equipped with single tire, large bearing capacity.

Tirespecifications:26.5R25.

Air conditioner

Equipped in the cab, for improving comfortable performance.

Steering

Electro-proportional hydraulic multi-mode steering: front axle independent steering, small turning radius steering, crab walk steering and rear axle independent steering are available.

Hook

60t hook block.

Brakes

Service brake: double-circuit hydraulic disc brake, acting on all wheels. Automatically braking function works when the pressure in braking system is too low.

Parking brake: spring-loaded brake, acting on front axles, hydraulic-released independent disc brake.

Engine+elect

ric-controlled

operating

system

US Cummins QSB6.7 engine and electric-controlled operating system are optional,

Main winch system

Driven by a hydraulic motor, with build-inplanetary gear reducer, constant closed brake and rotation resistant wire rope equipped, having features of high speed with light load and low speed with heavy load.

Product parts list is as mentioned above, please refer to the product quotation for specific parts.

Slewing system

Single-row four-point ball contact slewing ring, driven by hydraulic motor through planetary gear reducer and with built-in constant closed brake, for 360° continuous rotation.
weight

Axles

1

2

Total weight

kg

21070

19740

40810

Hook block

No.of lines

Weight kg

Remarks

35t

6

403

Single hook

5t

1

250

Single hook

Working speeds

Km/h

29.5R 25

35

65%

Drive

Working speed

0-110m/min, no load, 4th layer,

0-110 m/min, no load, 4th layer

0-2.5 r/min

Approx. 75s for boom elevation from -1.5° to 80°

Approx. 80s for boom extension from 11.32m to 35.5m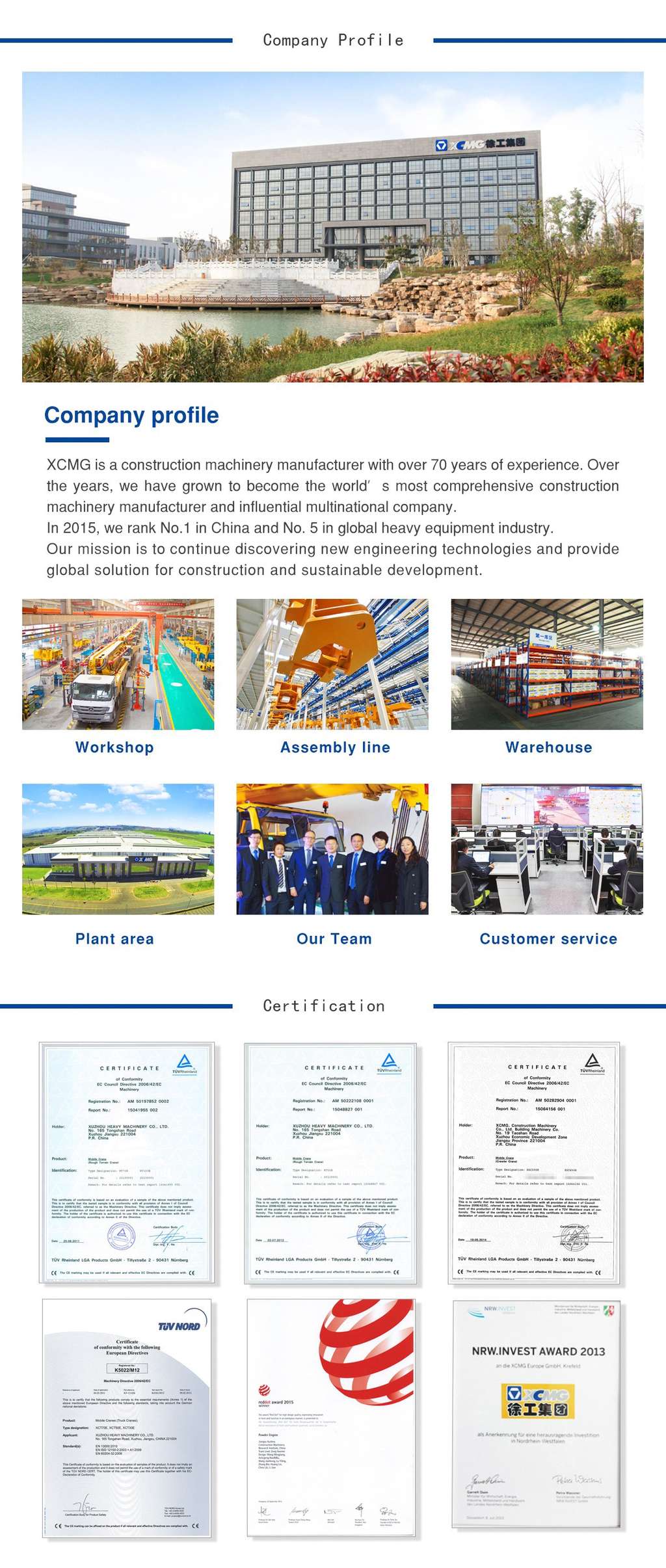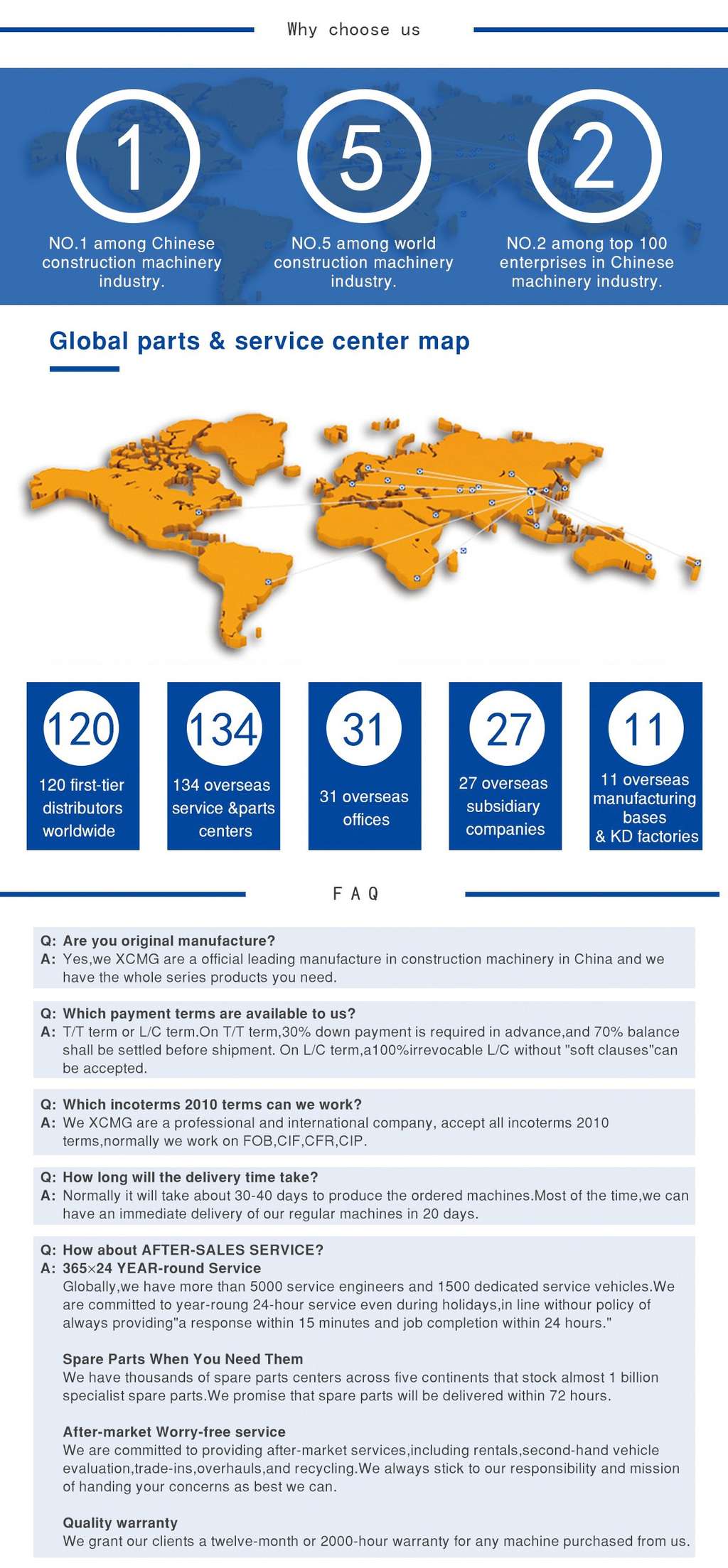 Response Time : Within 24 hours
XCMG was founded in 1943. XCMG products include: excavators, loaders, cranes including earth-moving machinery, road machinery, concrete machinery, mining machinery and other 12 construction machinery.