Engineering & Construction Machinery
>
Engineering & Construction Crane
>
All Terrain Crane
>
XCMG
>
XCMG Oficial XCA1200 All Terrain Cran...
Summary
Model Number:

XCA1200

Brand Name:

XCMG

Place of Origin:

China

Certification:

ISO9001
Details
Product Name:

G5ACB26553C75D

Display online time:

2019-11-08

weight:

83600.000kg

After-sales Service Provided:

Engineers available to service machinery overseas

Warranty:

12 Months

Condition:

NEW

Moving Type:

wheel


XCA1200 All Terrain Crane
1、XCA1200 All Terrain Crane is designed mainly for erection and maintenance of 2.0-2.5MW wind turbines. It is also suitable for operation in typical working conditions such as lifting operation for bridges, high-rise buildings, and petrochemical construction.
2、The pioneering dedicated wind power jib head is adopted. Boom and jib can be carried during heavy load jobsite transfer between wind turbines and no assistant vehicle is needed for the transformation between operation configuration and jobsite transfer configuration.3、Independent heavy-duty suspension system with single cross arm is applied, and the min. ground clearance can reach 530mm, which can meet the requirements of jobsite transfer in mountainous areas.4、With modular design, flexible conversion between wind power version and standard version is possible, which makes the crane suitable for wider applications.
5、The pioneering 6-axle mechanical drive is equipped with G1 large speed ratio hydraulic drive, forming superb 7 axles driven by double-power involved in driving.


Working speeds

Km/h

385/95 R 25 (14.00 R 25)

1~80

68%

445/95 R 25 (16.00 R 25)

2~80

58%

525/80 R 25 (20.5 R 25)

2~80

58%

Working speeds

Max.single line pull

Rope diameter/length

0-140 m/min,single line,10th layer

166kN

27 mm/1000 m

0-128 m/min,single line,8th layer

170kN

27 mm/1050 m

0-1 r/min

Approx.220s for boom elevation from -1.5° to 86°

Approx.2600s for boom elevation from 18.5m to 102m

XCMG——XCA1200
Weight

1

2

3

4

5

6

7

8

Total weight

t

10

10

10

10

12

12

12

12

88t(1)

t

25.6

25.6

25.6

25.6

26.4

26.4

26.4

26.4

208(2)

t

26.4

26.4

26.4

26.4

27.3

27.3

27.3

27.3

215t(3)

No.of lines

Weight kg

Dimensions m m

Remarks

360t

26

5682

1000×1600×2800

Double hook, Optional

200t

14

2698

1000×1100×2200

Double hook, Standard

130t

10

4000

900×1000×2000

Double hook, Standard

80t

6

2490

900×600×2000

Double hook, Standard

20t

2

1181

400×900×1700

Double hook, Standard

XCMG——XCA1200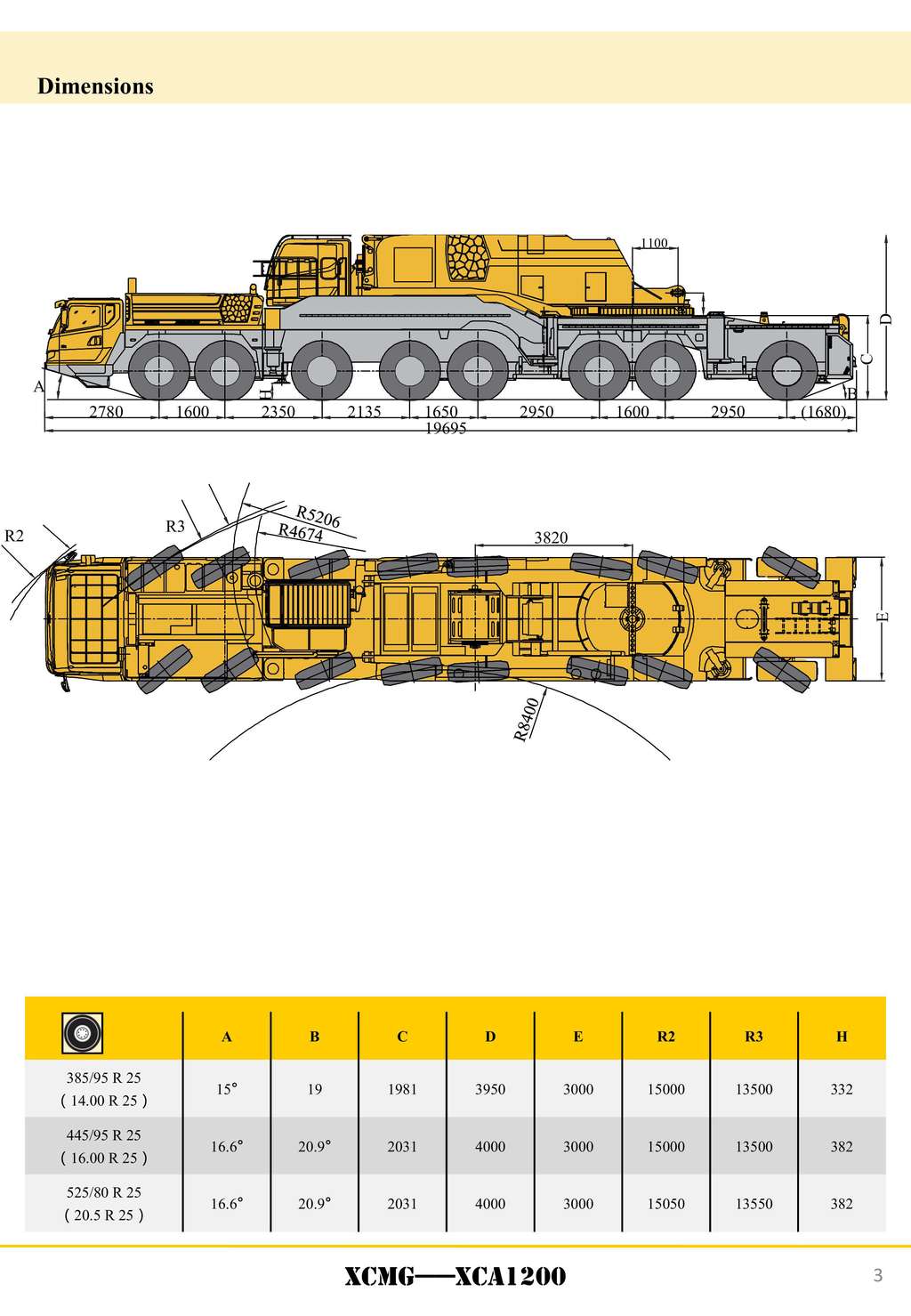 Technical specifications

Engine

OM460LA.E3A/5, in-line, 6-cylinder, water cooled, supercharging intercooler, diesel engine, manufactured by Daimler AG, with rated power of 260kw /1800rpm, and max. torque of 1750N.m /1300rpm; compliant with China III emission standard.

Fuel tank capacity: approx. 320L.

Boom

8-section boom with U cross-section, welding structure. 2-cyiinder pin telescoping cylinder is available. A new type cylinder pin synchronizer driving system is adopted to guarantee the synchrony of the two cylinder pins. The single cylinder pinning telescoping system is safer and more reliable. 46%, 92% and fully-extended telescoping modes can be realized. Boom length: 18.5m〜102m.

Slewing system

Three-point roller external tooth slewing ring with a dual slewing mechanism is driven by hydraulic motor, with built-in planetary gear reducer and constant-closed brake equipped, and may continuously slew 360°. Power control and free slewing function as well as stepless speed regulation are available.

Super-lifting

Y-shaped, installed at top of base boom, with wire rope with four parts of line available.

Additional equipment

Fixed jib

Lattice welding structure with 0° , 30° and 60° jib offset angles available. Fixed jib: 7.5m—37.5m.

Self-folding wind power jib: 25.2m.

Operator's cab

The cab is ergonomically designed. Safety glass for windows, sunvisors for windshield and roof window are used. A grid is installed for protecting the roof window. A sliding door and a catwalk with protective handrails are available to make it easy and safe as access and egress the cab. The cab is connected with the turntable through an swing arm, which enables the cab to move leftwards/rightwards and upwards/downwards, facilitating the operator to get on/off the cab. The cab is designed to turn backward to enlarge the operator's field of view.

Luffing jib

Lattice type welding structure; three boom angles: 68° , 76° , 85° . Luffing jib: 18m〜66/126m.

Winch system

for luffing jib

It mainly consists of the elevating sheave

block and is used fbr the elevating of the luffing jib.

Safety devices

Hydraulic counterbalance valve, hydraulic relief valve, hydraulic double-way valve and LMI are available. Lowering limiter is equipped in winch to prevent rope overreleasing. Anti-two block is fitted on the boom head to prevent rope over-winding. Anemometer is equipped to check whether aerial wind velocity is in safe working range.

Tires

Tire specification: 385/9.R25 (14.00R25) or 525/80 R 25 (20.5 R 25).

LMI

When the actual load moment is approaching overloading value, audible warning will be sent out, and the dangerous operation will be automatically stopped ahead of overloading. Overload memory function (black box) and fault self-diagnosis function are available.

Combined counterweight

Total weight is 170t. 9 counterweight

combinations ofOt, 30t, 50t, 70t, 90t, HOt, 130t, 150t and 170t are available.

Electrical System

DC 24 V, with 2 sets of 12 V batteries in series.

Product parts list is as mentioned above, please refer to the product quotation for specific parts.

XCMG——XCA1200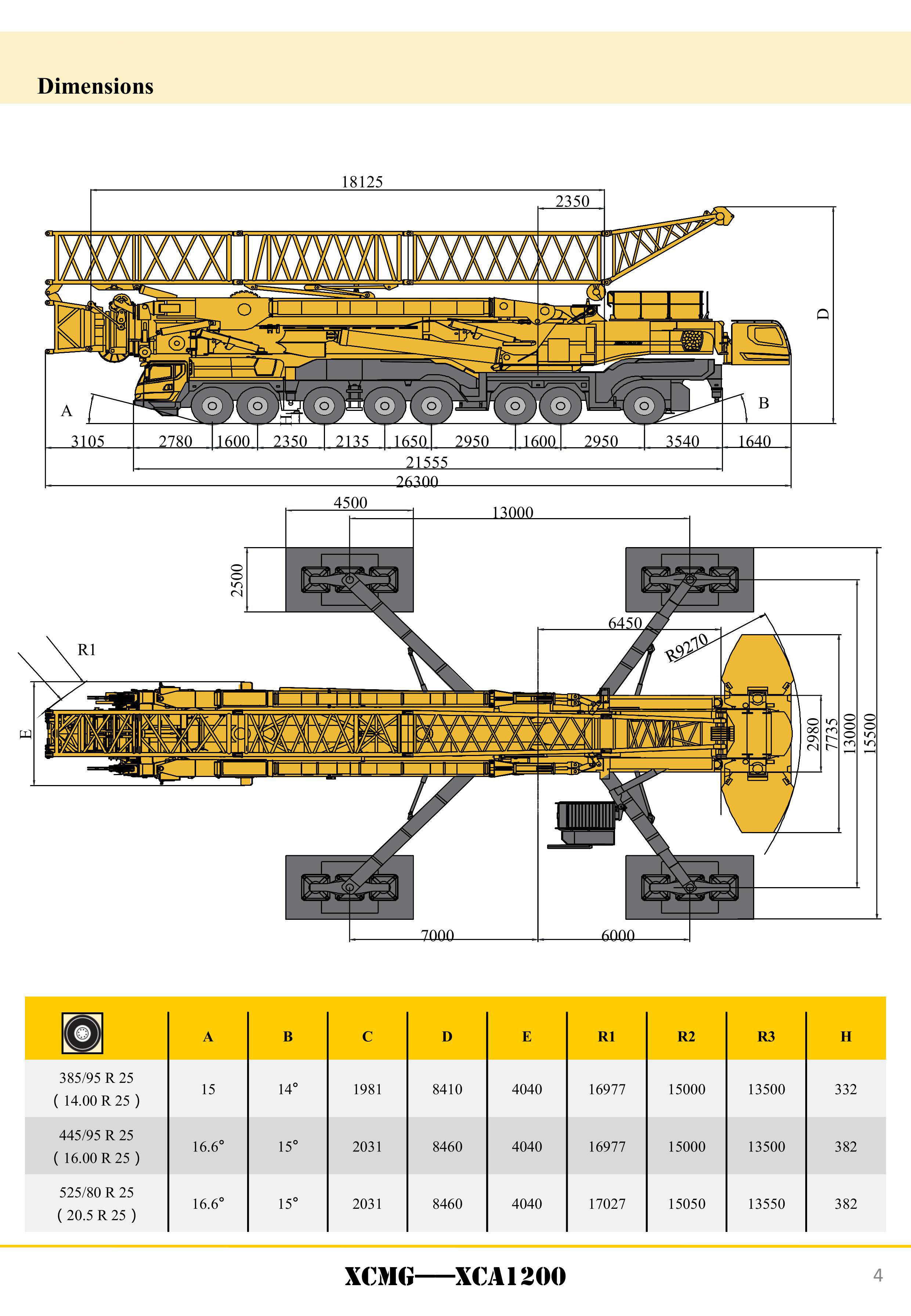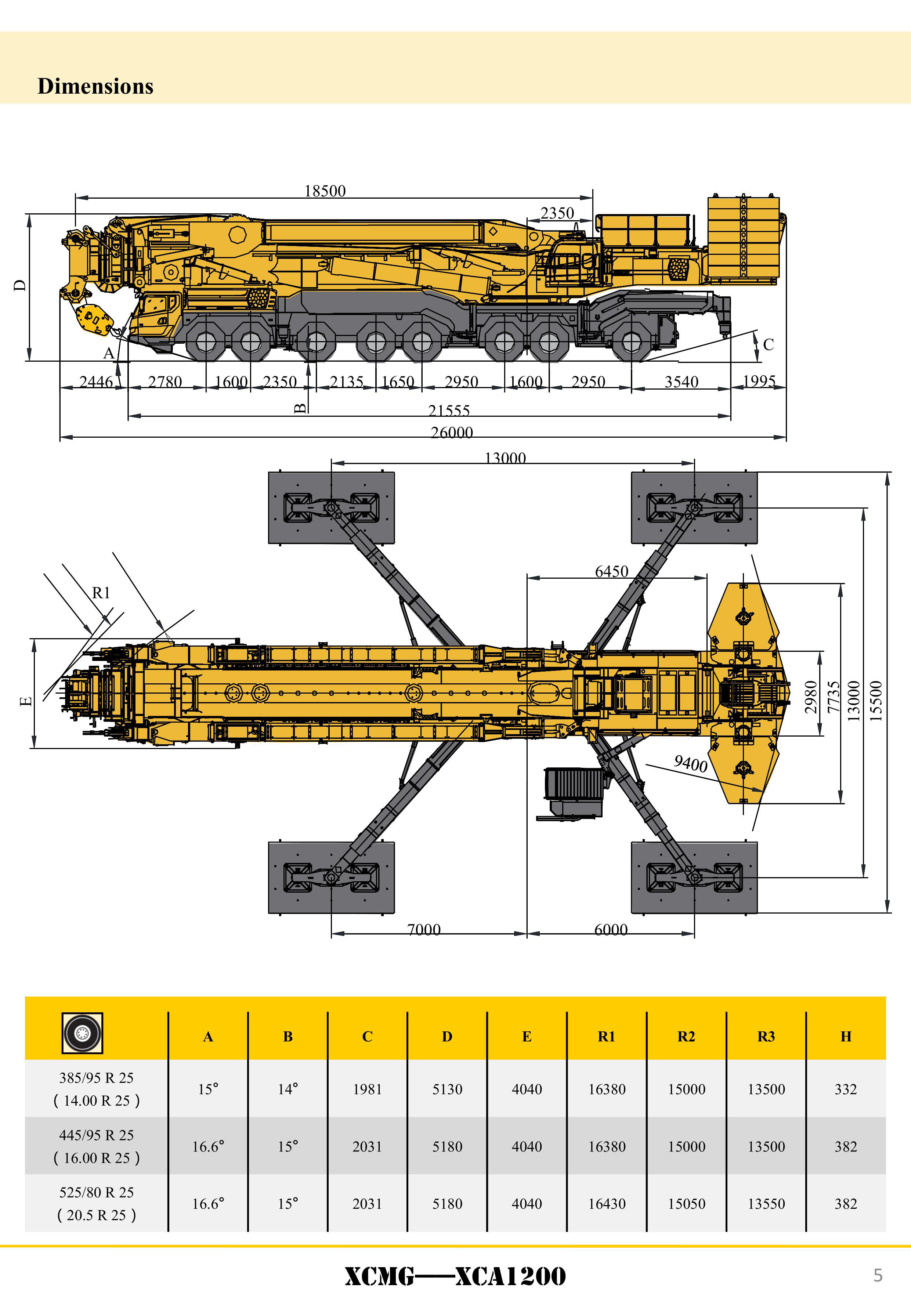 Technical specifications

Chassis

Frame

Designed and manufactured by XCMG, made of high strength steel with inverted trapezoid cross section.

Tires

Manufactured by Michelin with large bearing capacity.

Tire specifications: 445/95R25( 16.00R25)

Outrigger

4 outriggers are arranged in X shape. The 2- stage outrigger beams are adopted. Side swing, longitudinal and vertical telescoping are hydraulic controlled. Check valve is fitted at each outrigger oil cylinder and each jack is fitted with a double-way hydraulic valve. There are four auxiliary outriggers for vehicle maintenance. There is an electric control panel fitted at each side of the chassis with luminous level gauge, lamp and accelerator buttons.

Steering

All axles steering, 1 〜3 axles: the mechanical and hydraulic power steering; 4〜8 axles: the electro-hydraulic control steering. It is suitable for various demands of working conditions and six steering modes can be realized.

Engine

OM502LA.E3B/1, V-type eight-cylinder water cooled, electric control diesel engine, manufactured by Daimler AG, with rated power of 480kw / 1800 rpm, and max. torque of 3000N.m /1300rpm; compliant with China V emission standard.

Fuel tank capacity: 550L

Brakes

Service brake: double-circuit air pressure brake, acting on all wheels;Parking brake: spring-loaded brake, acting on wheels of axles 2-6 and 8;

Auxiliary brake: engine brake, transmission retarder brake and eddy current retarder brake.

Hydraulicsystem

Front steering and independent cooling double

pump is connected to the rear PTO hole of the engine to take power by the drive shaft and controls the hydraulic movements of steering and radiation. A plunger pump is adopted for outrigger, suspension and rear steering and an adjusting valve is also applied, which can adjust the pump pressure to meet the requirements of outrigger, suspension and rear steering.

Driver's cab

Full dimension steel structure luxury cab has suspension connection structure and rear damper. Equipped with adjustable seats, safety glass, electrically operated door window lifter, electric-adjustable mirrors, steering wheel adjustable in height and angle, reverse radar display, large screen liquid crystal display, etc. Combined control panel arranged safely, reasonably and ergonomically presents humanized design concept. Heater, air conditioner and CD player are standard.

Gearbox

Electric controlled transmission imported from ZF Germany, with manual MT and automatic AT control, equipped with torque converter and retarded brake, with 12 forward gears and 2 reverse gears available.

Electrical

System

DC 24 V, with two sets of 12 V batteries in

series.

Superstructure

Frame

Designed and manufactured by XCMG, made of high-strength steel.

Transmission

German originally imported ZF electrical

control transmission has MT, AT, torque converter, retarder, 12 forward gears and 2 reverse gears.

Hydraulic

system

Electric proportional variable displacement

pump is used for lifting and slewing; closed pump is used for elevating and telescoping. Through logic control of plug-in valve spool, main valve is used to control telescoping and elevating operation; large power air-cooled hydraulic oil radiator can effectively reduce the oil temperature.

Axles

High strength axle with reliable performance, imported originally from KESSLER Germany, equipped with pneumatically controlled disc brake. Seven axles for driving: 16x14x14.

Operating mode

The electric-proportional pilot operation system is equipped with two levers at left and right sides controlling the main movements of the crane, and stepless slewing speed regulation is available.

Suspension

Hydro-pneumatic suspension is adopted for all axles, providing good shock absorbing effect. Functions of automatic leveling, suspension lifting, elastic/rigid state switch-over, etc. are available.

The stroke of suspension cylinder is -130nun 〜 +170mm.

Main winch system

Driven by a hydraulic motor, with build-in planetaiy gear reducer and constant closed brake Specific anti-disorder rope winding drum and anti-coiling wire rope are available

XCMG——XCA1200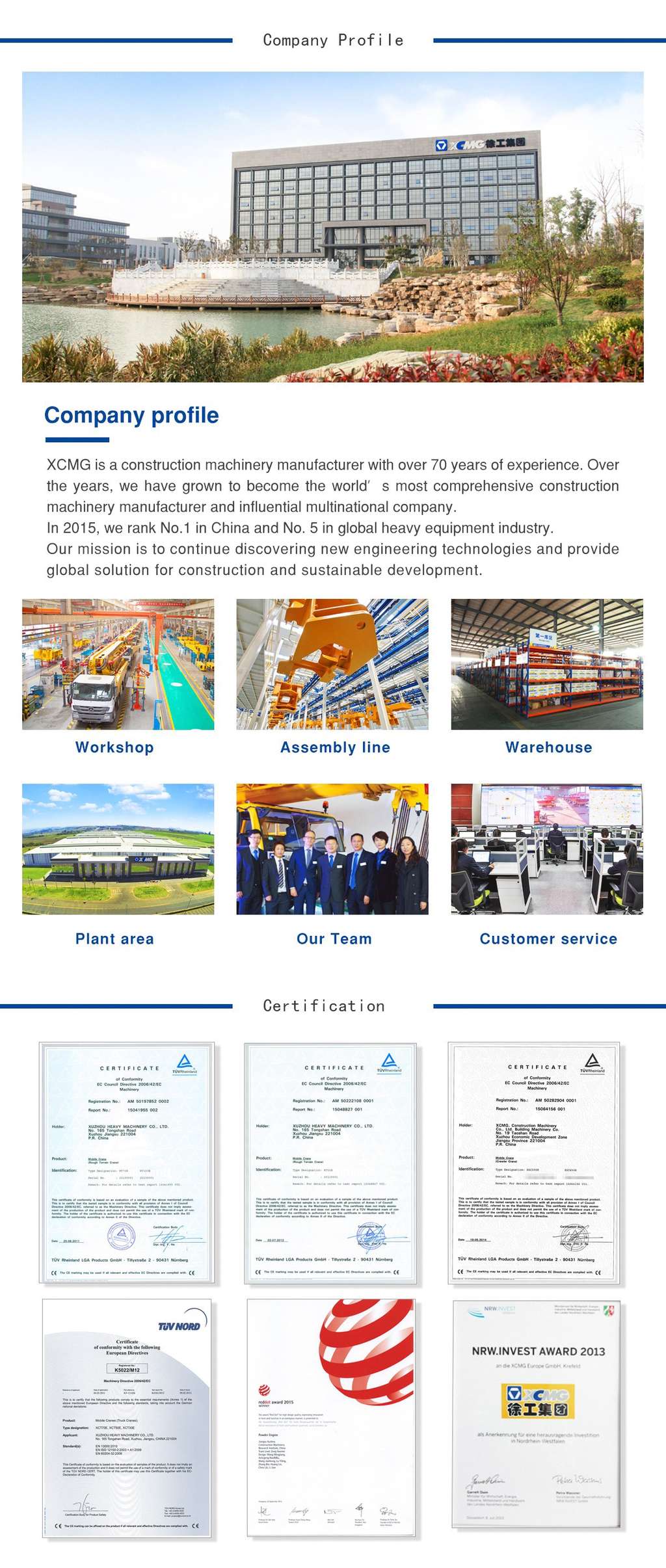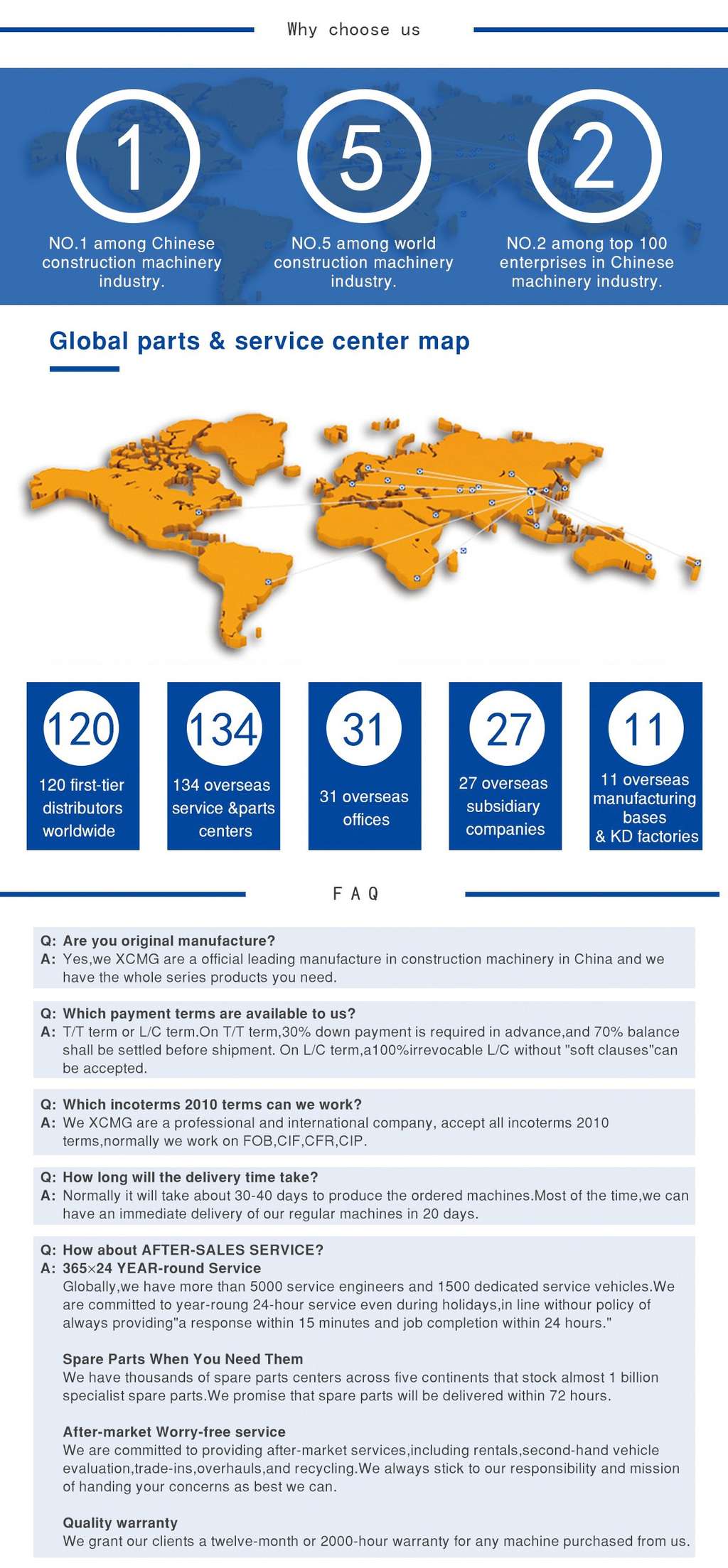 Response Time : Within 24 hours
Xuzhou Construction Machinery Group Co., Ltd. XCMG was founded in 1943. Since then, XCMG has stood at the forefront of the Chinese construction machinery industry and developed into one of the domes