Engineering & Construction Machinery
>
Engineering & Construction Crane
>
All-Terrain Crane
>
XCMG
>
XCMG Official XCA550 All Terrain Cran...
Summary
Model Number:

XCA550

Brand Name:

XCMG

Place of Origin:

China

Certification:

ISO9001
Details
Product Name:

G5ACB22A2029C4

Display online time:

2019-11-11

weight:

84000.000kg

After-sales Service Provided:

Engineers available to service machinery overseas

Warranty:

12 Months

Condition:

NEW

Moving Type:

wheel


XCA550 All Terrain Crane
1、XCA550 All Terrain Crane is designed mainly for erection and maintenance of 1.5-2.0MW wind turbines. It is also suitable for operation in typical working conditions such as lifting operation for bridges, dock, and petrochemical construction.
2、The whole vehicle shares the chassis engine. The power is transferred via the mechanic transmission to the upper body and supplies it with the power. Maintenance is to be carried out only on the mono-engine chassis system thus reducing the workload of maintenance. The annual maintenance cost of dynamic system is saved for
more than 40%.3、The tires on left and right side move up/down separately to adapt to the road conditions, to effectively enhance the stability of steering operation at high speed and achieve excellent off-road performance when driving on the narrow road or the road with poor road conditions.
4、With first launched multi-mode drive technology in the industry, real-time intelligent control for various working conditions is realized so that the crane has optimized travel state and crane safety and reliability are improved.
5、Axle load monitoring technology: Proper gear (the highest gear engaged) and axle driving mode are matched automatically by axle load monitoring technology, which provides protection for crane safety in traveling.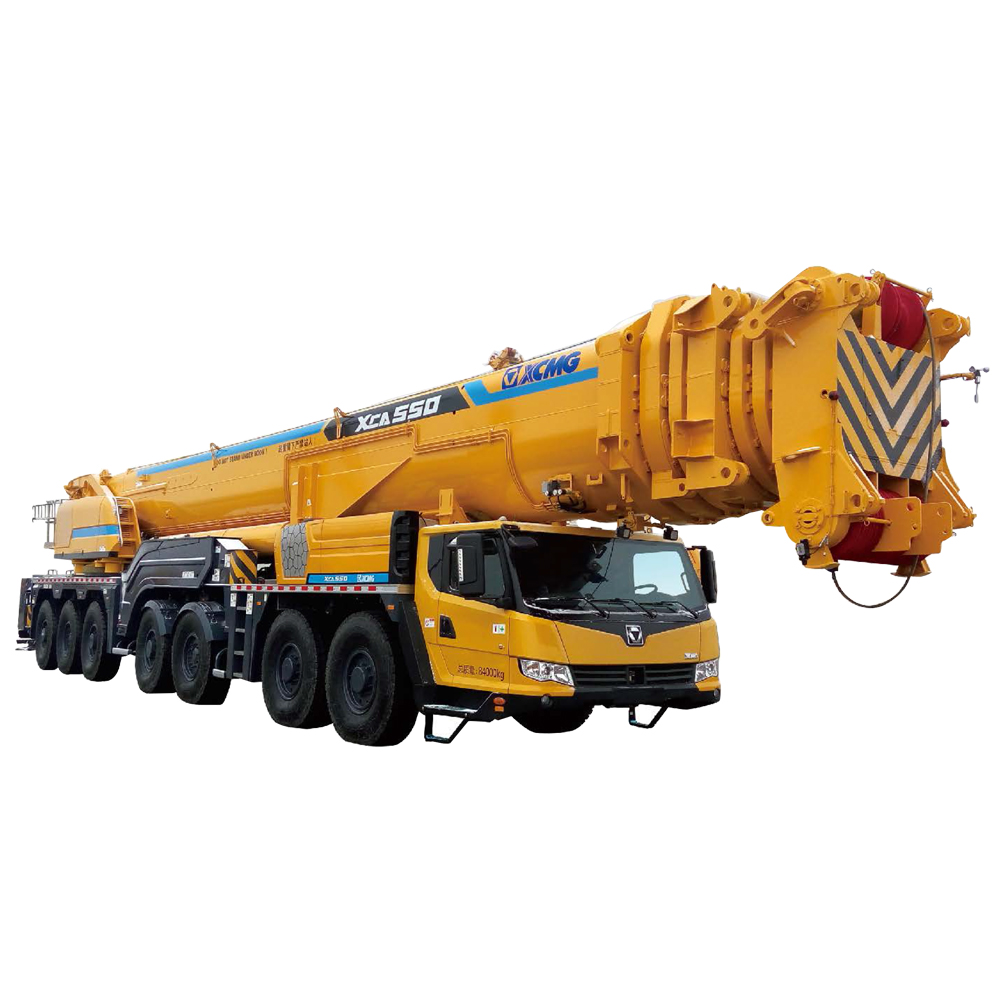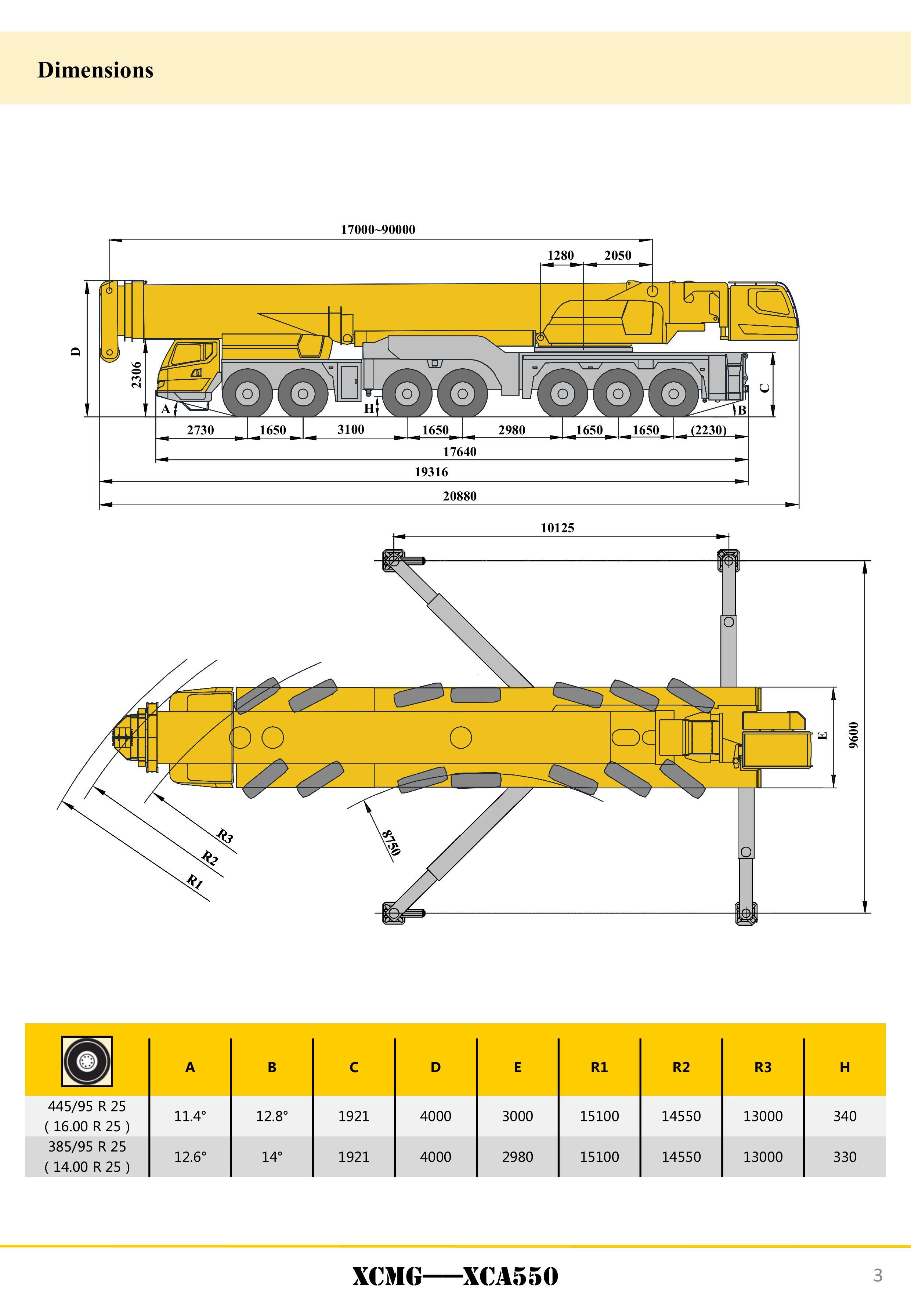 Weight

Axle

1

2

3

4

5

6

7

Total weight

t

12

12

12

12

12

12

12

84

Hook

No. of lines

Weight kg

Remarks

2101

19

3306

Double hook

1401

13

2514

Double hook

80 t

7

1835

Double hook

301

3

1441

Single hook

km/h

445/95 R 25(16.00 R 25)

2-85

50%

385/95 R 25(14.00 R 25)

2-80

55%

Working speeds

Drive

Working speed

Max. single line pull

Rope diameter/ length

0-140 m/min, single line,5th layer,no load

13.6t

24mm/700 m

0-140 m/min, single line,5th layer,no load

13.6t

24mm/490m

0-1.2 r/min

Approx. 110s for boom elevation from -0.5° to 85°

Approx. 900s for boom extension from 17m to 90m

XCMG—XCA550
Technical specifications

Chassis

Superstructure

Frame

Designed and manufactured by XCMG, made of high strength steel with inverted trapezoid cross section.

Frame

Designed and manufactured by XCMG; Full- covered walking platform, made of high-strength steel

Outrigger

4 outriggers. K-typed arrangement, lateral swing movement and jacks are controlled hydraulically. A check valve is fitted at each outrigger oil cylinder, and each jack is fitted with a double-way hydraulic valve. There are four auxiliary jacks for helping self-mounting of front outrigger beams. There is an electrical control station installed at each side of chassis. Luminous level gauge, illuminating lamp and acceleration button are equipped on each control station.

Hydraulic system

Electric proportional variable displacement pump is used for lifting, elevating, telescoping and slewing; Through logic control of plug-in valve spool, main valve is used to control telescoping and elevating operation. Large power Air-cooled hydraulic oil cooler, which may effectively reduce the temperature of oil in the system.

Engine

OM502LA.E3B/1, V-type eight-cylinder water-cooled EFI diesel engine, manufactured by Daimler AG, rated power 480kw / 1800 rpm, max. torque 3000N.m /1300 rpm, China national V emission standards.

Fuel tank capacity : 550L.

Operating mode

Variable continuous speed regulation. Electric proportional pilot control of all operation of hydraulic pump and proportional valve to control the crane by 2 control handle.

Gearbox

Electric controlled transmission imported from ZF Germany, with manual MT and automatic AT control, equipped with torque converter and retarded brake, with 12 forward gears and 2 reverse gears available.

Main winch system

Hydraulic controlled speed regulation, with system groove drum equipped, driven by hydraulic variable motor through planetary gear reducer, and with built-in constant closed brake, equipped with specific anti-disorder rope winding drum, anti-coiling wire rope.

Alxes

High strength axle with reliable performance, imported originally from KESSLER Germany, equipped with pneumatically controlled drum brake. Five axles for driving: 14 x 10 x 14.

Slewing system

three row roller external tooth slewing ring and right-arranged double slewing mechanism driven by a hydraulic motor, with a planetary gear reducer and a normally closed brake equipped, for 360° continuous rotation. Power control and free slewing function as well as stepless speed regulation are available.

Suspension

Hydro-pneumatic suspension is adopted fbr all axles, providing good shock absorbing effect. Functions of automatic leveling, suspension lifting, elastic/rigid state switch-over, etc. are available. Stroke of suspension cylinder: -150mm ~+150mm.

LMI

The safety protection device is installed in operator's cab. When actual moment approaches overload value, it may send out visual alarm, and automatically stop dangerous movements before overloading. Overload memory function (black box) and fault selfdiagnosis function are available.

Tires

Manufactured by Michelin, large bearing capacity.

Tire specifications: 445/95R25(16.00R25).

Operator's cab

Large arc glass, swing-out door, adjustable seat, equipped with safety glass and top protective rails, LMI, controller box, electric wind shield wipers, engine accelerator pedal, engine start switch and windshield visor, etc. are also available, heater and air conditioner are standard.

Brakes

Service brake: double-circuit air

pressure brake, acting on all

wheels.Parking brake: spring energy

brake, acting on wheels of 2-7

axles.Auxiliary brake: engine

brake,transmission retarded brake,

and eddy current brake.

Safety devices

Hydraulic balance valve, Hydraulic relief valve, Double-way hydraulic valve, LMI. Spring centering system for control levers. Lowering limiter for preventing wire rope from over-releasing. Anti-two block at boom head for preventing wire rope from overwinding. Anemometer for measuring the wind velocity.

Hydraulic system

The variable displacement pump is connected to the PTO at the left side of transmission via propeller shaft fbr controlling the movements of electric-hydraulic proportional steering, outriggers and suspension. The triple pump is connected to the PTO at the rear of engine via propeller shaft for controlling the movements of hydraulic boosting and radiating hydraulic system

Electrical

System

DC 24 volts is in series with four sets of 12- volt battery.

Steering

All axles steering, 1st to 3rd axles are

mechanically steered plus hydraulic

booster, 4th to7th axles are

electric-control hydraulic

steering, six steering modes followed

may be realized.

Combined counterweight

Total weight is 180t. 10 counterweight combinations of 0t, 20t,40t.

60t,80t, l00t ,120t,140t, 160t and 180t are available.

Driver's Cab

New type steel structure foil

dimension cab with suspension

connecting structure, and there

is shock absorb fitted at the rear of the

cab, equipped with adjustable seats,

safety glass of electrically operated

door window lift, electric-adjustable

mirrors, steering wheel adjustable in height and angle, reverse displayer, large screen liquid crystal display.

Combined control panel reasonably

arranged ergonomically designed

concept. CD player, heater and air

conditioner are available.New type

steel structure foil dimension cab

with suspension connecting

structure,and there is shock absorb fitted at the rear of the cab,

equipped with adjustable seats, safety

glass of electrically operated door

window lift, electric-adjustable

mirrors, steering wheel adjustable in

height and angle, reverse displayer,

large screen liquid crystal display.

Combined control panel reasonably

arranged ergonomically designed

concept. CD player, heater and air

conditioner are available.

Additional equipment

Winch system for luffing jib

It includes elevating sheave block, used for elevating the luffing jib.

Fixed jib

Lattice welding structure, with 0° , 20° and
40° jib offset angles available.Jib length: 6.5m〜54.5m;Length of jib for : wind power 6 m.

Transfercase

Mechanical transfer box is originally imported from KESSLER Germany, equipped with an emergency steering oil pump.

Tires

Tire specifications: 385/95R25(14.00R25).

Electrical system

DC 24 volts is in series with four sets of 12- volt battery.

Luffing jib

Lattice welding structure, it works with Boom angles of 68° , 75° and 82° .Jib length: ]8m~60m, and 90 m length is available after combining with optional inserts.

Boom system

Boom

7-section, U-shape cross section, welding structure. Single-cylinder pinning interlocked telescoping system. One double-acting cylinder with safe valve assemblies used for control of the telescoping movement of all booms, 46%, 92% and 100% telescoping pattern are available.

Boom length: 17m ~ 90m.

Hook block

Double hook with 270t lifting capacity;

Weight : 5054kg; NO. of lines : 27.

Super-lifting

Y-type super lifting device may be installed at

the end of the basic boom. The design of two parts of line super lifting wire rope enables the pulling force of the super lifting double improving.

Engine

OM502LA.E3A/1,V-type eight-cylinder water-cooled EFI diesel engine, manufactured by Daimler AG, rated power 480kw / 1800 rpm, max. torque 2800N.m /1300 rpm, China national III emission standards.

Fixed jib

Lattice welding structure, with 0° jib offset angles available.

Jib length 7m.

Product parts list is as mentioned above, please refer to the product quotation for specific parts.

XCMG—XCA550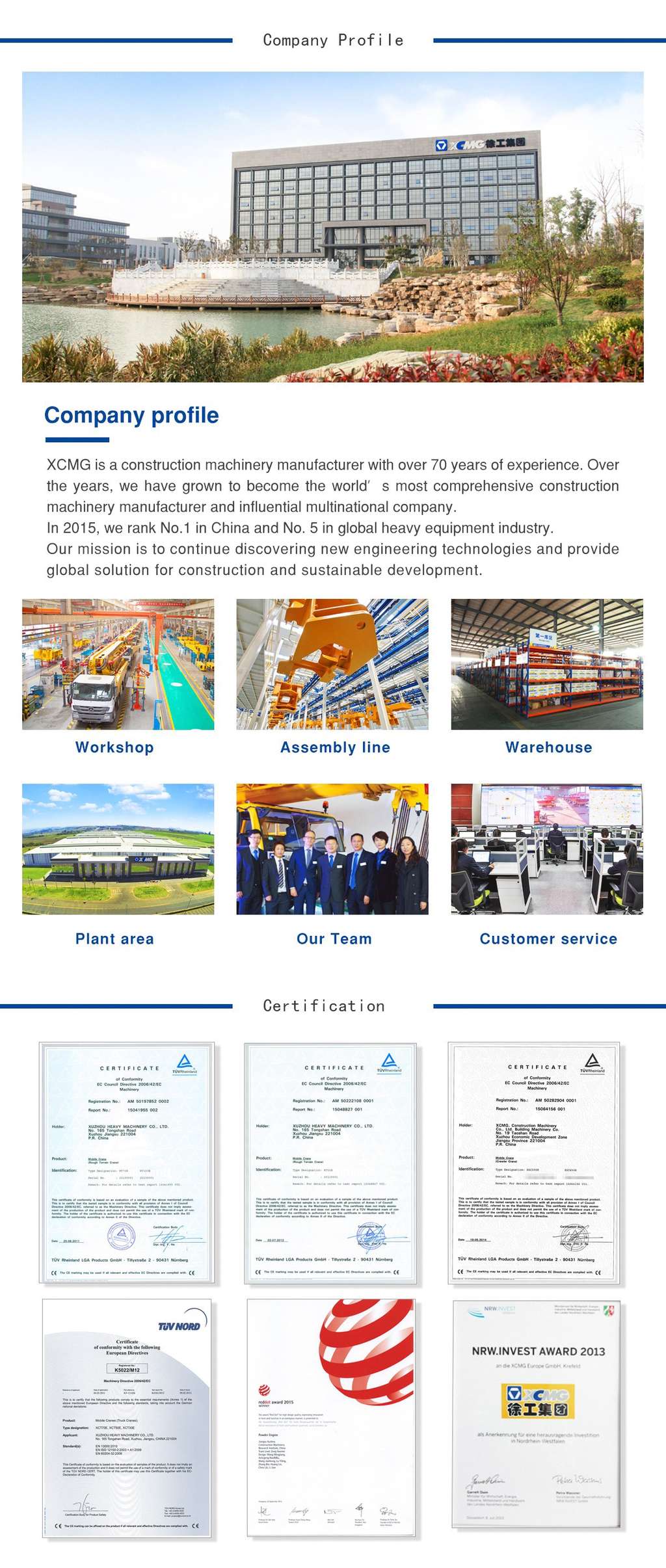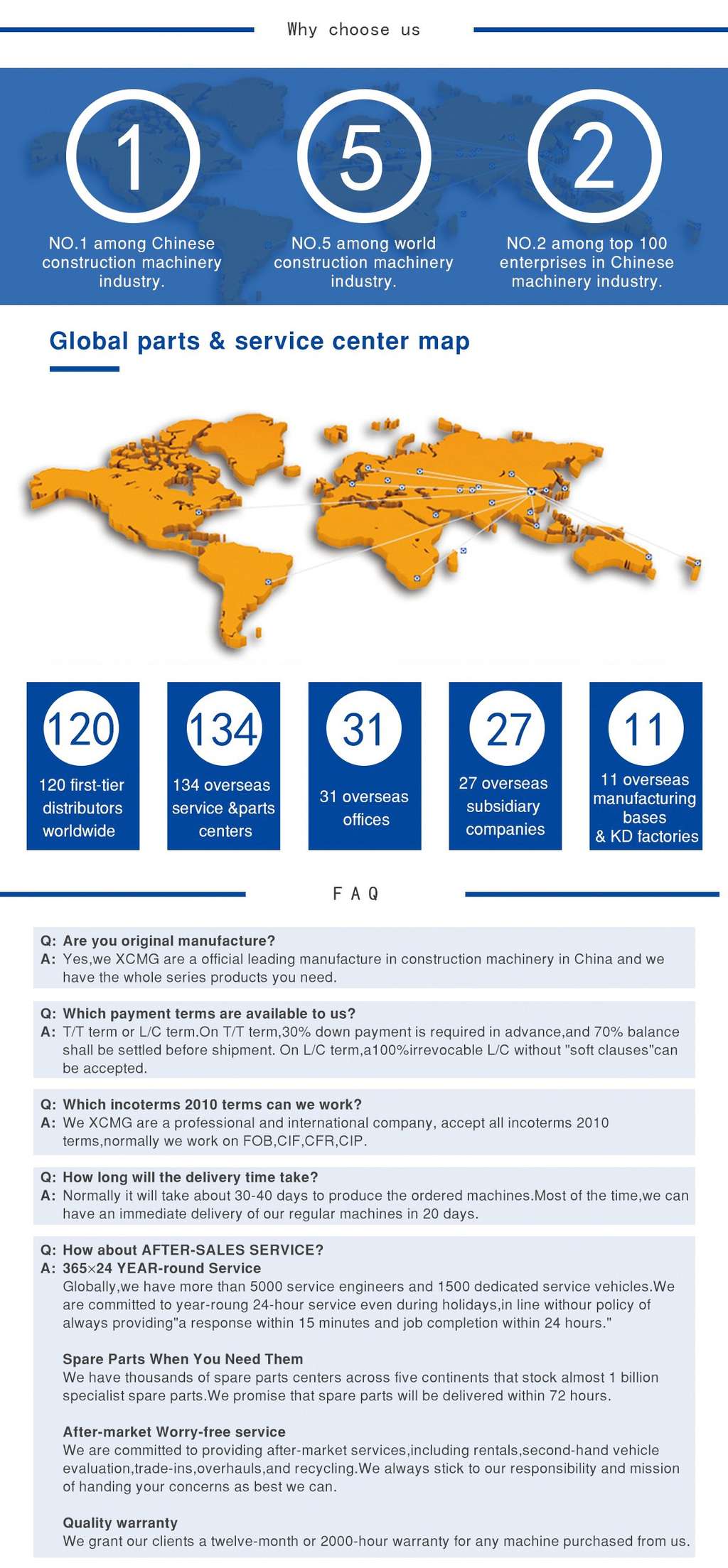 Response Time : Within 24 hours
Xuzhou Construction Machinery Group Co., Ltd. (XCMG) was founded in 1943. Since then, XCMG has stood at the forefront of the Chinese construction machinery industry and developed into one of the domes