Summary
Model Number:

XCT100(G1)

Brand Name:

XCMG

Place of Origin:

China

Span:

Longitudinal7.7m/Lateral7.9m

Max. Lifting Height:

92.6

Max. Lifting Load:

100t

Rated Lifting Moment:

4704kN.m

Rated Loading Capacity:

100t

Application:

Construction Industry

Certification:

ISO9001/CE
Specifications
Weight:

55000.000kg

Condition:

New

Moving Type:

Wheel

Overall length:

15600mm

Overall width:

3000mm

Overall height:

3870mm

Wheel base:

1920+3500+1420+1505mm

Track:

2449/2315mm

Total vehicle mass in travel configuration:

55000kg

Engine Model:

WP6G240E330/OM906LA.E3A/2

Engine rated power:

176/2300kW/(r/min)/190/2200kW/(r/min)

Engine rated torque:

860/1200-1700N.m/(r/min)/1000/1200-1600N.m/(r/min)

Max. travel speed:

90km/h

Min. turning diameter:

23m

Min. ground clearance:

326

Max. grade ability:

0.45

Exterior noise level during acceleration traveling:

≤88dB(A)
1.High performance


Overall optimized matching technology is adopted with high strength boomand optimized aspect ratio, which reduces boom torsion, side-bending, etc. Newsingle-cylinder pinning telescoping system brings higher telescopingreliability. Inserted sliders may efficiently increase the overlapping lengthof adjacent boom sections and eliminate point contact or line contact betweenslider and boom, thus local buckling phenomenon is effectively avoided. Compactboom tail structure improves boom telescoping ratio, which effectively contributesto longer boom length. The boom with six sections can be extended up to 64m, 1mhigher than the longest boom in the class in the industry, with performanceimproved by 15

~

20%.

XCT100(G1) is also the first four-wheel driven truck crane domestically,which can meet the need under various road conditions. Driving mode can bechosen automatically according to road conditions. Axles 2, 3, 4 are used fordriving on the normal road to save fuel. Axles 1, 2, 3, 4 are used for drivingon the rough road to realize a more flexible chassis with higher pass-ability.

Equipped with high-precision sensors and large power radiator, newenergy-saving hydraulic system adopts large displacement electric proportionalvariable pump with intelligent engine control technology to achiece higherenergy utilization, lower heat production, improved system reliability and 15%fuel conservation. At the same time of improving manipulation smoothness, XCMGvalve control technology advantage is also made full use of to realize higheroperation stability, finer control, faster speed and perfect manipulationfeeling.

Taken power and economy into consideration, matching low-speed large-torquepower system perfectly combines optimal power and economy.

The latest control technology platform is adopted to update the system withthe realization of intelligent crane operations and travel control, such asautomatic planning of working conditions, winch servo control technology,lifting elevating compensation control technology, and other in-house developedintelligent boom technologies, contributing to improved automation of boomcontrol and higher lifting safety to a large degree.

Road traveling and tight turning radius modes are available throughrear-axle hydraulic control servo steering technology to ensure stablehigh-speed driving and flexible low-speed driving.

4.Appearance and ergonomics

The crane has newly designed XCMG G generation appearance of truck crane,which looks more sturdy and elegant. The entire crane has been ergonomicallyimproved. The air suspensions equipped for the low-noise driver's cab improvedriver comfort. New designed aluminium deck presents aesthetic.

XCMG man-machine interactive system with the level of family car, i.e.ergonomically designed work space, 13 intelligent and informative interactivetechniques and user friendly man-machine interaction are available with vehiclecondition clear at a glance.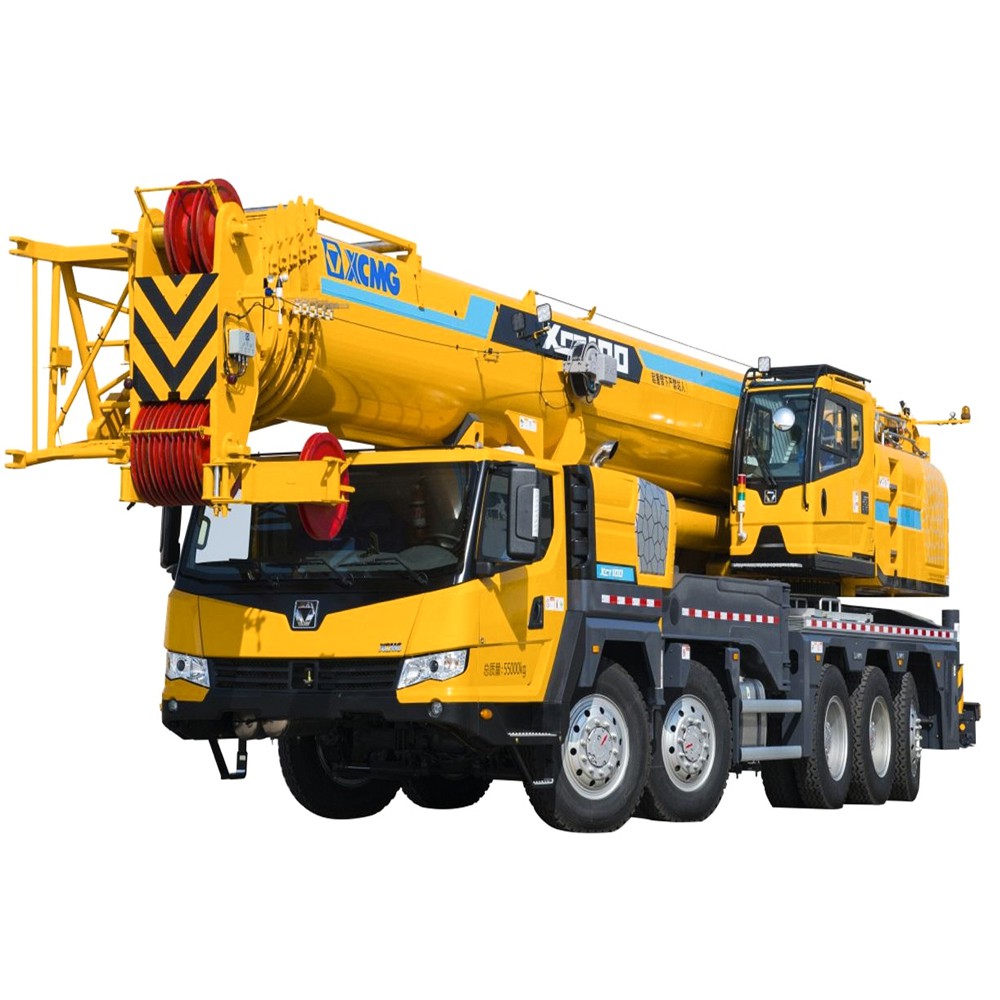 Description

Unit

Parameter value

Overall length

mm

15600

Overall width

mm

3000

Overall Height

mm

3870

Wheel Base

mm

1920+3500+1420+1505

Track(front/rear)

mm

2449/2315

Front/Rear overhang

mm

2650/2765

Front/Rear extension

mm

1840/0

Total vehicle mass in travel configuration

kg

55000

Axle load

1st and 2nd Axle

kg

10000

3rd and 4th Axle

13000

5th Axle

9000

Engine Model

WP6G240E330

M906LA.E3A/2

WP12.430N

Engine rated power

kw/(r/min)

176/2300

190/2200

316/1900

Engine rated torque

N.m/(r/min)

860/1200-1700

1000/1200-1600

2060/1000-1400

Max. travel speed

km/h

90

Min. turning diameter

m

23

Min. ground clearance

mm

326

Max. grade ability

%

45

Approach angle

°

18

Departure angle

°

13

Braking distance (at 30 km/h, full load )

m

≤

10

Oil consumption per 100km

L

70

Noise level at seated position

dB

(

A

)

≤

90

Exterior noise level

dB

(

A

)

≤

88











Response Time : Within 24 hours
XCMG was founded in 1943. XCMG products include: excavators, loaders, cranes including earth-moving machinery, road machinery, concrete machinery, mining machinery and other 12 construction machinery.