Engineering & Construction Machinery
>
Engineering & Construction Crane
>
Truck Crane
>
XCMG
>
XCMG Official XCT110 Truck Crane for...
Summary
Model Number:

XCT110

Brand Name:

XCMG

Place of Origin:

China

Span:

7.9m

Max. Lifting Load:

110t

Application:

Construction Industry

Certification:

ISO9001
Specifications
weight:

54990.000kg

Condition:

New

Moving Type:

Wheel

Overall length:

15545mm

Overall width:

3000mm

Overall height:

3890mm

Total weight in travel:

54990kg

Engine Model:

WP12.430E50

Engine rated power:

316kW/1900rpm

Engine rated torque:

2060Nm/1000-1400rpm

Driving speed(km/h):

3~90

Gradability:

0.45

Tires:

12.00R24-20PR

Base boom:

13.4m

Max. main boom:

73m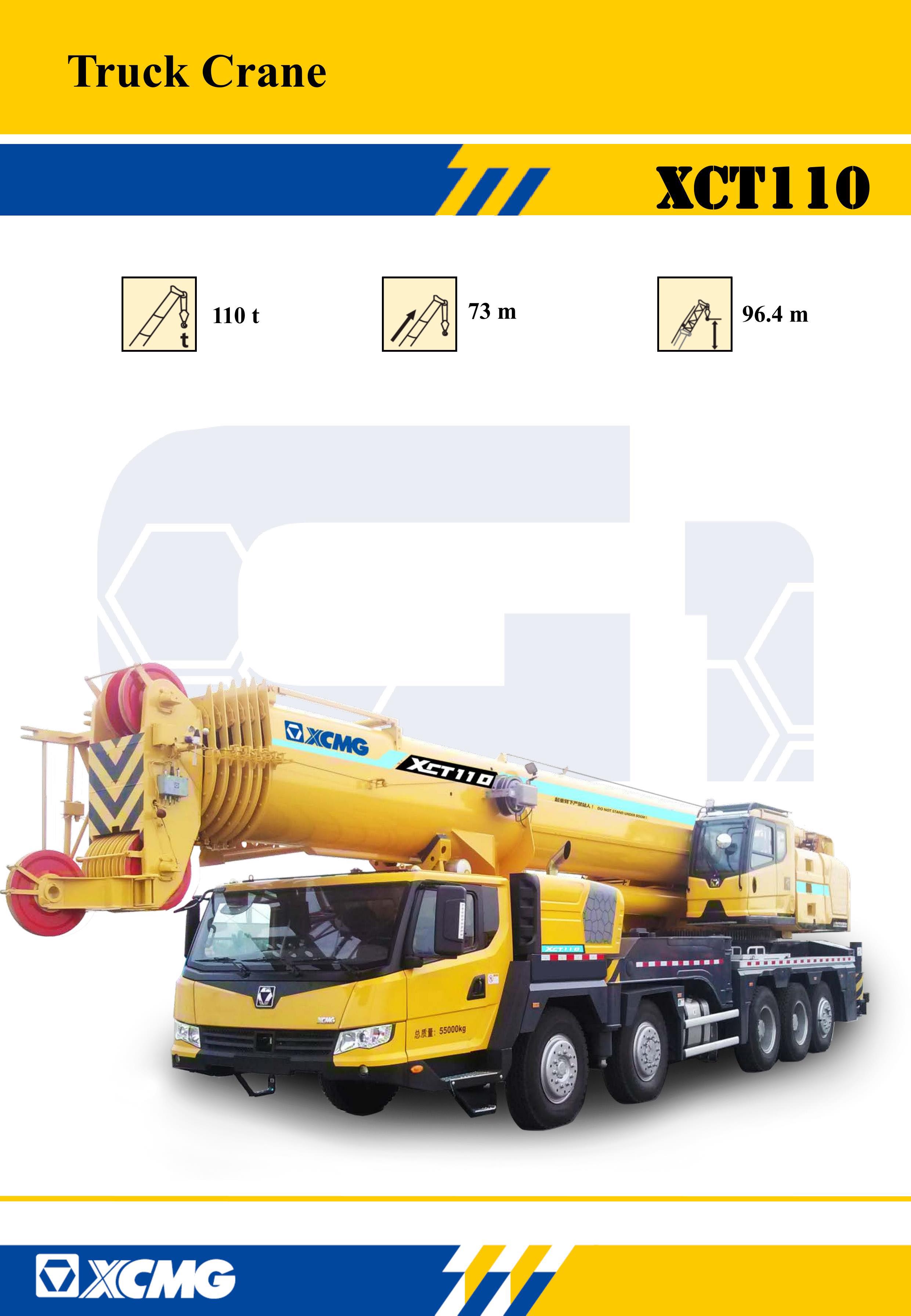 Dimensions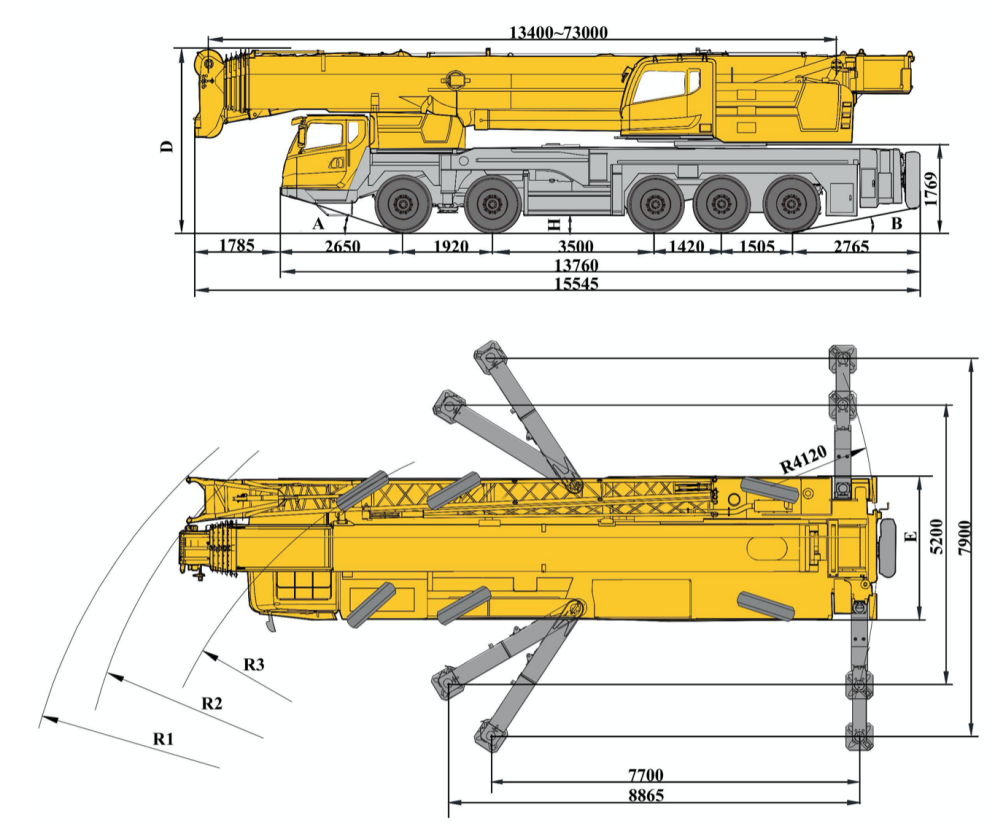 | | | | | | | | | |
| --- | --- | --- | --- | --- | --- | --- | --- | --- |
| | A | B | D | E | R1 | R2 | R3 | H |
| 12.00R24-20PR | 18° | 13° | 3890 | 3000 | 14300 | 13400 | 11500 | 326 |
XCMG—XCT110
Technical specifications

Superstructure

Fram

Designed and manufactured by XCMG; Full- covered walking platform, made of high-strength steel

Safety devices

Hydraulic system: hydraulic balance valve, hydraulic relief valve, double-way hydraulic valve, etc. are available to make hydraulic system safe and stable.The safety system includes displayer, central controller, length/angle sensor, over-winding switch, oil pressure sensor, etc.Lowering limiter switch can make the drum maintain three circles of wire ropes at least. Height limiter switch can make the lifting height within the max. limit.

Engine

WP6G240E330,Inline six-cylinder water-cooled and high pressure common rail diesel engine, manufactured by Weichai, rated power 176kW / 2300rpm, the maximum torque of 860Nm / 1200- 1700rpm, national III emission standards;Fuel tank capacity : 280L.

Combined counterweight

Total weight is 40t.Counterweights of Ot, 12t, 19t, 30t, and 40t are available.

Boom system

Hydraulic system

variable pump and gear pump driven by superstructure engine, used for hoisting, elevating, telescoping and slewing operation Load-sensitive proportional multi-way changevalve, controlled by electric proportional pilot hydraulic oi. Air-cooled hydraulic oil cooler.Oil tank capacity: about 1100 L.

Boom

7-section boom with U-shaped cross-section, welded structure.Boom length: 13.4m ~ 73m.

Single top

Fitted at boom head, used for single line operation.

Operating mode

All the movements of the crane is controlled by two control levers at left and right. Pilot electricproportional control is used for controlling thesuperstructure with PLC integratedintelligent control technology and CAN-BUS control network. Besides normal control functions, it also has the functions such as real-time monitoring, fault automatic diagnosis, intelligent boom control, single-cylinder pinning control

Jib

Two lattice jibs are stored besides the boom with 0°, 15° and 30° jib offset angles available. Jib length: 10.6m/18.1m

Addtional equipment

Main winch system

Hydraulic control is used for speed regulation. The system is driven by a hydraulic motor through a planetary gear reducer, with a normally closed brake, balance valve and a grooved drum equipped.

Telescopic boom extension

two boom extension of 7m

Slewing system

Single-row four-point ball contact external tooth slewing ring is driven by the planetary gear reducer of slewing mechanism driven by a hydraulic motor, may continuously slew 360° . Power control or free slewing function is available, and the slewing speed may be infinitely regulated.

independent jib head

independent jib head of 2.9m

Elevating system

Single-cylinder elevating with boom gravity fall mode to save fuel.

Superstructure engine

OM906LA.E3A/2,Inline six-cylinder water-cooled EFI diesel engine, manufactured by Benz, rated power 190kW / 2200rpm, the maximum torque of lOOONm / 1200-1600rpm, state III emission standards.

Operator's cab

new fully-enclosed steel cab has better sealing and anti-corrosive properties and it's safe and comfortable to use.It is equipped with a full-view front window. Safety glass and sun shield are used for windows. The cab features a new ergonomic seat design with backrest adjustment and armrests with joysticks fitted. A sliding door and a pull-out step are available to make it easy and safe as access and egress the cab. Wipers are fitted for the windshield and roof window. Control panel with human-machine interactive system is used in operator's cab. The cab can be tilted up to 20°. Heating & air conditioning are available.

Chassis Engine

Cummins (Xfan)ISMllE5 440, 6 cylinders, diesel. Rated power/rpm: 324 kw/1900 rpm. Rated torque/ipm: 2080 N.m/1200 rpm. Emission standard: China V

Wireless control device

wireless remote control counterweight erection.

Product parts list is as mentioned above, please refer to the product quotation for specific parts.

XCMG _XCT110
Weight

Axle

1

2

3

4

5

Total weight

t

9.99

10

13

13

9

54.99

Hook

No. of lines

Weight kg

Dimension mm

Remarks

110t

12

1017

1785x730x560

Double hook ,Standard

60t

6

500

1514x730x306

Single hook ,Standard

7t

1

256

731x426x426

Single hook ,Standard

Working speeds

km/h

12.00R24-20PR

3~90

45%

Drive

Working speed

Max. single line pull

Rope diameter/ length

0-135 m/min, single line,4th layer

104 kN

22 mm/265 m

0-105 m/min? single line,4th layer

74 kN

22 mm/210 m

0-2.0 r/min

Approx. 60s for boom elevation from -1° to 81°

Approx. 580s for boom extension from 13.4m to 73m

XCMG—XCT110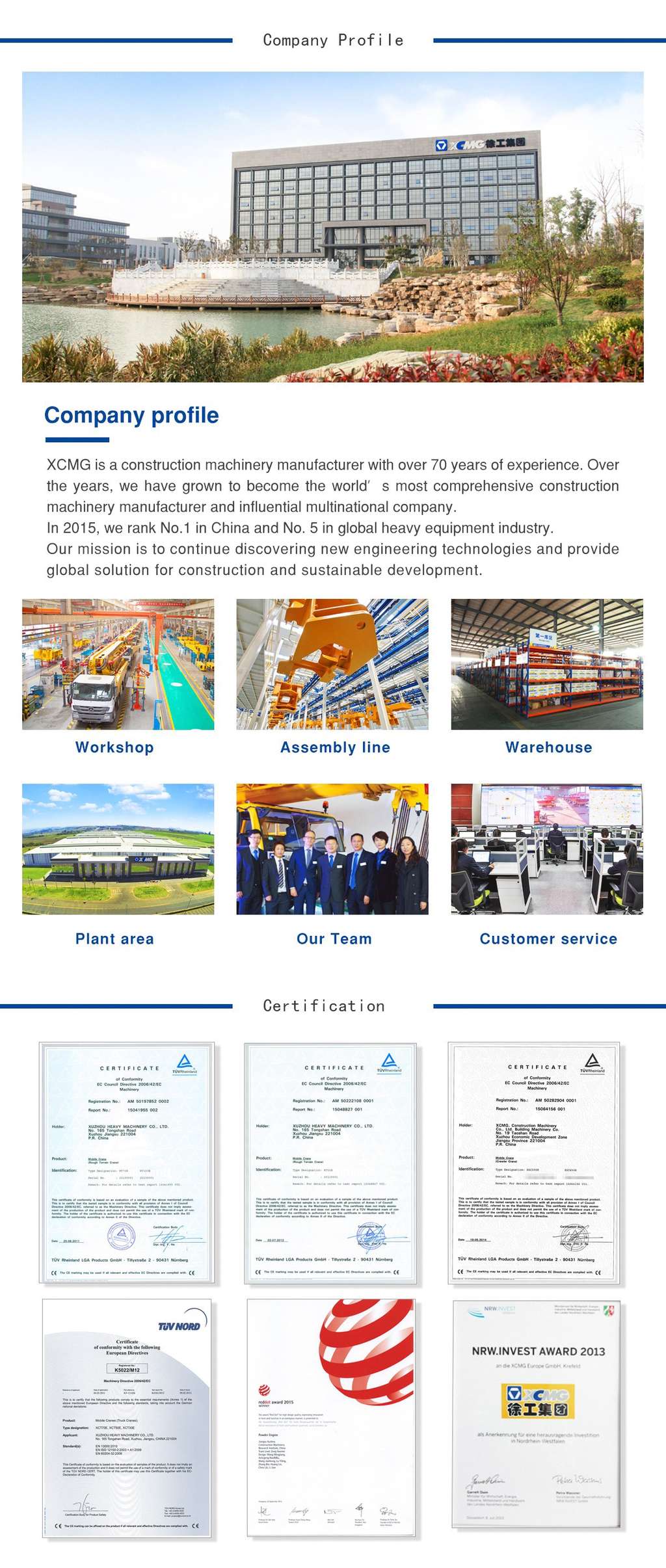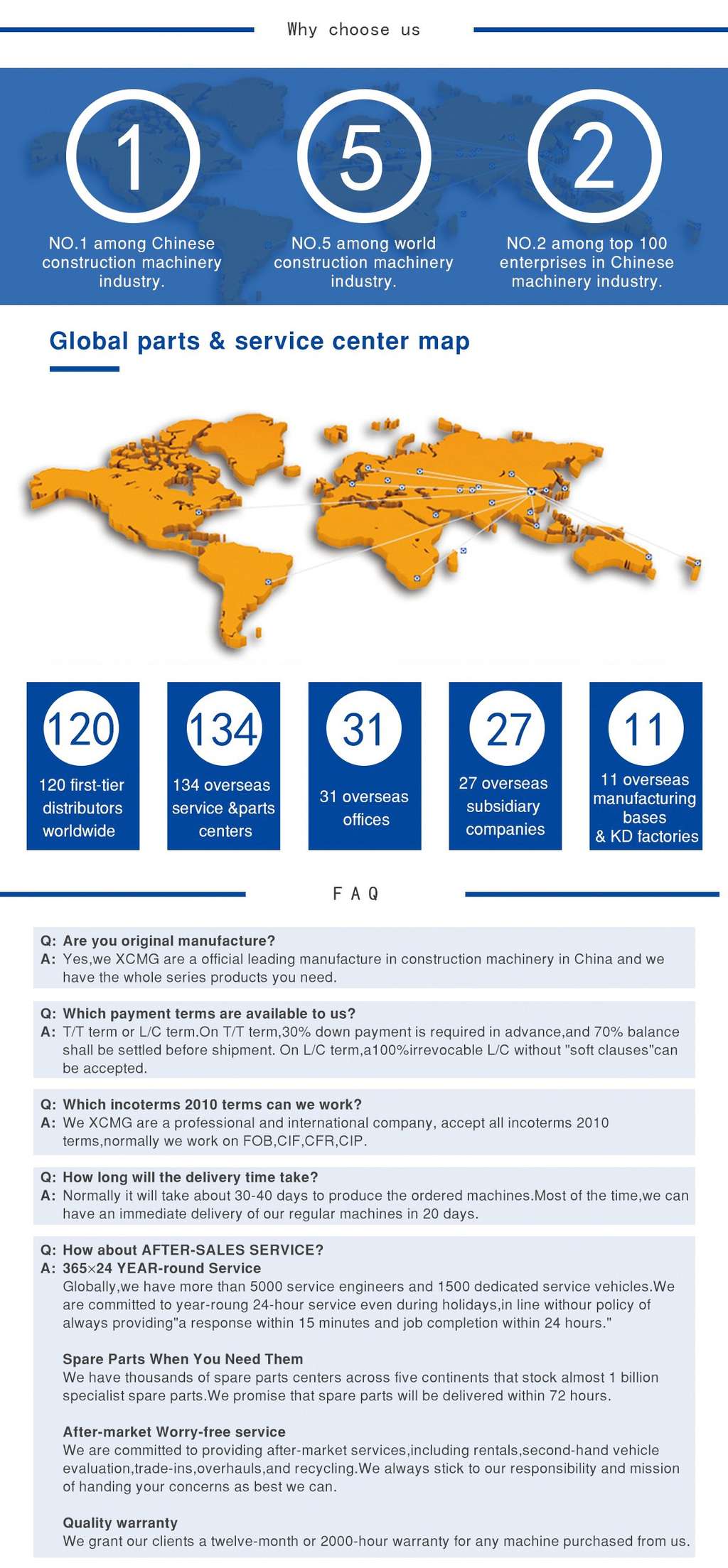 Response Time : Within 24 hours
XCMG was founded in 1943. XCMG products include: excavators, loaders, cranes including earth-moving machinery, road machinery, concrete machinery, mining machinery and other 12 construction machinery.