Engineering & Construction Machinery
>
Engineering & Construction Crane
>
Truck Crane
>
XCMG
>
XCMG Official XCT20L5 Truck Crane for...
Summary
Model Number:

XCT20L5

Brand Name:

XCMG

Place of Origin:

China

Span:

7.9m

Max. Lifting Height:

47.6m

Max. Lifting Load:

20t

Application:

Construction Industry

Certification:

ISO9001
Specifications
weight:

29400.000kg

Condition:

New

Moving Type:

Wheel

Overall length:

12262mm

Overall width:

2500mm

Overall height:

3410mm

Total weight in travel:

29400kg

Engine Model:

SC7H260Q5

Engine rated power:

192kW/2300rpm

Engine rated torque:

1000Nm/1200~1600rpm

Driving speed(km/h):

2~85

Gradability:

0.42

Min. turning diameter:

20m

Min. ground clearance:

261mm

Tires:

11.00-20,suitable for heave load truck

Base boom:

10.3m

Max. main boom:

40m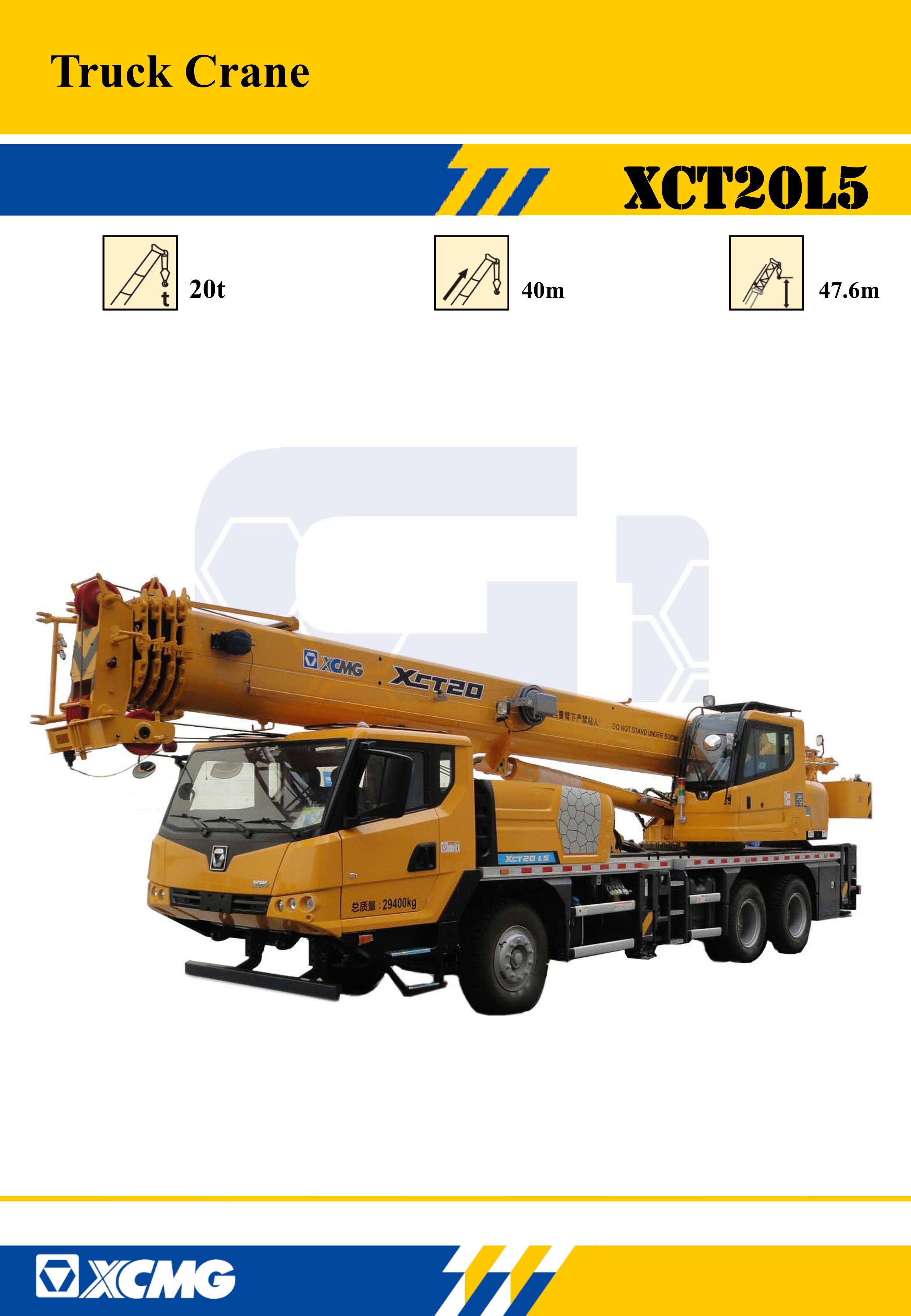 Dimensions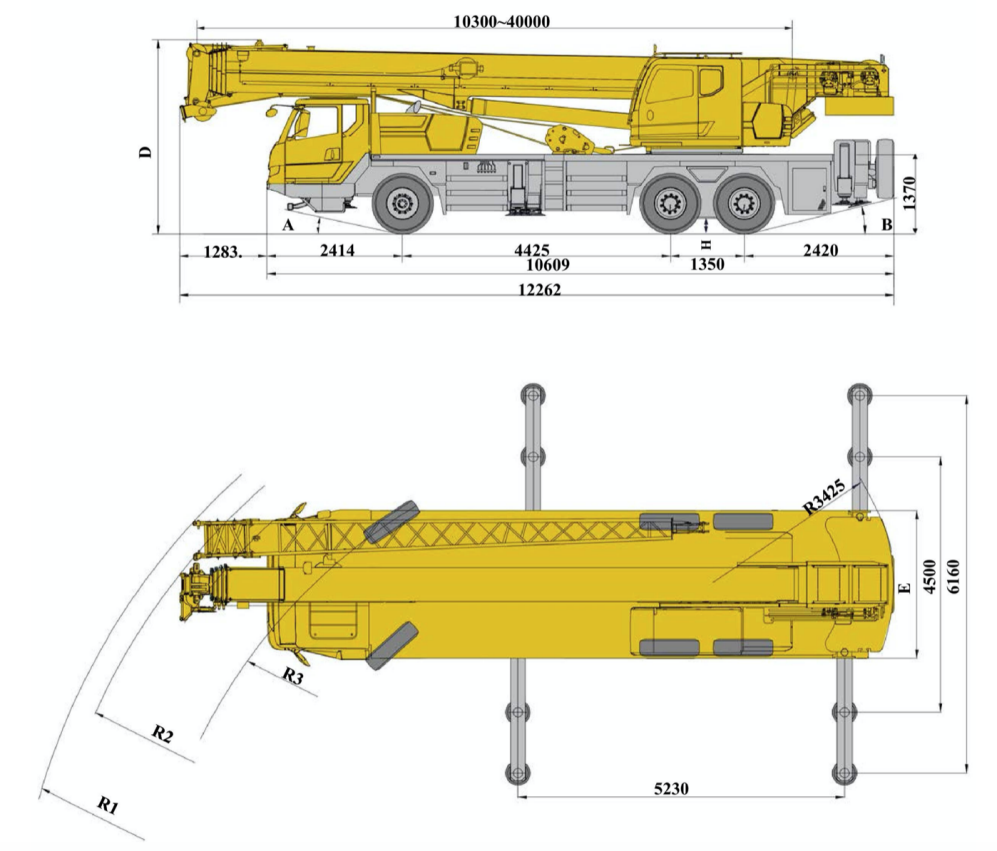 | | | | | | | | | |
| --- | --- | --- | --- | --- | --- | --- | --- | --- |
| | A | B | D | E | R1 | R2 | R3 | H |
| 11.00-20 | 12°/19° | 13° | 3410 | 2500 | 12400 | 12000 | 10000 | 261 |
XCMG—XCT20L5
Technical specifications

Chassis

Superstructure

Frame

Designed and manufactured by XCMG, with all covered walking surface, anti-torsion box structure and optimal load-bearing structure design, made of imported high strength steel.

Frame

Designed and manufactured by XCMG; Full- covered walking platform, made of high-strength steel

Outrigger

4 outriggers, H-typed arrangement, lateral swing movement and jacks are controlled hydraulically. A check valve is fitted at each outrigger oil cylinder, and each jack is fitted with a double-way hydraulic valve for ensuring operation safety. There are two auxiliary jacks for helping seIf-mounting of front outrigger beams.There is an electrical control station installed at each side of chassis. Luminous level gauge, illuminating 66 lamp and acceleration button are equipped on each control station.

Outrigger span: Longitudinal x lateral (fully- extended) 5.23m x6.16m

Dimension of outrigger float Φ340mm

Outrigger reaction force at max. lifting capacity... 29.4t

Hydraulic system

Exclusive matching throttle with compensation afterwards and load-sensitive technology results in the higher stability of the lowest system flow, more reasonable system rigidity, more outstanding fine control and smoothness. With double-pump confluence of hoisting, elevating and telescoping, the working speed of main and auxiliary winch can reach 135m/min, which improves the efficiency greatly. The distribution of flow in actuators is more optimized when conducting compound movements and the working efficiency is more outstanding.

Engine

SC7H260Q5, in-line six-cylinder supercharging intercooler diesel engine, manufactured by Shanghai Diesel Engine Co., Ltd., rated power !92kW /2300q>m, max. torque l000Nm / 1200-1600rpm, the national V emission standards.Fuel tank capacity : 260L

Operating mode

Mechanical control

Gearbox

Mechanical transmission with synchronizer from Shanxi Gear, 8 forward gears and 2 reverse gear

Main winch system

Driven by a hydraulic motor, with built-in planetary gear reducer and constant closed brake fitted, Drum with Lebus-type grooving, non-rotating wire rope.

Alxes

3-axle chassis. 2nd and 3rd axles for driving, 1st axle for steering, high strength load bearing axles designed by foreign advanced technology, with reliable performance.

1st axle: single tire, for steering; 2nd axle: double tire, for driving; 3rd axle: double tire, for driving.

Slewing system

Single-row roller slewing ring with external teeth may continuously slew 3600 after being driven by single-slewing gear arranged at its right side. Each planetary gear slewing reducer is actuated by a hydraulic motor.

Power control and free-sliding function are available, and speed may be infinitely regulated.

Suspension

Taper-leaf spring is adopted in front suspension with the features of light deadweight, low noise and good comfort; rubber suspension is adopted in rear suspension. V-shape thrust rod, with light deadweight and good positioning effect, easy to maintain.

Elevating System

Single-cylinder with a self eompensatiiig electronic- proportional control balance valve equipped.

Tires

11.00-20, suitable for heave load truck, strong generality

Operator's cab

Ergonomic cab design, with swing-out doors, safety glass, sun visor, adjustable seatsand protective rails equipped.Fan is standard and air-conditioner is optional.

Brakes

Double circuit, air braking, drum brake. Service brake: double-circuit air pressure brake, acting on all wheels.

Parking brake: spring energy brake, acting on wiieels of 2-3 axles.

Auxiliary brake: engine retarded brake, engine exhaust brake, safe and reliable, which prolongs the service Life of brake friction disc.

Safety devices

Hydraulic counterbalance valve;

Hydraulic relief valve; Double-way hydraulic valve;LMI; Spring return system of control levers;Lowering limiter for preventing wire rope from over-releasing;Anti-two block at boom head for preventing wire rope from over-winding.

Steering

Mechanical steering system with hydraulic boost

Fixed counterweight

Total weight of 4.8t

Driver's Cab

Equipped with four-point connecting structure, the new full driver's cab of steel has open car doors on both sides. The main drivers can adjust height automatically. With double seats, the passenger's seats can be used as simple sleeper for temporary rest of drivers. Safe glass with electric lift contributes to good heat-proof effect. Automatically adjustable rearview mirror is safe and convenient The steering wheel can adjust the height and angle, which is suitable for operators of different heights.

LCD, bus control, centralized information

show; and the layout of center console

with new combination is safe and

reasonable which adopts arc design and represents humanization. Fixed wiring harness connector save the space of driver's cab with fixed plug-in components. Integrated central distribution box enhances the reliability

of electric system in driver's cab. The

application of PLC control system

improves the stability of chassis electric

and die efficiency of error self-diagnosis.

It is equipped with Standard CD player

and air-conditioner both for cooling and

heating.

Additional equipment

Engine

SC7H260Q3, in-line six-cylinder supercharging intercooler diesel engine, manufactured by Shanghai Diesel Engine Co., Ltd., rated power 192kW /2200rpm, max.

torque l000Nm / 1400rpm? the national III emission standards.

Fuel tank capacity : 260L

Electric system

24V DC, negative grounding, two 12V batteries in series. Output voltage of generator is 28.5±0.3Y output current is 70A.

Boom system

Boom

5-section, 'U' cross section, welding structure. The double-cylinder plus rope telescoping system, powerful sequence with synchronous telescopic boom consisting of 2 telescoping cylinder and telescoping wire rope.

Each cylinder is equipped with safe valves. Boom length...10.3m〜40m

Tires

Tire specifications: 11.00R20

Single top

Single pulley, fitted on boom head, used for single line operation.Its lifting performance is the same as that for boom, but could not exceed 2.8t.

Jib

Lattice welding structure, with 0°、15°and 30° jib offset angles available.

Jib length 8.3m.

Product parts list is as mentioned above, please refer to the product quotation fbr specific parts.

XCMG—XCT20L5
Weight

Axle

1

2

3

Total weight

t

6.4

11.5

11.5

29.4

Hook

No. of lines

Weight kg

Dimension mm

Remarks

20t

7

200

1249x430x268

Single hook ,Standard Standard

3t

1

60

518x236x236

Single hook ,Standard Standard

km/h

11.00-20

2-85

42%

Working speeds

Drive

Working speed

Max. single line pull

Rope diameter/ length

0-135 m/min, single line,4th layer

30.4kN

14mm/170 m

0-135 m/min,single line,4th layer

30.4 kN

14mm/110 m

0-3 r/min

Approx. 35s for boom elevation from 0° to 80°

Approx. 50s for boom extension from 10.3m to 40m

XCMG—XCT20L5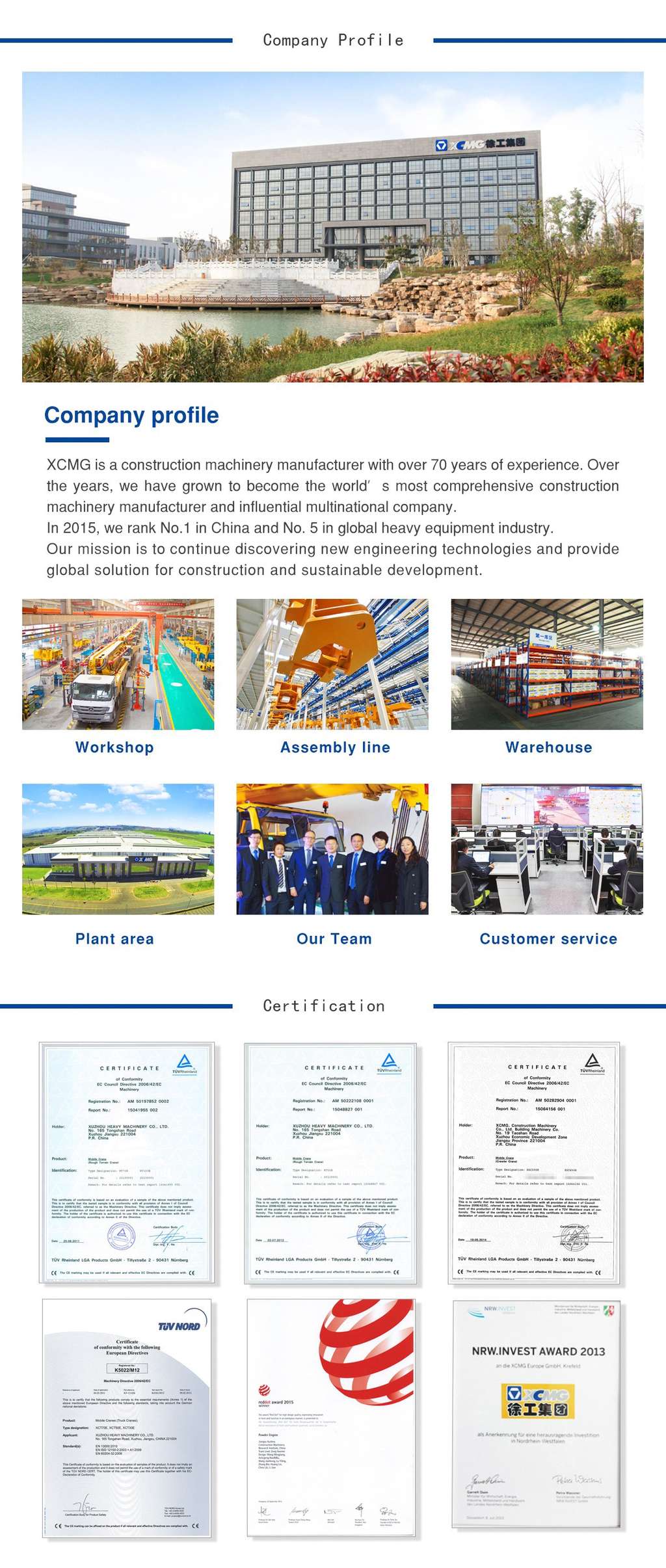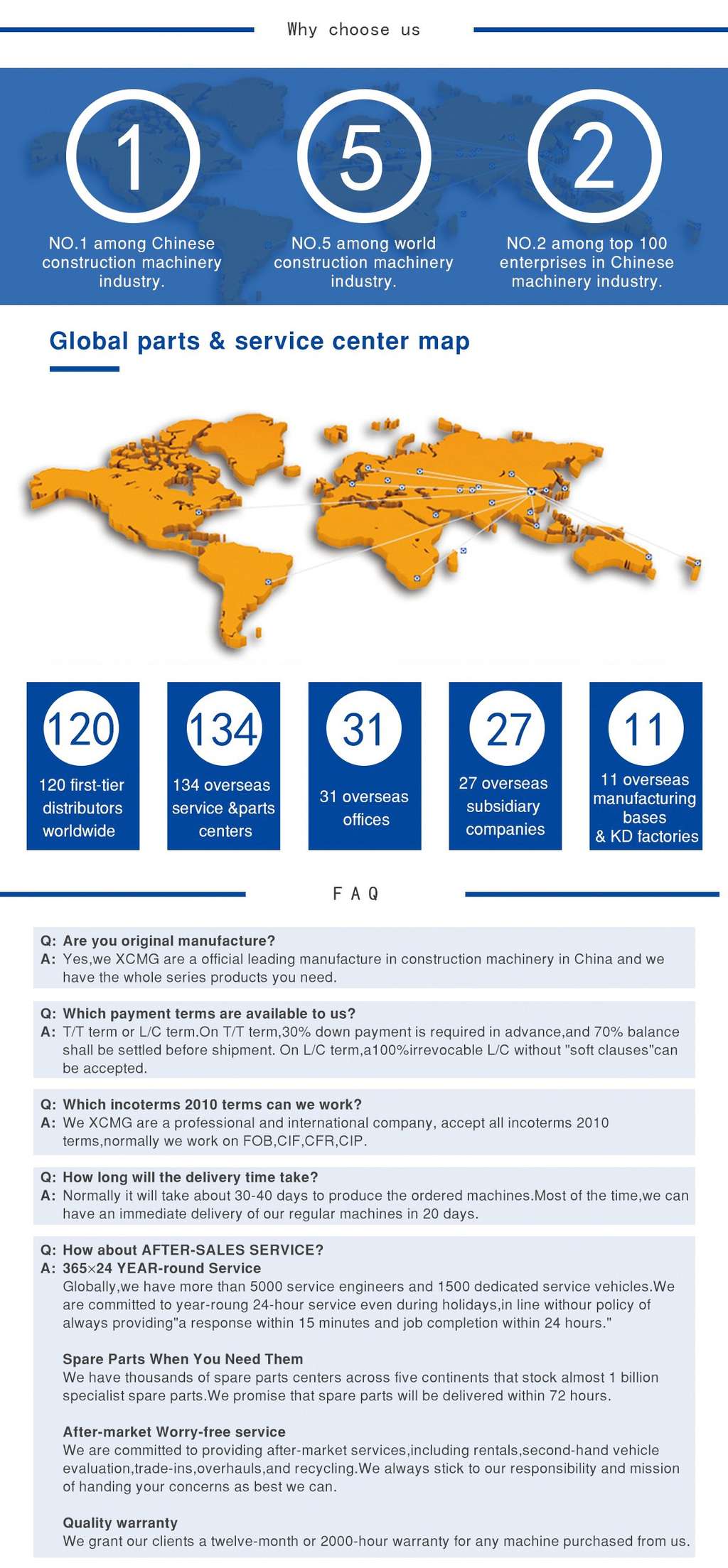 Response Time : Within 24 hours
XCMG was founded in 1943. XCMG products include: excavators, loaders, cranes including earth-moving machinery, road machinery, concrete machinery, mining machinery and other 12 construction machinery.