Summary
Specifications
360-Degree VR Videos
Product PDF
Summary
Rated Speed:

2000rpm

Max Digging Radius:

10855mm

Machine Weight:

48100kg

Maximum Digging Depth:

7000mm

Maximum Digging Height:

9855mm

Bucket capacity:

2.5m3

Operating Weight:

48100Kg

Model Number:

XE490DK

Brand Name:

XCMG

Place of Origin:

China
Specifications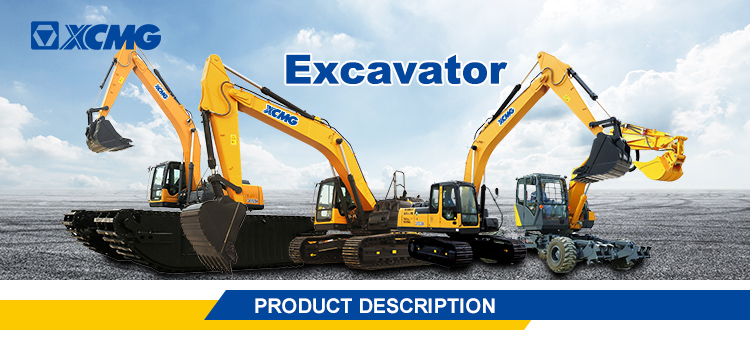 XCMG China 48 ton Large Heavy Mining Excavator Machine XE490DK.
XE490DK excavator is one of the leading large excavator models launched by XCMG Excavator Business Department. The product integrates the valuable experience gained by XCMG from years of research and development of excavating products, and adopts advanced design and manufacturing methods. Meanwhile, the product adheres to the design concept of "high efficiency, high safety, low carbon and environmental protection".
I. More energy-saving and environmental protection
1. Power system adopts the imported Cummins (Cummins QSM11), featuring direct injection, four stroke, water-cooling, turbocharger, air to air intercooler, six cylinder engine. This engine adopts efficient HPI fuel injection technology, through separate cylinder control and full electronic control, fuel economy will be greatly increased. It is an engine specifically designed and manufactured for engineering machinery operation conditions.
2. The hydraulic system adopts boom priority, arm priority, rotary priority and boom and arm hydraulic oil flow regeneration system, to ensure the best performance of the machine, at the same time by optimizing the design of the hydraulic pipeline, improve the return oil pressure loss and system back pressure, effectively reduce energy loss.
3. It can be equipped with fully independent heat dissipation control technology according to different service environments. The fan speed can be accurately controlled according to the water temperature, inlet temperature and hydraulic oil temperature, and the segmented algorithm can be used to reduce the energy consumption of the fan as far as possible under the condition of satisfying the heat dissipation requirements.
II. More efficient returns
1. The engine adopts customized torque curve, which has the characteristics of low speed and large torque, low fuel consumption, good economy and so on. At the same time, the engine adopts constant power mode in a specific speed segment, which enables the machine to maintain a strong power output under heavy load and low speed.
2. Independent control technology: use independent intellectual property rights dedicated electronic monitor and controller and independent programming of the controller to control the precise matching of engine speed and pump power, make full use of the engine power, and improve operating efficiency while effectively reducing fuel consumption.
3. The hydraulic system adopts new technologies such as flow regeneration energy saving technology, arm confluence pressure reduction technology and valve core opening adaptive technology to further reduce the backpressure of oil return, improve the digging force and the efficiency of heavy-load operation.
4. All filter elements are highly integrated, easily accessible, easy to maintain.
III. More reliable and durable
1. Sturdy travelling mechanism can meet the requirements of heavy-load operations, its durability, reliability and mobility is higher. Equipped with reinforced four rollers and one track, excellent performance and more reliable quality can be achieved. Strengthen the lower frame and X-type beam, improve the strength of cross section, disperse the stress of carbody, it is qualified for more hard work.
2. The key parts of H-type boom and arm are all of one-piece casting structure with uniform force and long service life. The contact surface uses the high hardness axle sleeve to greatly reduce the surface abrasion and prolong its service life. The large-capacity rock bucket is designed with double circular arc structure, which reduces the digging resistance and makes it easier to load and unload materials.
3. The hydraulic system adopts the most advanced variable piston pump in the industry, which has the characteristics of superior performance and durable and stable output. The high pressure main oil circuit and oil return pipeline all adopt the steel tube and the withholding hose structure, which has higher shock resistance and reliability. The cylinder adopts the reinforced support ring structure, which greatly improves the service life and effectively avoids oil leakage, cylinder scuffing and other faults.
4. Electrical components adopt aviation connector, which has good conductivity, high protection level and high reliability.
5. The diameter of the rotary bearing ball is 20% larger than that of the previous generation, and the raceway diameter is increased, so the bearing capacity is increased by 15%.
6. The engine is equipped with dustproof starting motor, which has strong adaptability and high reliability. Fuel tank is equipped with air filter, which can effectively filter dust in the air, so as to avoid oil pollution.
IV. More intelligent control
1. XEICS system with independent intellectual property rights, using CAN bus communication to achieve the corresponding control function, CAN effectively adapt to the operating environment, operating conditions and operating load, so as to be able to identify, think, judge, make decisions and execute.
2. GPS intelligent cloud control system, linked with the company CRM, 400 and DMS system, integrated with GPS positioning, remote diagnosis, and remote management functions, can not only carry excavator location information, upload on-site working parameters and alarm information data, it can also realize vehicle in-out warehouse management, remote diagnosis, remote control and remote management.
3. The standard plateau mode function, using GPS positioning technology, can adjust the power of the main pump according to the altitude, prevent engine overload, and achieve electronic energy conservation control.
4. The multi-function color LCD provides the operator with comprehensive and readable machine information, comprehensively monitors the working state of the engine and the hydraulic system, and check each kind of operation and the breakdown diagnosis information of the machine.
V. More comfortable and safe
1. The cab with pressurization function can effectively prevent dust from entering the cab and provide a clean working environment for drivers. The internal frame of the cab is strengthened, the overall structure strength is increased, pin holes are added in the front and rear, and safety performance is improved. Cab equipped with double laminated glass, can effectively filter UV and increase high protection level.
2. Adopt the imported shock absorber with silicone oil seals, improves the rigidity of the cab floor, and reduces the shaking of cab and the operator's fatigue.
3. Warning function: the rotating warning light on the top of the cab can give visual warning to people nearby, and the high-volume buzzer can give auditory warning to people nearby.
4. Open view: the whole machine is equipped with four convex mirror, achieving 360° view; The night working light adopts LED light with high brightness, low energy consumption and sustainable working time of 20000h.
5. Seat base is equipped with spring cylinder shock absorber, which can effectively reduce bad vibration, and at the same time is equipped with improved head rest and wider backrest, highlighting the "people-oriented" design concept, so that the operation is more comfortable, improve the work efficiency.
VI. Convenient maintenance
1. Oil filter, pilot filter, fuel filter, oil and water separator, and air filter are accessible on the ground to check and replace, it is within your reach, easy to maintain, saves maintenance time, and improves work efficiency.
2. Engine hood is designed with a side up-turn structure with gas spring power, which has a large opening angle and is convenient for engine and radiator maintenance.
3. The outer radiator is equipped with a protective net to effectively prevent debris such as flying catkins from being inhaled, which is convenient to disassemble and easier to clean.
4. The radiator and oil cooler are arranged in parallel, which is convenient for cleaning and disassembling the radiator and oil cooler. The engine oil pan is equipped with discharge connector, which makes maintenance easier.

Item

Unit

Parameters

Operating weight

Kg

48100

Bucket capacity

m³

2.3~3.1

Engine

Model

/

Cummins QSM11

No. of cylinders

/

6

Rated power/speed

kw/rpm

280/2000

Maximum torque/speed

N.m

1898/1300

Displacement

L

11

Main performance

Travel speed(H/L)

km/h

5.4/3.2

Swing speed

r/min

9.2

Gradeability

°

≤35

Ground pressure

kPa

85

Bucket digging force

kN

301

Arm digging force

kN

248

Maximum tractive force

kN

338

Hydraulic system

Main pump

/

Two piston pumps

Rated flow of main pump

L/min

2×360

Main safety valve pressure

MPa

34.3/37

Travel system pressure

MPa

34.3

Swing system pressure

MPa

31

Pilot system pressure

MPa

3.9

Oil Capacity

Fuel tank capacity

L

725

Hydraulic tank capacity

L

430

Engine oil capacity

L

38

Appearance size

A Overall length

mm

11805

B Overall width

mm

3582

C Overall height

mm

3890

D Width of platform

mm

3095

E Track length

mm

5353

F Overall width of chassis

mm

3582

G Track shoe width

mm

600

H Wheel base of crawler

mm

4292

I Track gauge

mm

2750

J Counterweight clearance

mm

1324

K Min. ground clearance

mm

519

L Min. tail swing radius

mm

3800

M Track height

mm

1198

Working scope

A Max. digging height

mm

9855

B Max. dumping height

mm

6890

C Max. digging depth

mm

7000

D Maximum depth cut for 2240mm(8 ft) level bottom

mm

6900

E Max. digging radius

mm

10855

F Min. swing radius

mm

4580

Standard

Length of boom

mm

6670

Length of arm

mm

2900

Bucket capacity

m³

2.5

Optional

Length of boom

mm

7060

Length of arm

mm

2400/3380

Bucket capacity

m³

2.3(Rock bucket)

2.5(Strengthened bucket)

3.1(Strengthened bucket)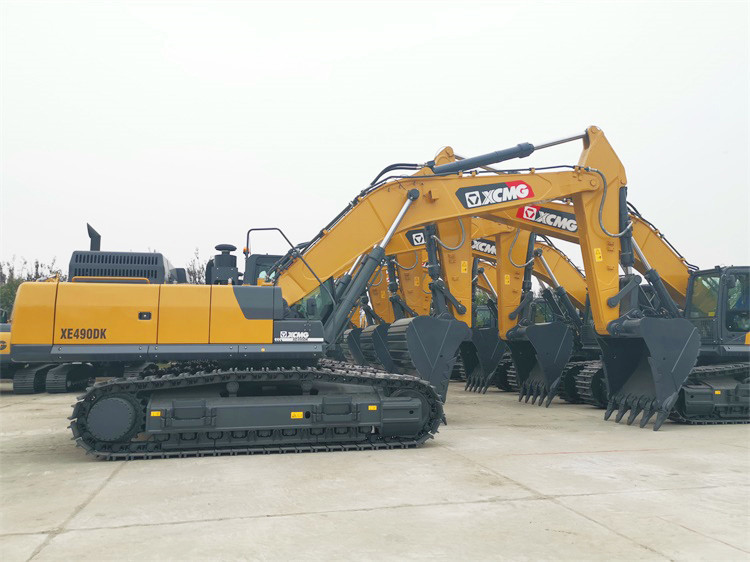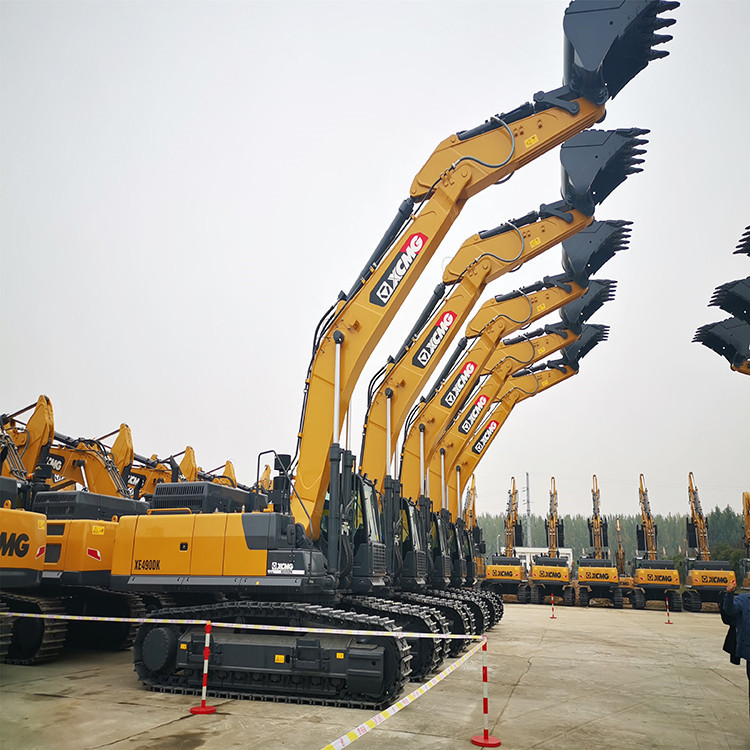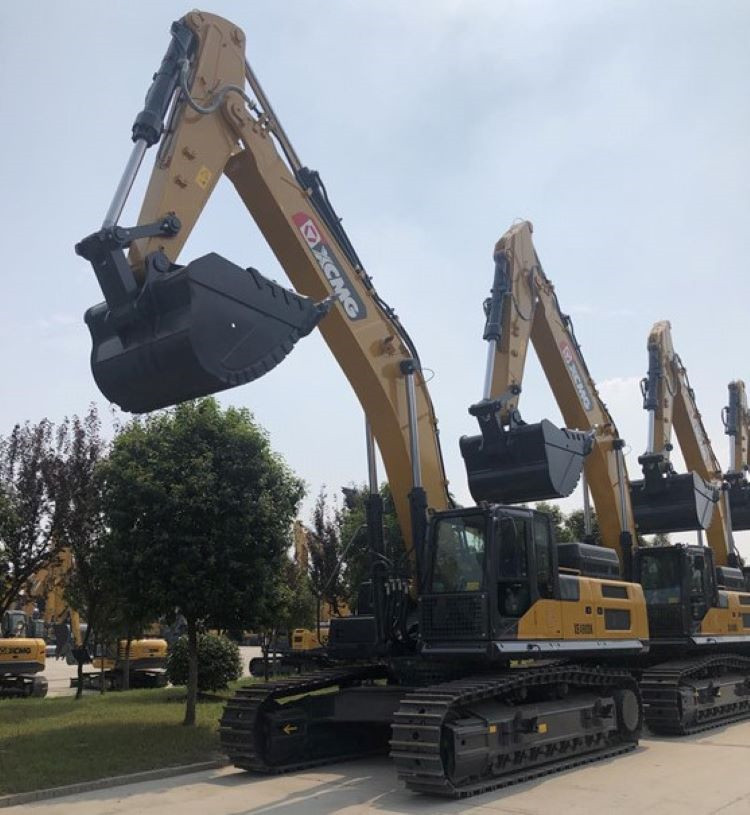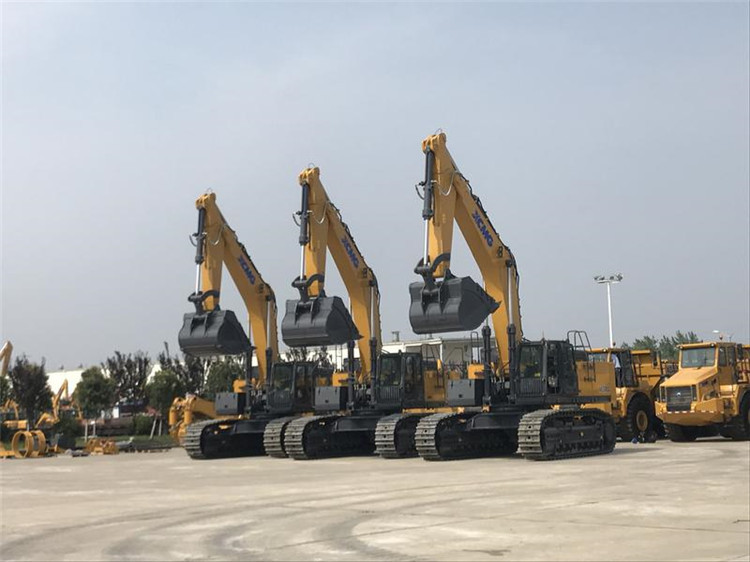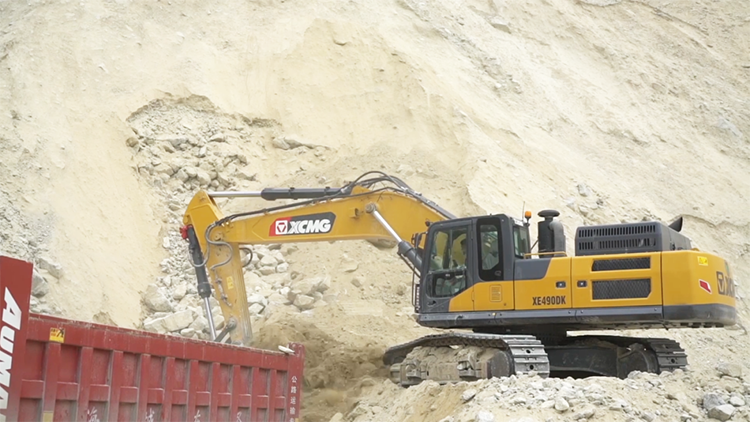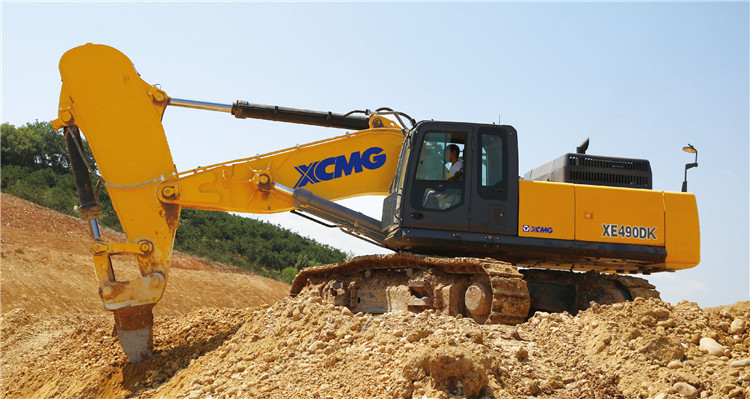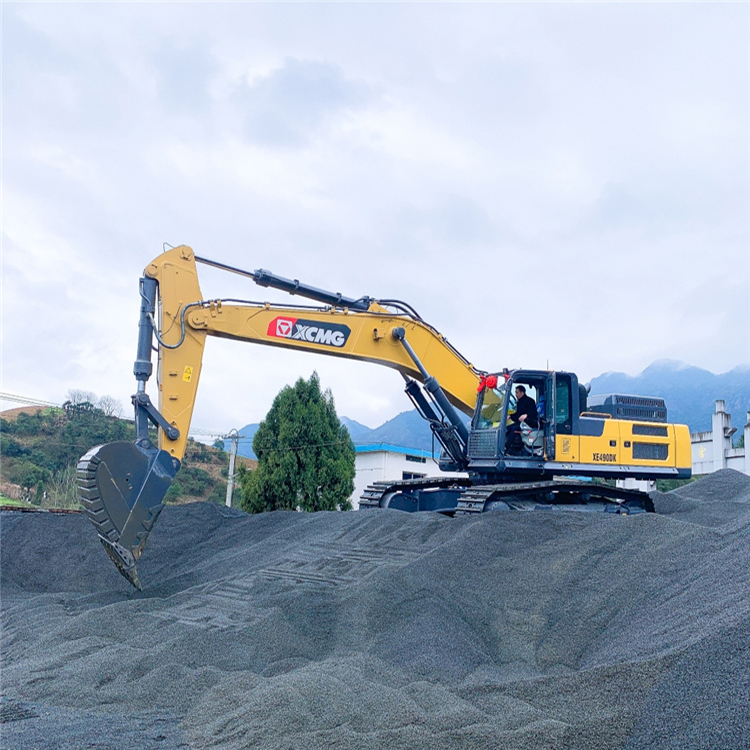 uMore Mining Excavator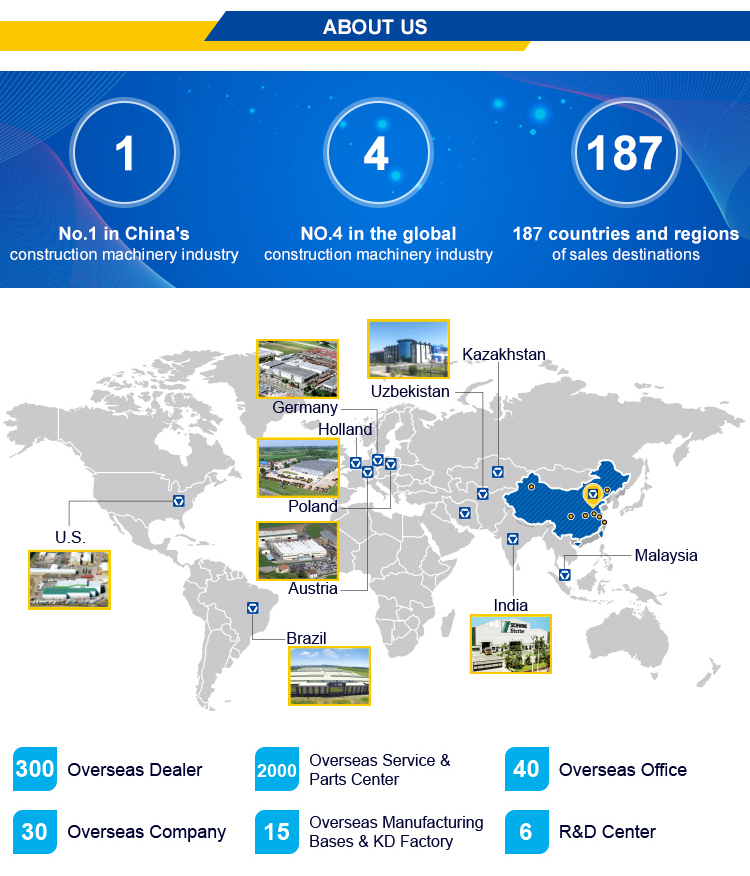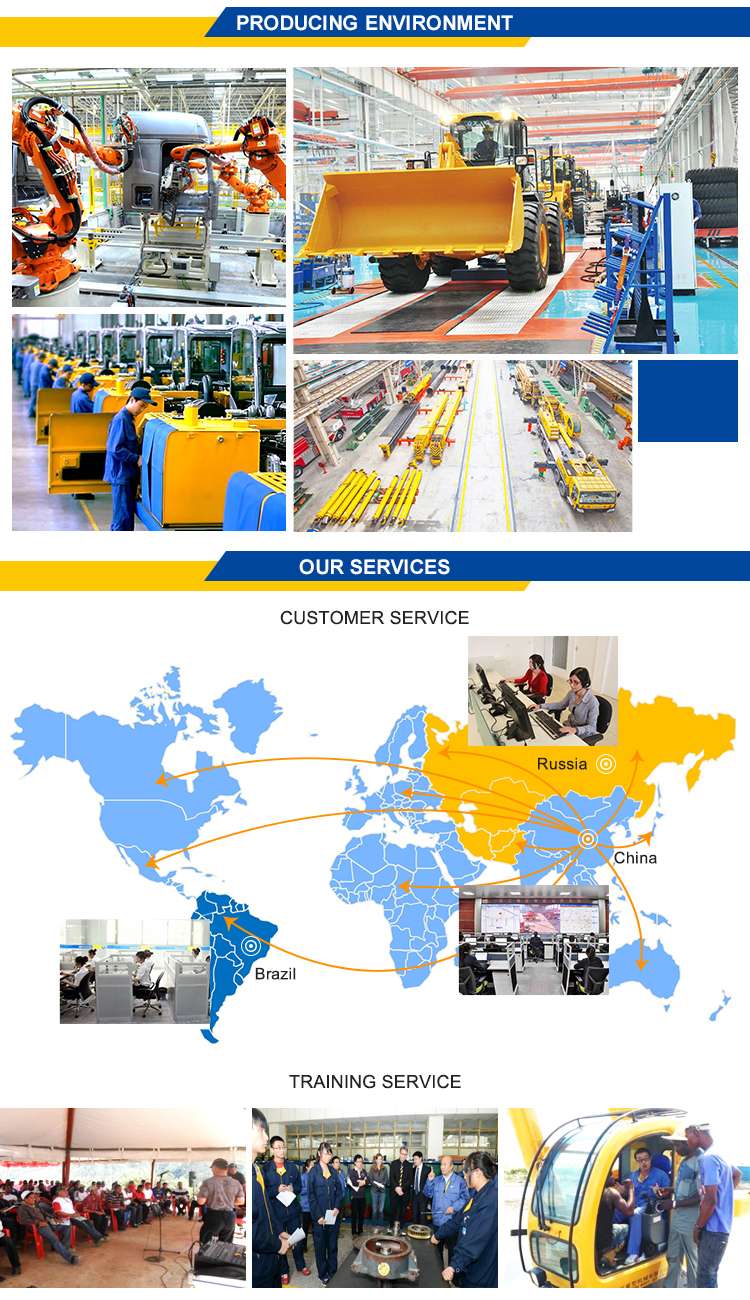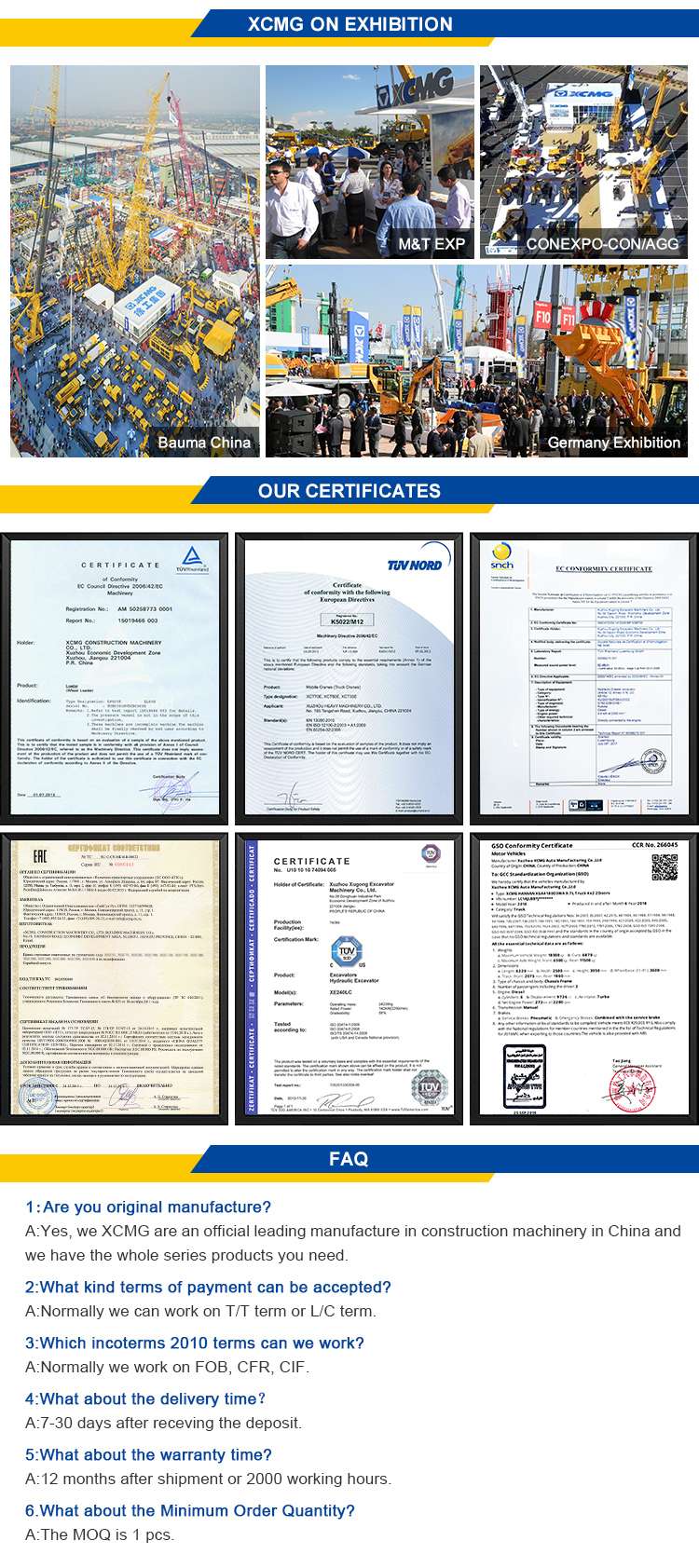 Product Catalog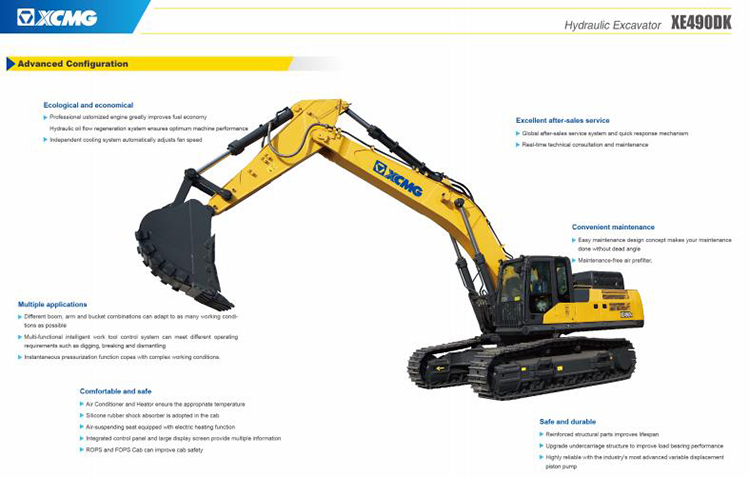 Response Time : Within 24 hours
XCMG was founded in 1943. XCMG products include: excavators, loaders, cranes including earth-moving machinery, road machinery, concrete machinery, mining machinery and other 12 construction machinery.