Sanitation Machinery
>
Garbage Collection & Transport
>
Garbage Truck
>
XCMG
>
XCMG Official Manufacturer 3 tons Com...
Summary
Overall Dimension(L*W*H):

6440(no feeding device)

Weight:

7490 kg

Model Number:

XZJ5070ZYS

Brand Name:

XCMG

Place of Origin:

China

Certification:

CE/ISO9001
Details
Product Name:

357636-XZJ5070ZYS

Display online time:

2019-11-07

weight:

7490.000kg

After-sales Service Provided:

Engineers available to service machinery overseas

Warranty:

12 Months

Condition:

NEW

Moving Type:

wheel

Chassis Model:

HFC1073LEK

Total Weight:

7490kg

Curb Weight:

5300 kg(no feeding device),5510 kg(tipping bucket),5460 kg(bucket shape)

Rated Payload:

1955 kg(no feeding device),1745 kg(tipping bucket),1795 kg(bucket shape)

The Volume Of Carriage:

6 m³

Height from the ground:

990 mm

Fill Capacity:

1.1 m³

Drain tank volume:

200L

loading cycle time:

<16s

The loading Angle of the loader:

~95°

Hydraulic system rated pressure:

16MPa

Carriage Dimension(L*W*H):

2500×1950×1830 mm


XZJ5070ZYS CompressedGarbagetruck
1) Its technological advancement andleading level is guaranteed according to related national, industrial andenterprise standards. The vehicle body is in a streamline, increasing itsmovement and beauty. The entire truck is in a streamlined design. It isbeautiful, environmentally-friendly and coordinative with the culturalenvironment in modern city. The product is advanced, beautiful, safe andreliable, with top-ranking quality in China.
2) Two-way compression technology isadopted. Optimized hydraulic system and advanced press fitting structuraldesign (for instance, the oil cylinder and the motional orbit of the slidingplate are on the same plane, making sure that the compressing force is just theacting force of the oil cylinder instead of the component force of oil cylinderacting force) result in large compressing force and large compression ratio ofpress fitting. Besides, the simulation design of garbage packing direction(hook face) with push plate also guarantees that garbage with differentcomponents can be evenly compressed and that the entire truck can be fullyfilled without dead angle and gap or blocking, which remarkably improves thenet loading capacity of garbage. Under the same volume, its garbage loadingcapacity is approximately 20% larger than that of similar products in China.
3) The slideway structure of push plateis of groove type pathway on both sides. Compared with the pathway on the baseplate of the truck bed, it has the following advantages: large rigidity ofpathway, good stability, zero deformation of base plate, stable movement ofpush plate, complete unloading of garbage and reliable operation.
4) High-strength climate-resistant steelis adopted for the base plate of truck bed and refuse hopper. Profile steel isdesigned for the entire truck. It is featured by light weight, large garbageloading capacity and oil saving, making sure zero deformation and goodeconomical efficiency of the truck.
5) Compared with the constanthigh-pressure system generally used in China, the optimally designedmedium-pressure pressure-variable hydraulic system has such advantages as quickdynamic response, small internal thermal loss, high work efficiency, shortcycling time and simple operation, especially for reliable operation and lowfailure rate.
6) The design of central sewage conduitprevents sewage leakage. The integrated design of hopper and sewage tank givesa radical solution to such secondary pollution issues as dropping, leaking andbubbling, and thus absolutely avoids secondary pollution of the garbage truckin the process of compressive loading and transportation.
7) Movement of the nylon plate of thesliding plate in the slideway is realized by four groups of importedhigh-density macromolecular PE guide support slippers. Compared with thebearing steel and other rigid slippers universally adopted in China, it reducesthe sliding resistance and wear of the kinematic pair. Compared with domesticplastic sliding blocks adopted in the same industry, the high-densitymacromolecular PE sliding block is endurable and wear-proof. It is basicallyunnecessary for replacement under normal maintenance.
8) The sliding plate is of a guide railidler wheel structure. The guide plate is of reverse design and nylon guiding.It is flexible for garbage scraping.
9) A garbage reflux preventive device isprovided. Sufficient space is guaranteed for the hopper by isolating with abaffle plate. Thus, efficient operation is realized.
10) When the loader is lifted, thescraper blade may clean the garbage for a second time, making sure no residualgarbage during laying-off.
11) A cab operating system is provided aswell. The driver can operate in the cab to lift the loader and unload garbagethrough the push plate.
12) An electrically-controlledaccelerator is installed for automatic acceleration and constant speed. Theelectronic accelerator guarantees the optimal coordination between thehydraulic oil pump and the engine speed.
13) A liaison buzzer is arranged on bothsides of the tail gate and in the driving cab. The operator and the driver cankeep contact through it. Moreover, the tail gate is also equipped with aloading button for "emergency stop of device" for timely stop. If the tail gatemust be lowered in case of inspection, overhaul and cleaning, the safety rodshall be erected to effectively present the tail gate from falling downsuddenly. Multiple safety protection devices guarantee the operation safety.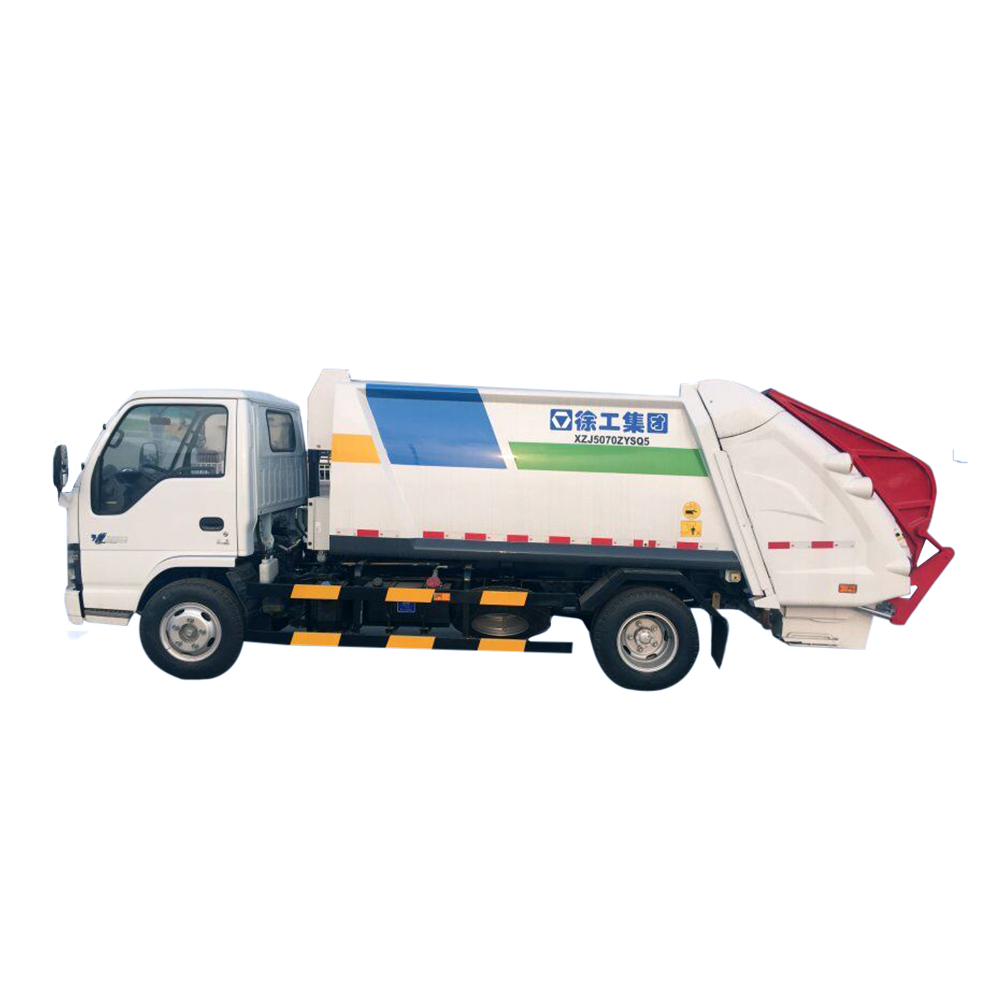 MODEL

XZJ5070ZYS

Specification

Chassis Model

HFC1073LEK

Vehicle Model

3t

Overall length

6440(no feeding device),6825(tipping bucket),6740(bucket shape)

Overall Width

2170mm

Overall Hight

2530mm

Weight

Total Weight

7490kg

Curb Weight

5300(no feeding device),5510(tipping bucket),5460(bucket shape)

Rated Payload

1955(no feeding device),1745(tipping bucket),1795(bucket shape)

Fitted parts specifications

The Volume of Carriage

6m3

Carriage

Length

2500mm

Width

1950mm

Height

1830mm

Feeding port

Height from the ground

990mm

Width

1430mm

Fill Capacity

1.1m3

Drain tank volume

200L

loading cycle time

<16s

The loading Angle of the loader

~95°

Hydraulic system rated pressure

16MPa

Main materials and the proprietary components

Box side plate, bottom plate

Steel plate 3.5/Q460NH

Push plate front plate, box top plate

Steel plate 2.5/Q460NH

Push plate bottom plate

Steel plate 6/Q460NH

Loader rail

Steel plate 18,10/Q390

Filler hopper

Steel plate 6/WEI-TEN780RE (imported high-strength steel)

Floor reinforcement beam

Steel plate 3.5/Q460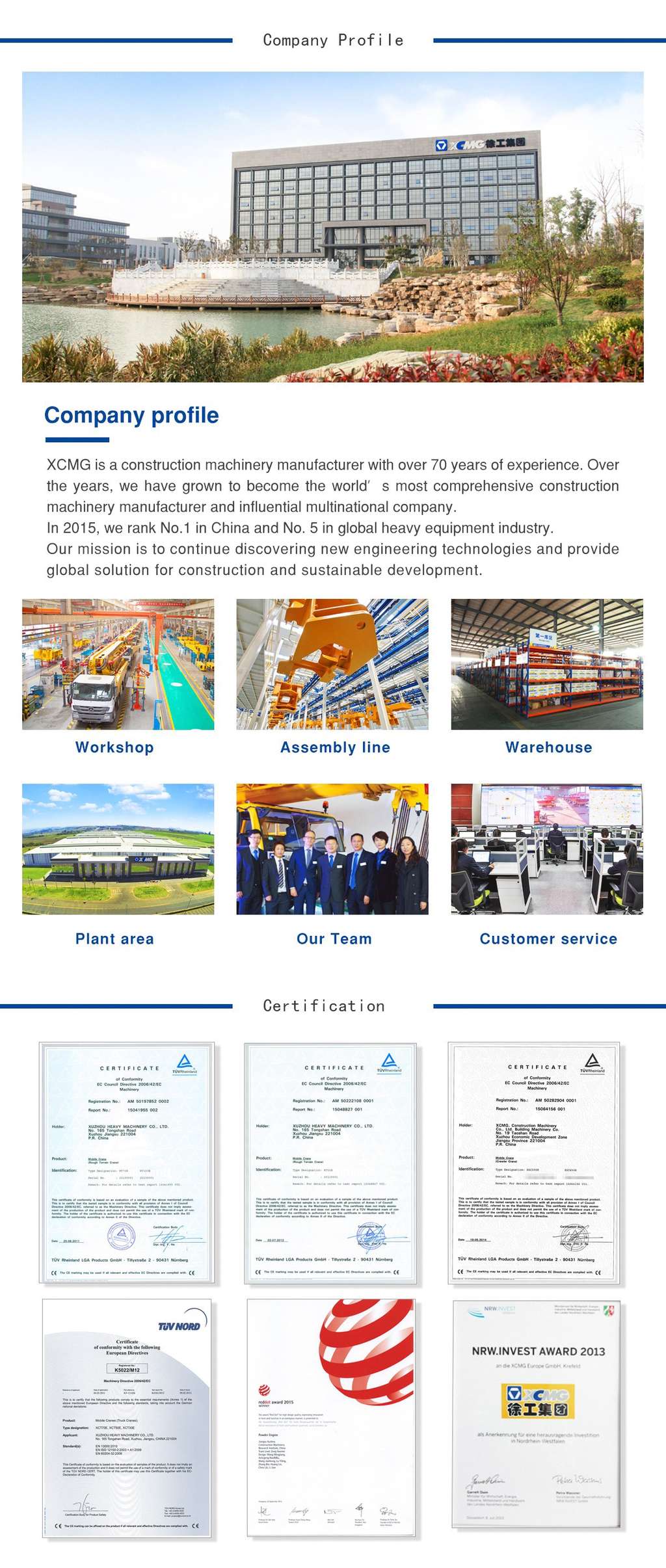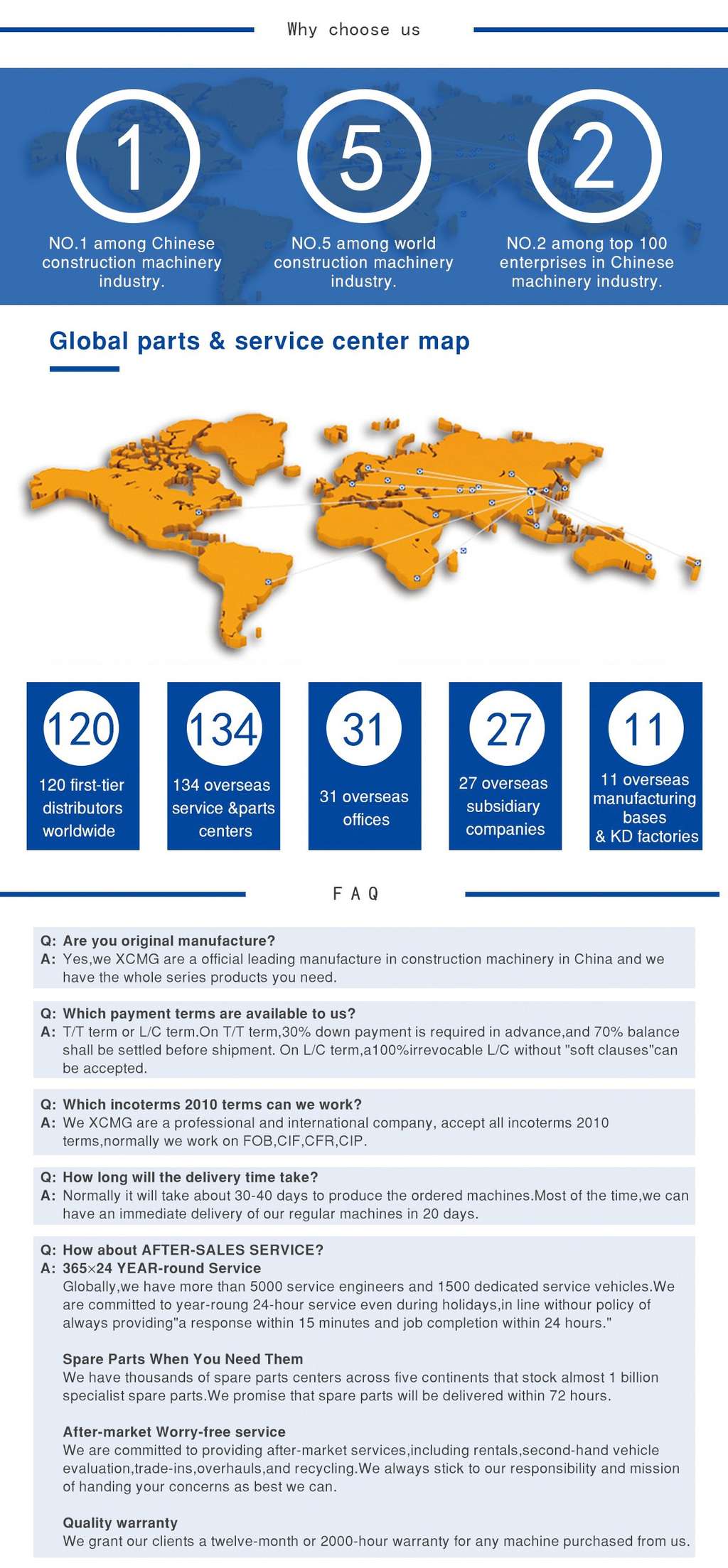 Response Time : Within 24 hours
XCMG was founded in 1943. XCMG products include: excavators, loaders, cranes including earth-moving machinery, road machinery, concrete machinery, mining machinery and other 12 construction machinery.