Summary
Overall Dimension(L*W*H):

8500×2500×2965mm

Weight:

16000 kg

Model Number:

XZJ5160ZYS

Brand Name:

XCMG

Place of Origin:

China

Certification:

CE/ISO9001
Details
Product Name:

357636-XZJ5160ZYS

Display online time:

2019-11-07

weight:

15800.000kg

After-sales Service Provided:

Engineers available to service machinery overseas

Warranty:

12 Months

Condition:

NEW

Moving Type:

wheel

Chassis Model:

KG2E

Total Weight:

16000KG

Curb Weight:

9350kg

Rated Payload:

6255kg

The Volume Of Carriage:

12.5m3

Height from the ground:

1040mm

Fill Capacity:

1.75m3

Drain tank volume:

350L+228L(main+vice)

loading cycle time:

—

The loading Angle of the loader:

—

Hydraulic system rated pressure:

19.6MPa

Carriage Dimension(L*W*H):

—


XZJ5160ZYS CompressedGarbagetruck
1. Good Sealing of the Vehicle. Xugong Brand XZJ5160ZYS compression garbage truck boxstructure adopts a fully sealed design. The sewage tank at the back of themounted part is used to store the sewage generated after the compression.Through the application of key technology and high-quality sealing materials, thephenomena of running, dripping, and leaking have been thoroughly solved, which thoroughlyavoids secondary pollution in the process of the garbage compression,loading and transferring. Mainly reflectingin the following aspects:
①Sealedbody with front and rear door design technology prevents sewage and odorleakage.
②Water baffledesign technology effectively prevents splashing of the foul solution in theprocess of compression.
③The sink design technology effectively prevents the foul solutionfrom leaking to the ground after aging of the sealing strip.
④Centralized sewage diversion design technology diverts all the foulsolution to the drain tank
⑤Theautomatic anti-lock hook and the triple special CR neoprene seal strip U-to-topdesign technology make the connection between the compartment and the loadermore stable and strengthen the sealing performance of the box.
2、Compared with the track placed on the base plate of thetrunk, the slide way structure of the push plate is bilateral trough typetrack, which has the advantages of high rigidity of the track, good stability,no deformation of the base plate, stable movement of the push plate, cleanunloading of rubbish, reliable operation, etc.. Sliders of push plate are madeof high-strength wear-resistant steel plate.
3、Adopting roller and nylon oriented mechanism, the slideroriented device is of good performance, wear-resistance, high-strength andself-lubrication. The movement of the nylon plate in the slide way depends onthe four sets of imported high density polyethylene oriented support sliders,which reduces the sliding resistance and the kinematic pair wear compared withthe rigid sliders commonly used in China, such as bearing steel. In particular,compared with the domestic plastic slider used by peers, high-densitypolyethylene slider is wear-resistant; there is no need to take replacement undernormal maintenance.
4、Adopting PLC (programmable logic controller) integratedcontrol, the control circuit is generated in the PLC, and uses a logic circuitto ensure that all the operating instructions are executed in sequence. The externalcircuit connection reduces the failure rate, avoids accidents caused bymisoperation and increases reliability; safety control facilities are requiredto install. The operation can be stopped under any circumstance and in any place,ensuring the safety of operators and equipment.
5、Compared with the high-pressure system with the constantpressure of the whole system which is widely used in China, the optimizedhydraulic system with the medium and variable pressure has the advantages offast dynamic response, small internal heat loss, high work efficiency, short operationcycle time and being easy to operate, especially reliable work, low failurerate;
6、High Safety. With multiple safety protection devices, the vehicle isequipped with16 safety protection devices and multiple safety warning signs, andthe control components are all high-quality products from abroad, andstructural and other components adopt high-quality products.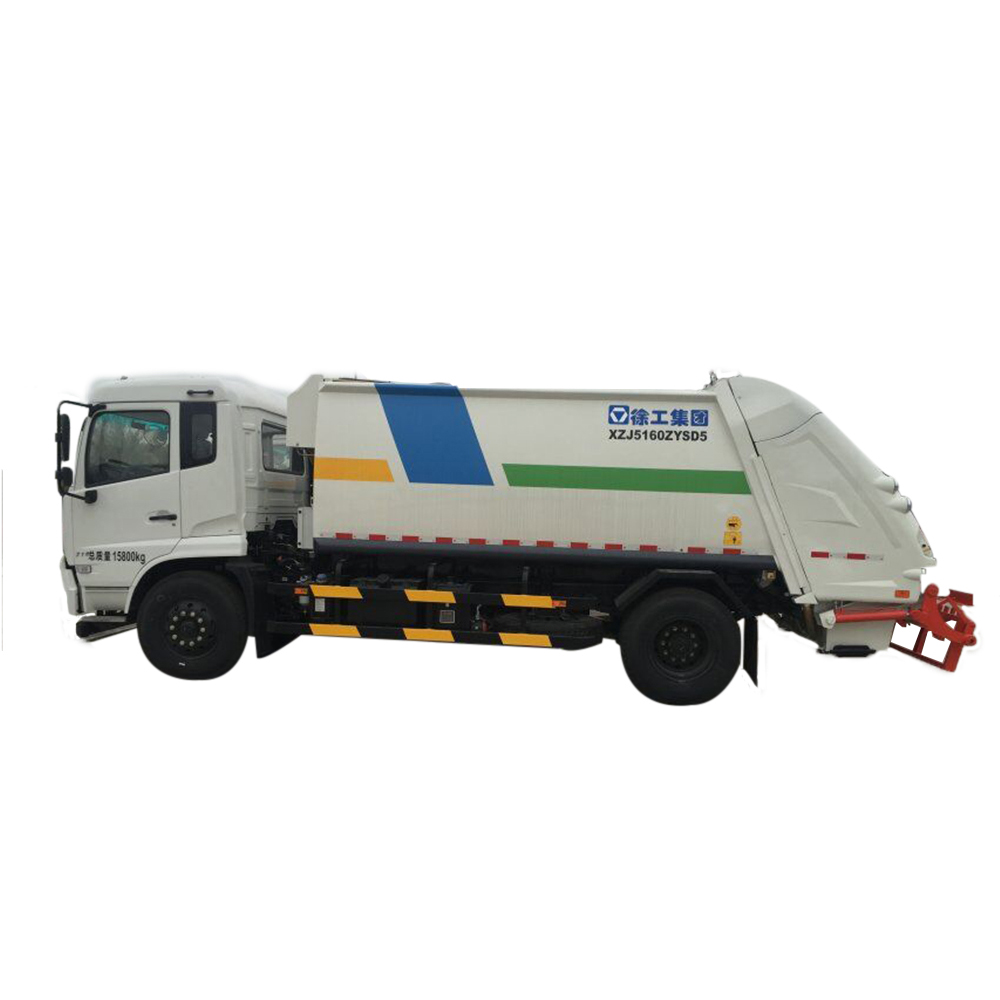 | | |
| --- | --- |
| Item | Index |
| Product model | XZJ5160ZYS |
| Chassis model | KG2E |
| Engine model | B190 33 |
| Rated power | 132kw |
| Curb mass | 9350kg (no feeding device, tipping bucket, bucket shape) |
| Total mass | 16000KG |
| Rated mass | 6255 kg (no feeding device, tipping bucket, bucket shape) |
| Overall dimension(L×W×H) | 8500mm (no feeding device, tipping bucket, bucket shape)×2500mm×2965 mm |
| Wheel base | 4500 mm |
| Rave rail (hopper) volume | 1.75m3 |
| Rave rail (hopper) dimension (width) | 1680 mm |
| Clearance of rave rail (hopper) (unloaded) | 1040mm |
| Compress mode | bi-directional compression |
| Effective volume of garbage tank | 12.5m3 |
| Drain tank volume | 350L+228L(main +vice) |
| Hydraulic system rated pressure | 19.6MPa |
| Operating mode | Automatic operation/ operation by hand or by electricity/manual operation/remote operation |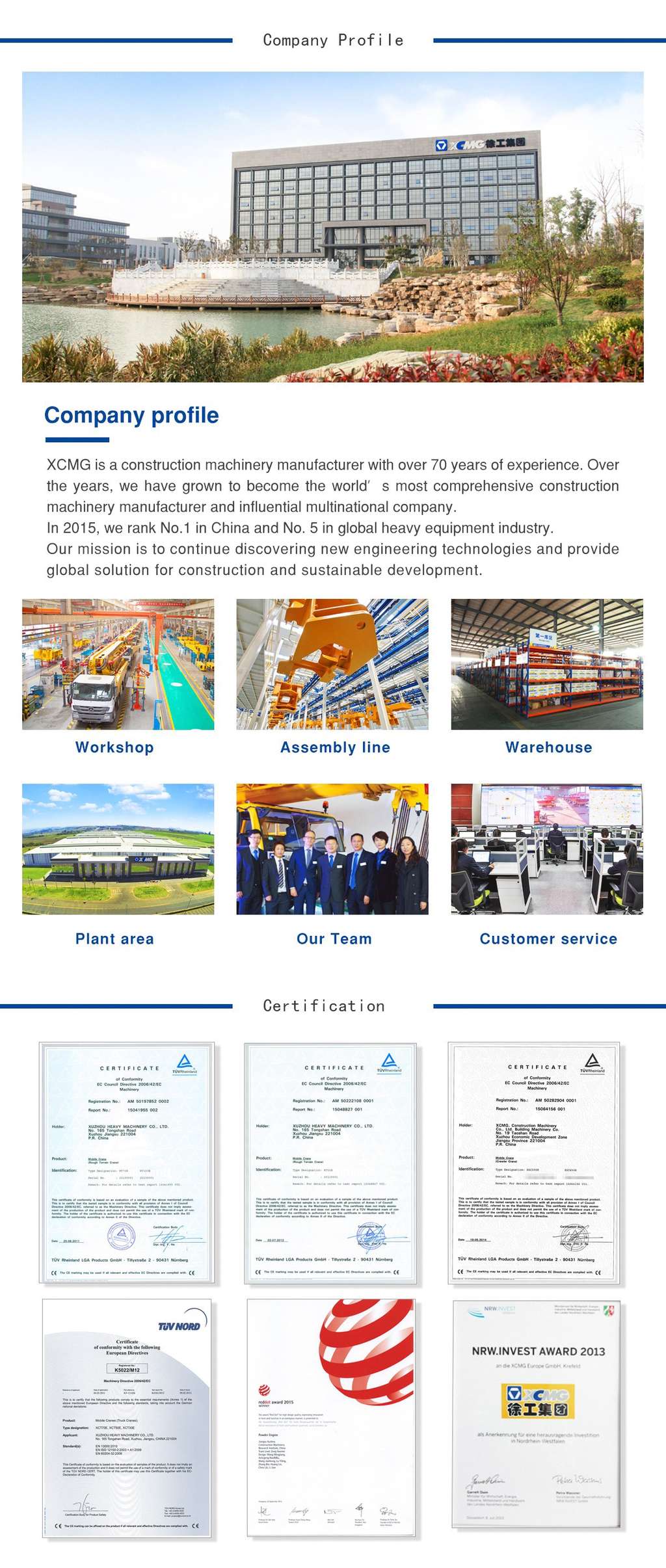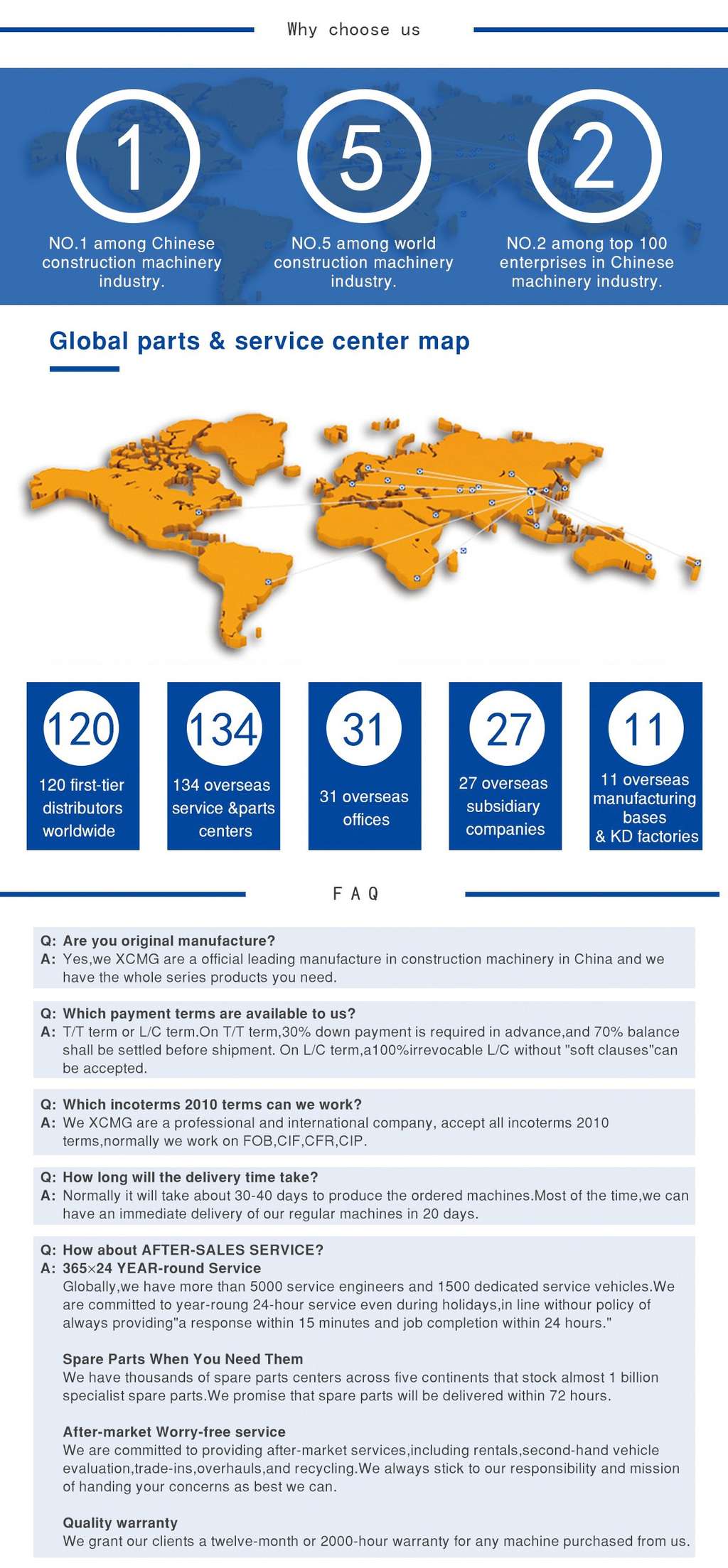 Response Time : Within 24 hours
Xuzhou Construction Machinery Group Co., Ltd. (XCMG) was founded in 1943. Since then, XCMG has stood at the forefront of the Chinese construction machinery industry and developed into one of the domes