Summary
Overall Dimension(L*W*H):

8535×2500×2930 mm

Weight:

18000 kg

Model Number:

XZJ5180GQXQ5

Brand Name:

XCMG

Place of Origin:

China

Certification:

CE/ISO9001
Details
Product Name:

357636-XZJ5180GQXQ5

Display online time:

2019-11-07

weight:

18000.000kg

After-sales Service Provided:

Engineers available to service machinery overseas

Warranty:

12 Months

Condition:

NEW

Moving Type:

wheel

Chassis Model:

Qingling QL1180VMFRY

Engine model:

4HK1-TC50

Engine power rating:

151 kW

Fuel type:

0~-10 diesel

Tire:

11.00R20 16PR

Type of Low pressure water pump:

Two stage impeller centrifugal type

Model of Low pressure water pump:

65QZB-50/110N

Lift of Low pressure water pump:

110 m

Rotate speed of Low pressure water pump:

1480 r/min

Water valve:

Pneumatic ball valve

Model of Electrical System:

One-way dc

Battery of Electrical System:

6-QW-100MF

Working speed:

Ⅰfile7:Ⅱfile14

Effective water tank volume:

13.8 m³

Front wheelbase:

1880 mm

Rear wheelbase:

1860 mm

Curb mess:

8745 kg

Total mess:

18000 kg

Maximum speed:

90 km/h

Maximum climbing Angle:

13°

Braking distance:

≤10 m

Minimum turning diameter:

<16 m

Fuel consumption for driving:

21.5 L/100km

Approach angle:

13°

Minimum ground clearance:

11°

Departure angle:

248 mm

Low pressure sprinkler flow:

600~800 L/min

Low pressure washing width:

≥24 m

Water gun ranges:

38 m


XZJ5180GQXQ5 Sprinkler Cleaning Truck
1、The original second-class automobile chassis (DPF) of Qinglin is adopted and the high-power special sprinkler pump is configured
A) use Isuzu original second-class chassis, carrying capacity is strong, flexible operation, the appearance of the atmosphere, the chassis is equipped with DPF tail gas treatment technology at the same time, meet the higher emission standards, can provide customers with safe and efficient and reliable service. At the same time, according to customer requirements, select other manufacturers chassis.
B) equipped with a high-power special sprinkler pump with a flushing width greater than 24m. It is convenient and quick to use, compared with similar sprinkler pumps with high pressure, long suction range, low energy consumption, low failure rate and long service life.
C) overcome the disadvantages of other sprinkler pumps, which are easy to get entangled in debris, low pressure and slow water absorption.
2、centralized control of electricity, liquid and gas can complete low-pressure cleaning, multi-directional and multi-angle spraying, and realize emergency firefighting function
A) the vehicle has a good man-machine operation interface, convenient and flexible operation, and the driver can complete all kinds of operations in the driving room, with safe and comfortable operation.
B) can be rushed forward and sprinkle, lateral jet, after tanks with working platform, the platform is installed on greening spraying gun, spraying gun can be 360 ° rotate, can continuous adjustable straight at shape, heavy rain, light rain, drizzle, meet the demand of different working conditions.
C) install the fire control interface, which can be filled with water through the fire hydrant, can be used for emergency fire control operation, and can also be used as a mobile pump station. It can flexibly change the operation mode to meet all operation requirements.
3、the cross section of the tank body of the cleaning vehicle is oval, the effective physical volume of the tank body is large, and there are manholes in the top of the tank body
A) tanks of the cross-section shape are oval, adopts Q345 high qualified steel plate welding and become, to adopt advanced technology for butt welding of tank, stretched and welding, shot peening after welding, internal do special anticorrosive processing of tank, the tank has high strength, center of gravity, strong and durable, vehicle transport security balance, etc.
B) the tank has a large effective physical volume, a long working time, no need to add water frequently, and a high working efficiency.
C) the manhole on the top of the tank can be used not only as the inlet and outlet of the staff for in-tank maintenance, but also as the water adding hole for water injection into the tank.
4、tank with internal washboard, equipped with level gauge head position
A) the interior of the tank is separated by multi-edge anti-wave plate, which can effectively reduce the impact of the liquid in the tank on the breaking part of the tank during vehicle driving;
B) the upper and lower parts of the anti-wave plate are provided with guide holes for media circulation;
C) the anti-wave plate is provided with a hole for the convenience of maintenance personnel, and a welded rigid connection form is adopted between the baffle and the tank body.
D) at the tank sealing head, a level meter with organic glass is installed to monitor the water level inside the tank in real time.
5、provide different optional configurations
A) the cleaning vehicle can install the guardrail cleaning device to carry out the guardrail cleaning operation.
B) the washing car can be equipped with self-priming function.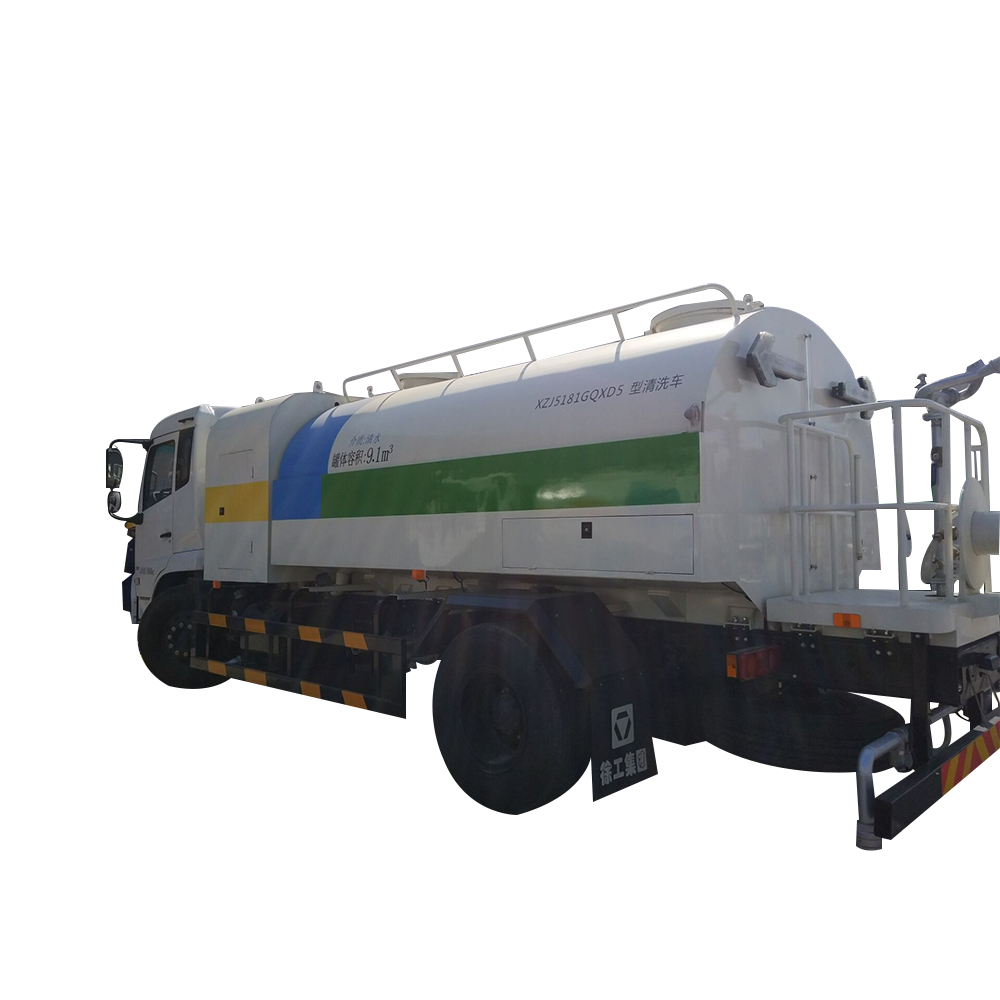 contents

unit

parameters

Working speed

km/h

I file 7: II file 14

Low pressure sprinkler flow

L/min

600~800

Low pressure washing width

m

≥24

Water gun ranges

m

38

Effective water tank volume

m3

13.8

Maximum speed

km/h

90

Maximum climbing Angle

°

13

Braking distance

m

≤10

Min. turning diameter

m

<16

Fuel consumption for driving

L/100km

21.5

Curb mass

kg

8745

Total mass

kg

18000

Overall dimensions

mm

8535×2500×2930

Wheelbase

mm

4500

Wheel base

Front wheel

mm

1880

Rear wheel

mm

1860

Approach angle

°

13

Departure angle

°

11

Min. ground clearance

mm

248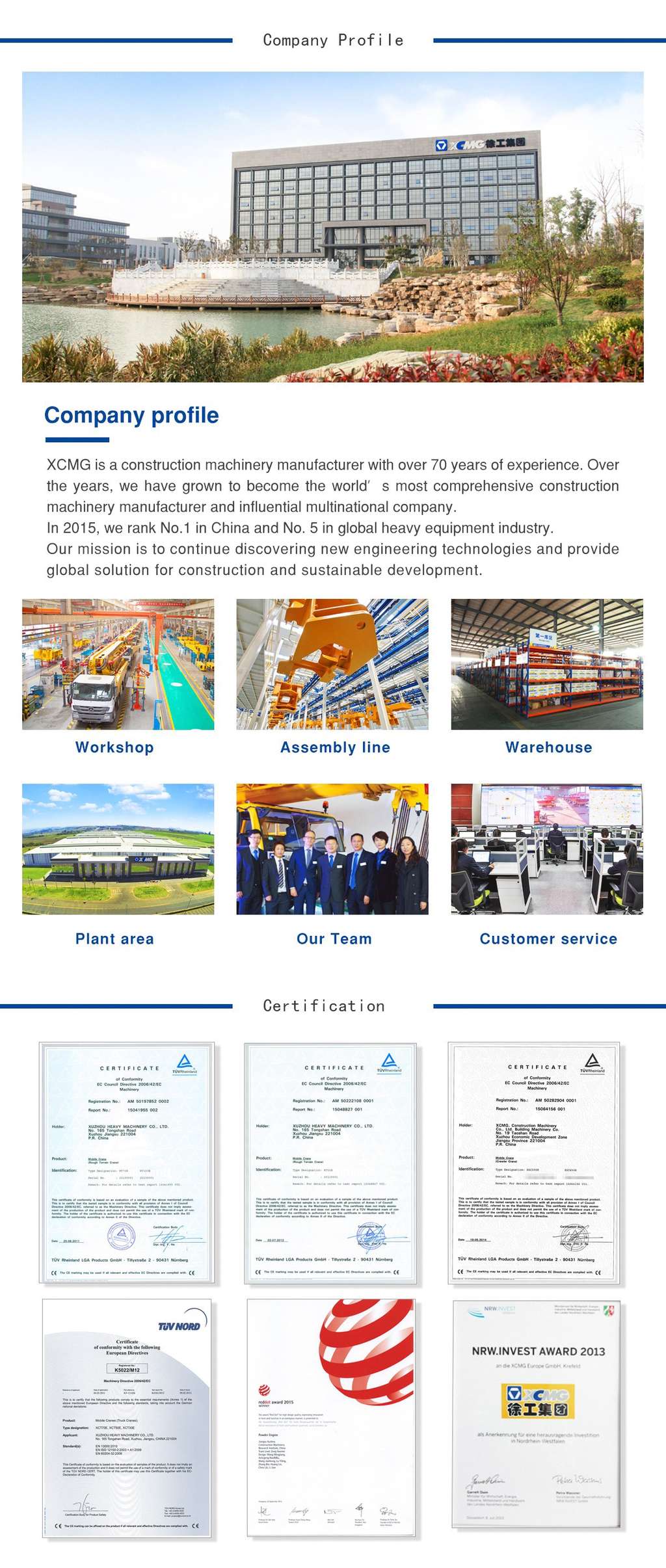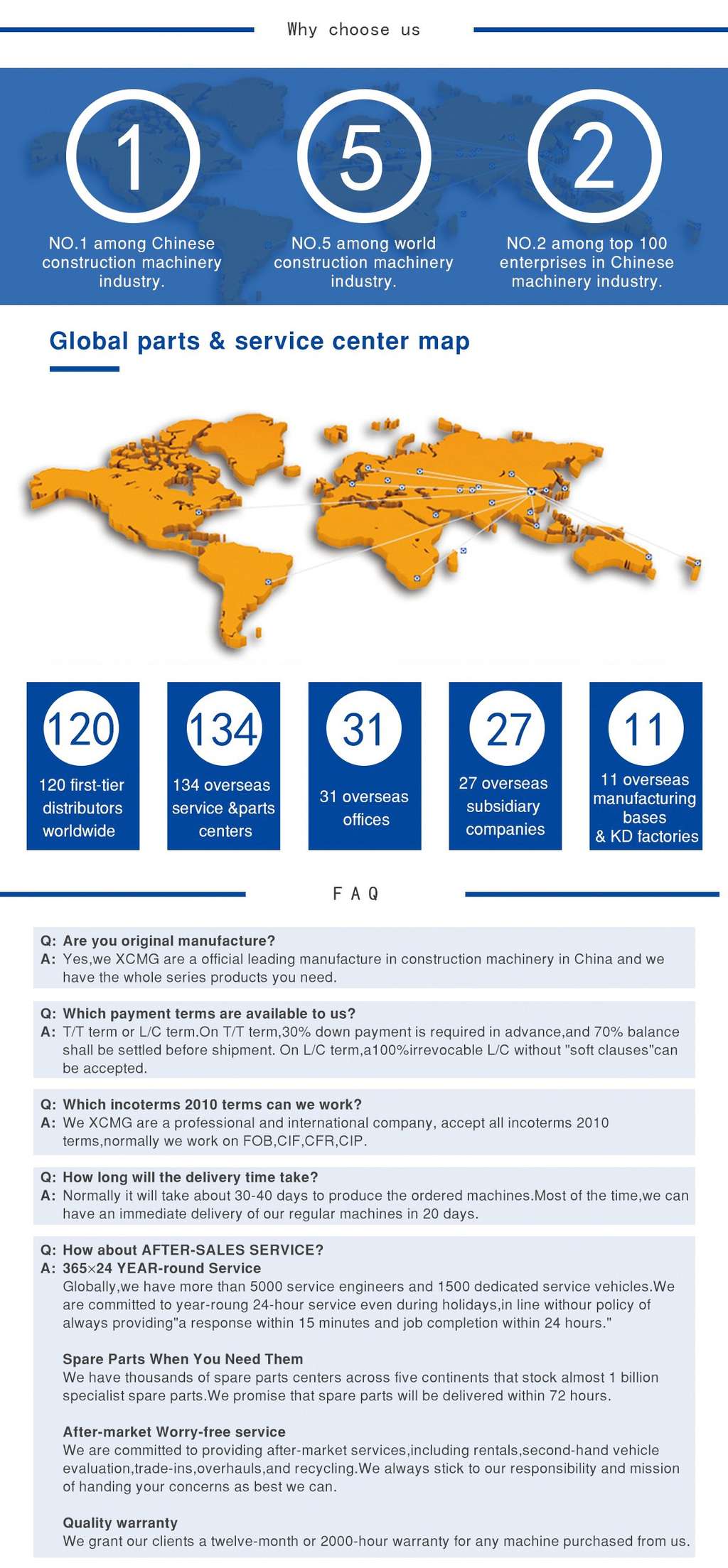 Response Time : Within 24 hours
XCMG was founded in 1943. XCMG products include: excavators, loaders, cranes including earth-moving machinery, road machinery, concrete machinery, mining machinery and other 12 construction machinery.