Engineering & Construction Machinery
>
Tunnel & Subsurface Equipment
>
Tunneling Jumbo Drill
>
XCMG
>
XCMG Official Manufacturer TZ3A Three...
Summary
Transport Dimension(L*W*H):

16000×2950×3400 mm

Weight:

45800 kg

Model Number:

TZ3A

Brand Name:

XCMG

Place of Origin:

China

Certification:

CE/ISO9001
Details
Product Name:

357636-TZ3A

Display online time:

2019-11-08

weight:

45800.000kg

After-sales Service Provided:

Engineers available to service machinery overseas

Warranty:

12 Months

Condition:

NEW

Moving Type:

wheel

Maximum operating cover area:

180 m²

Maximum operating height:

13075 mm

Maximum operating width:

15725 mm

Drill boom extended length:

1600 mm

Drill boom lifting angle:

(65/-30)°

Tilt angle for propeller:

±45°

Propeller tilt angle:

360°

Propeller compensation length:

1800 mm

Maximum propulsive force:

20 kN

Drill hole depth:

5140 mm

Gadder Model:

—

Impact power of gadder:

18.8 kW

Impact frequency of gadder:

40—50 Hz

Swing torque of gadder:

780 N.m

Diameter for dill hole:

Φ43—Φ102 mm

Water flushing pressure:

10—15 bar

Gas lubrication pressure:

2—4 bar

Work service platform:

—

Lifting height for work service platform:

12000 mm

Swing width for work service platform:

15500 mm

Rated load for work service platform:

400 kg

Lifting height of cab:

1200 mm

Lifting height of cab roof:

700 mm

Total installed power:

200 kW

External power supply:

380/50 V/Hz

Maximum traveling speed:

15 km/h

Maximum gradability:

15°

Engine power:

200 kW

Transport dimension:

16000×2950×3400 mm

Curb weight:

45800 kg


TZ3A Three-Boom Hydraulic Pilot Drill Jambo
1、Main Applications
It's mainly applicable for the tunneling operations of roadways and tunnels in mines and other underground projects.
Capable of drilling of blast holes, anchor rod holes, and undermining holes and installation of explosives, anchor rods, and air ducts.
Maximum operation area coverage: 180㎡.
2、Technical Features
(1)Drill Jambo
The hydraulic drill jambo adopts special structural process on the basis of the domestic tunneling process to realize super-strong anti-bending capability, high drilling speed, and low drilling tool consumption and effectively improve the working performance of tunnel side hole drilling.
(2)Propeller
The lightweight high-strength alloy girder features high anti-bending, anti-distortion, and anti-fatigue performances and longer life.
(3)Chassis
It's applied with energy-saving, environmental-friendly, and low emission engine, powerful all-road all-drive self-adaptive traveling system, integral frame, and rear-wheel steering system, featuring high vehicle stability.
(4)Drill Boom
The all-directional paralleling-maintained drill booms of proprietary technology features accurate positioning. The drill booms adopt equal-strength structure design to realize reasonable structure, high strength, and long life.
(5)Drilling System
The automatic anti-seizure, anti-empty-drilling, and automatic return functions of drilling tool are provided to effectively improve the drilling efficiency.
3、TZ3A drill jambo (Optional version)
(1)Highlights of FGS system
a. Customized navigation process
b. Visual display of all boom positions
c. Click to zoom up every display
d. Automatic stop of drilling upon sending of 24V signal to every drilling boom
e. Press reset button to automatically stop drilling in event of interference.
f. Production report after every drilling cycle
g. Calculation recommendation for charge volume
h. Optional top view and side view
i. 3D views in drilling data management for the viewing of background office
j. Display of drilling pressure of Montabert jack drill and indication of overpressure
k. Available Chinese operation interface
l. 4 pressure sensors on every boom
m. Synchronized data among all display screens in cab
n. USB synchronized production data
(2)Advantages of FGS system
a. Rapid positioning and simplified process of booms
b. Easy operation interface
c. Automatic return of jack drill and level bottom end of blast holes
e. Management of hole arrangement diagram
f. Production management (Blast hole drilling effect)
g. Really firm components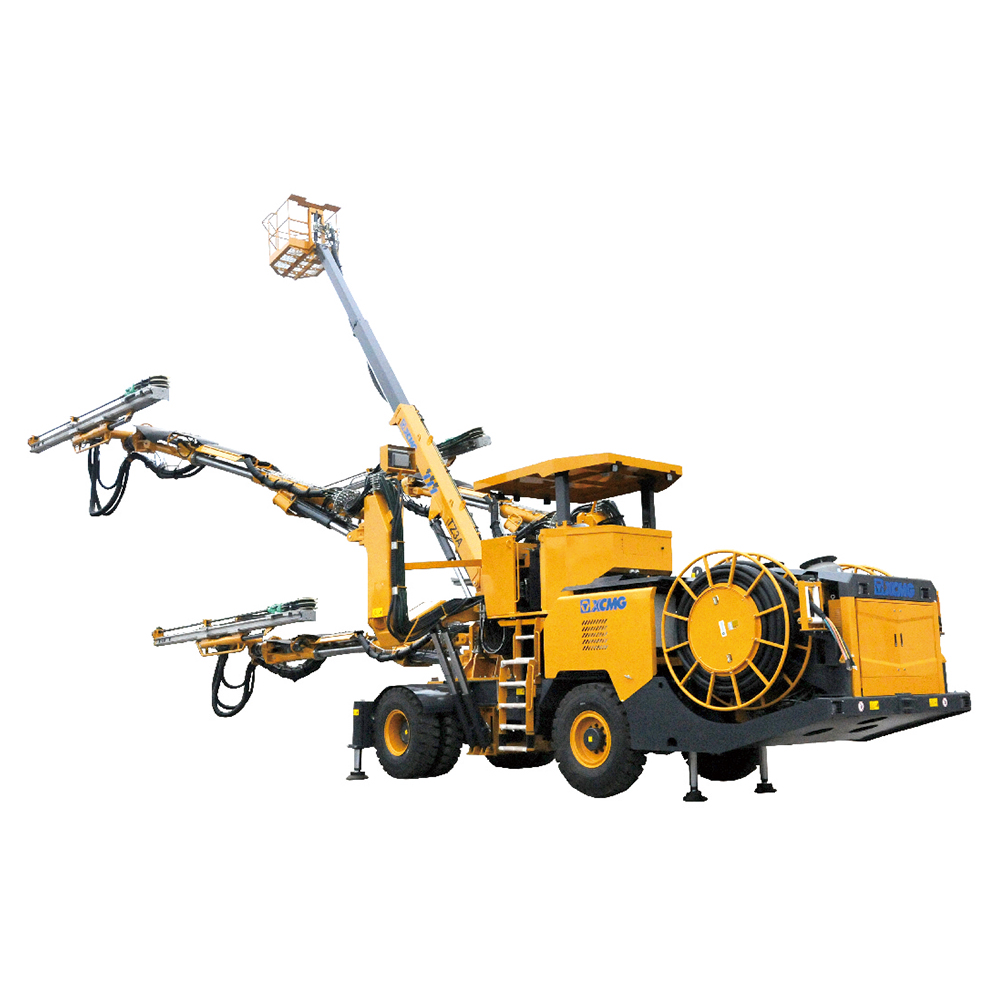 | | | |
| --- | --- | --- |
| Item | Unit | Parameter |
| Maximum operation cover area | ㎡ | 180 |
| Maximum operation height | mm | 13075 |
| Maximum operation width | mm | 15725 |
| Drill boom extended length | mm | 1600 |
| Drill boom lifting angle | ° | 65/-30 |
| Tit angle for propeller | ° | ±45 |
| Propeller tit angle | ° | 360 |
| Propeller compensation length | mm | 1800 |
| Maximum propulsive force | kN | 20 |
| Drill hole depth | mm | 5140 |
| Impact power of gadder | kW | 18.8 |
| Impact frequency of gadder | Hz | 40-50 |
| Swing torque of gadder | N.m | 780 |
| Diameter for dill hole | mm | φ43-φ102 |
| Water flushing pressure | bar | 10-15 |
| Gas lubrication pressure | bar | 2-4 |
| Lifting height for working service platform | mm | 12000 |
| Swing width for working service platform | mm | 15500 |
| Rated load for working service platform | kg | 400 |
| Lifting height of cab | mm | 1200 |
| Lifting height of cab roof | mm | 700 |
| Total installed power | kW | 200 |
| External power supply | V/Hz | 380/50 |
| Maximum traveling speed | km/h | 15 |
| Maximum gradability | ° | 15 |
| Engine power | kW | 200 |
| Transport dimension | mm | 16000*2950*3400 |
| Curb weight | kg | 45800 |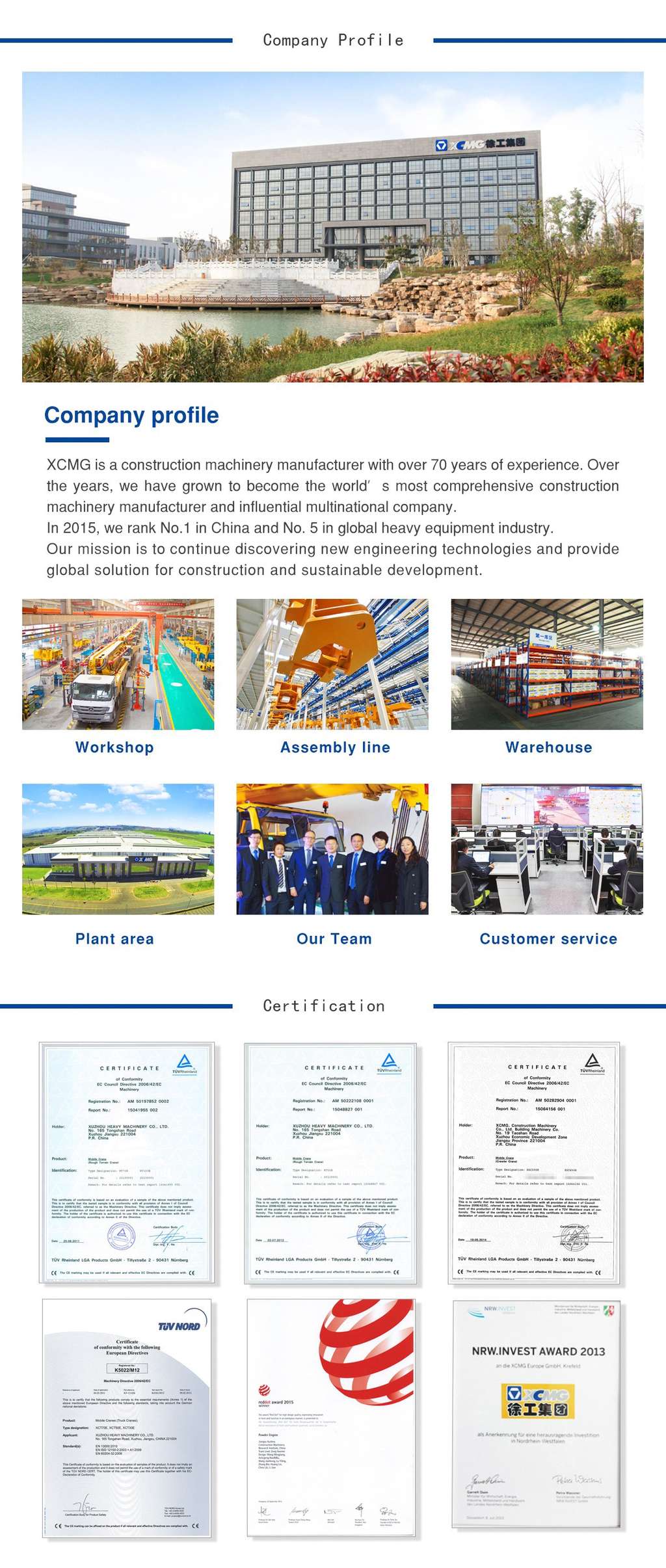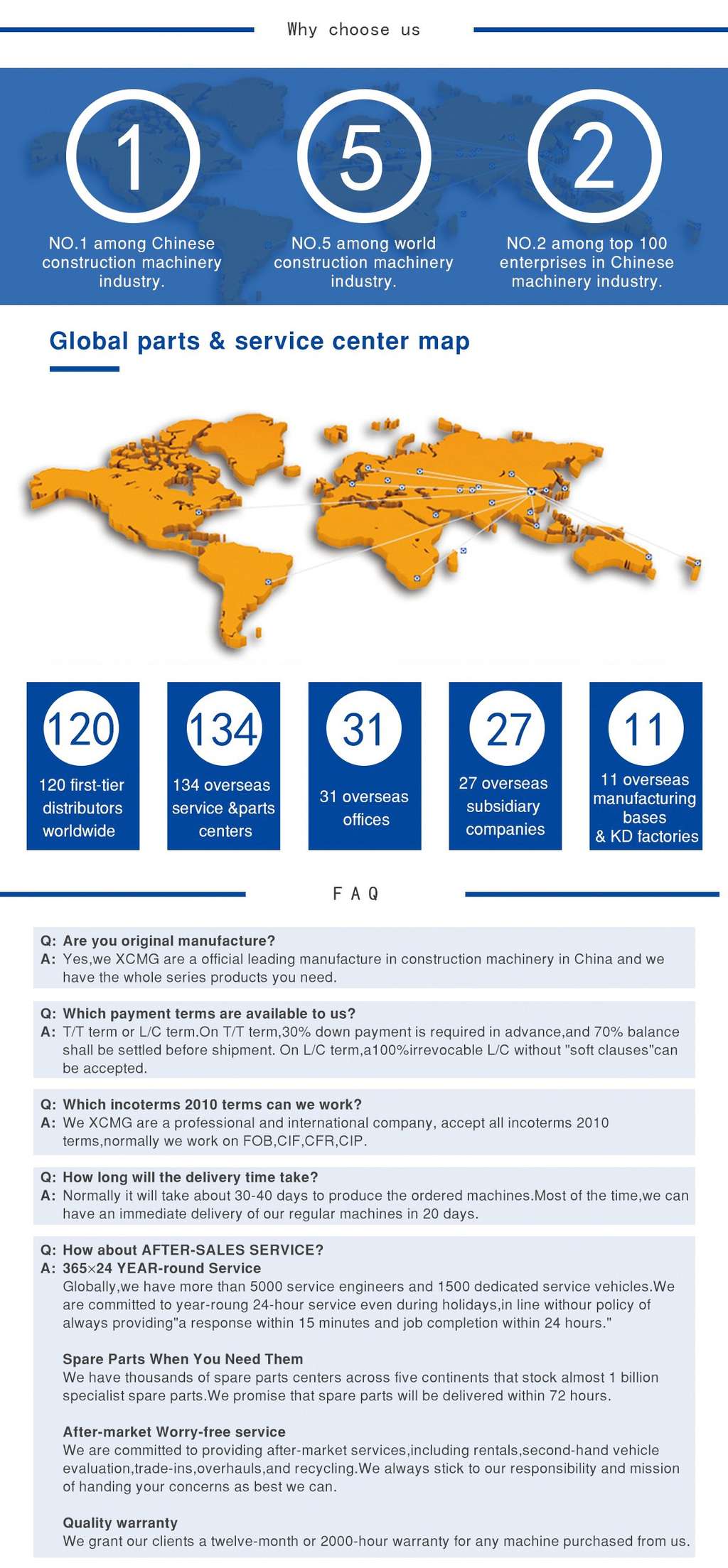 Response Time : Within 24 hours
Xuzhou Construction Machinery Group Co., Ltd. XCMG was founded in 1943. Since then, XCMG has stood at the forefront of the Chinese construction machinery industry and developed into one of the domes