Energy & Mining Equipment
>
Mining Machinery
>
Roadheader
>
XCMG
>
XCMG Official Manufacturer Roadheade...
Summary
Details
Product Brochure
Summary
Overall Dimension(L*W*H):

9340×2330(Main body)

Weight:

47000 kg

Model Number:

EBZ160

Brand Name:

XCMG

Place of Origin:

China

Certification:

CE/ISO9001
Details
Product Name:

357636-EBZ160

Display online time:

2019-12-27

weight:

47000.000kg

After-sales Service Provided:

Engineers available to service machinery overseas

Warranty:

12 Months

Condition:

NEW

Moving Type:

crawler

Overall weight:

47000 kg

dinting undercut:

216/200 mm

Ground clearance of machine:

250 mm

Height of Range of positioning cutting:

4800/4770 mm

Width of Range of positioning cutting:

5400/5250 mm

Area of Range of positioning cutting:

26/25 m²

Gantry height:

400 mm

Compressure strength of coal petrography to be cut:

≤80/60 Mpa

Climbing capacity:

±18°

Travelling speed:

6.5 m/min

Grounding pressure:

0.148 MPa

Gross power:

265 kW

Power of Cutting motor:

160/80 kW

Power of pumping stations motor:

90 kW

Supply voltage:

AC1140/660V

Frequency of supply:

50Hz

Rotation speed of cutting head:

48/24 r/min

Loading capacity:

Star wheel type/4.32 m³/min

Crawler width:

520 mm

Out. Width of crawlers:

2330 mm

Tensioning style:

Cylinder tensioning and snap-gauge locking

Water pressure of outside spraying:

≥1.5 MPa

Water pressure of inside spraying:

≥3 MPa

Max. non-removable parts size:

3.38×1.20×1.52 m

Max. non-removable parts mass:

5500 kg


EBZ160 Roadheader
EBZ160 roadheader is designed as compact structure,low body, low center of gravity. easy operation, good working performance.
1、Electric control system
EBZ160 roadheader adol11ts flame proof andintrinsically safe switch box and control box with small size, light weight,flexible operation, which is safety and reliable: main controller is installedin a closed casing that can effectively block out electromagnetic interference;working condition is shown with LCD screen, menu mode is used for operatinginterface with flexible and safe parameter setting; it is equipped with functionssuch as overvoltage, motor overload, open-phase, short circuit, overtemperature and earth leakage lockout.
2、Hydraulic system
The hydraulic system of EBZ160 roadheader adoptstransfer case, several pumps control, with main hydraulic components comingfrom international brands.
3、Cutting head
The cutting head is optimized by utilizingsimulation technique and picks come from Kennametal Co., Ltd. With reasonablelayout and strong rock breaking capacity.
4、Spraying system
Spraying system of EBZ160 roadheader includeinside and outside spray systems, of which the front is after-pick sprayingwhich is used to strength outside spraying, the latter is reasonable in designand equipped with leakage detection function.
5、First freighter
Straight structure is adopted for first freighter,which can achieve smooth lapping with hauler bed and transportation.
6、Traveling mechanism
The traveling mechanism is a high integration ofinternationally advanced motor and reducer, whose big output torque can adaptto operations with large dip angle.
If there is limit for weight or total weightduring transportation, it can be disassembled for transportation.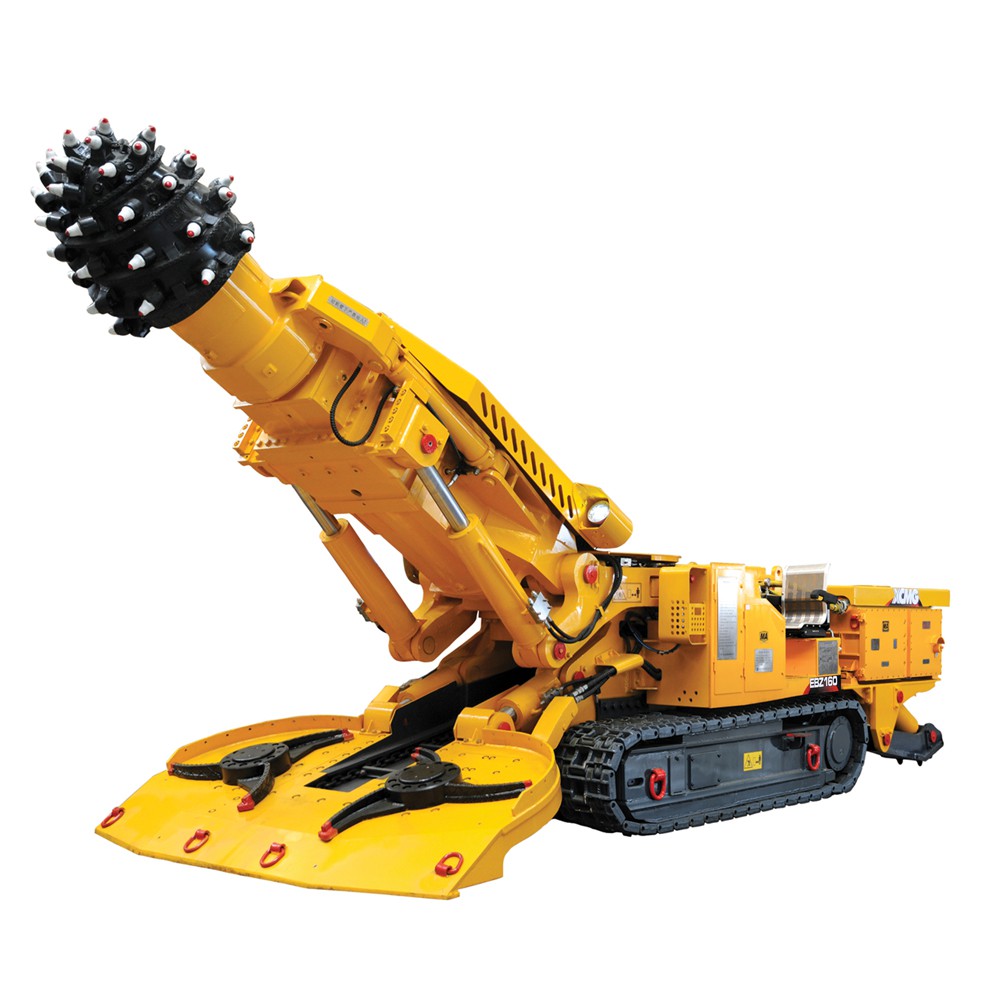 | | |
| --- | --- |
| Item | Index |
| Overall weight | 47000 kg |
| dinting undercut | 216/200 mm |
| Ground clearance of machine | 250 mm |
| Height of Range of positioning cutting | 4800/4770 mm |
| Width of Range of positioning cutting | 5400/5250 mm |
| Area of Range of positioning cutting | 26/25 m² |
| Gantry height | 400 mm |
| Compressure strength of coal petrography to be cut | ≤80/60 Mpa |
| Climbing capacity | ±18° |
| Travelling speed | 6.5 m/min |
| Min. turning radius | 5247 mm |
| Grounding pressure | 0.148 MPa |
| Gross power | 265 kW |
| Power of Cutting motor | 160/80 kW |
| Power of pumping stations motor | 90 kW |
| Supply voltage | AC1140/660V |
| Frequency of supply | 50Hz |
| Rotation speed of cutting head | 48/24 r/min |
| Loading capacity | Star wheel type/4.32 m³/min |
| Crawler width | 520 mm |
| Out. Width of crawlers | 2330 mm |
| Tensioning style | Cylinder tensioning and snap-gauge locking |
| Water pressure of outside spraying | ≥1.5 MPa |
| Water pressure of inside spraying | ≥3 MPa |
| Max. non-removable parts size | 3.38×1.20×1.52 m |
| Max. non-removable parts mass | 5500 kg |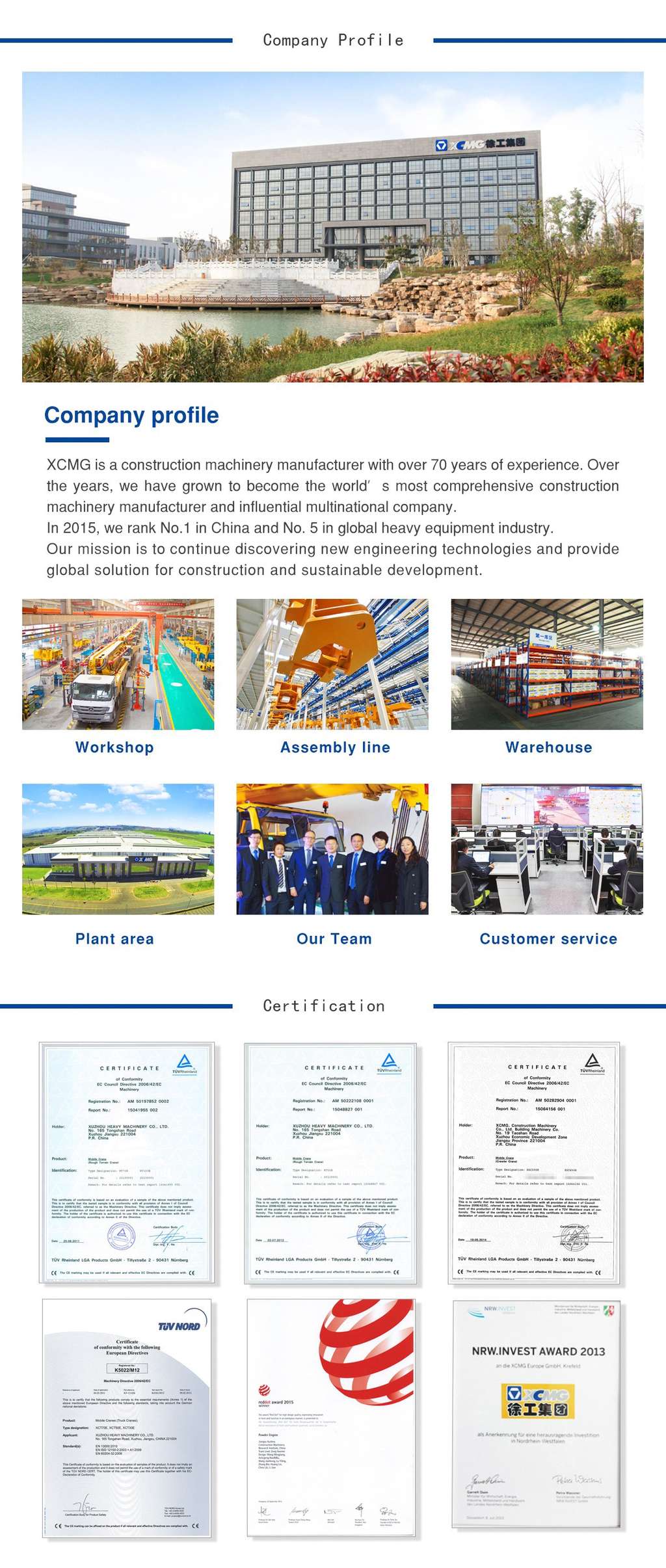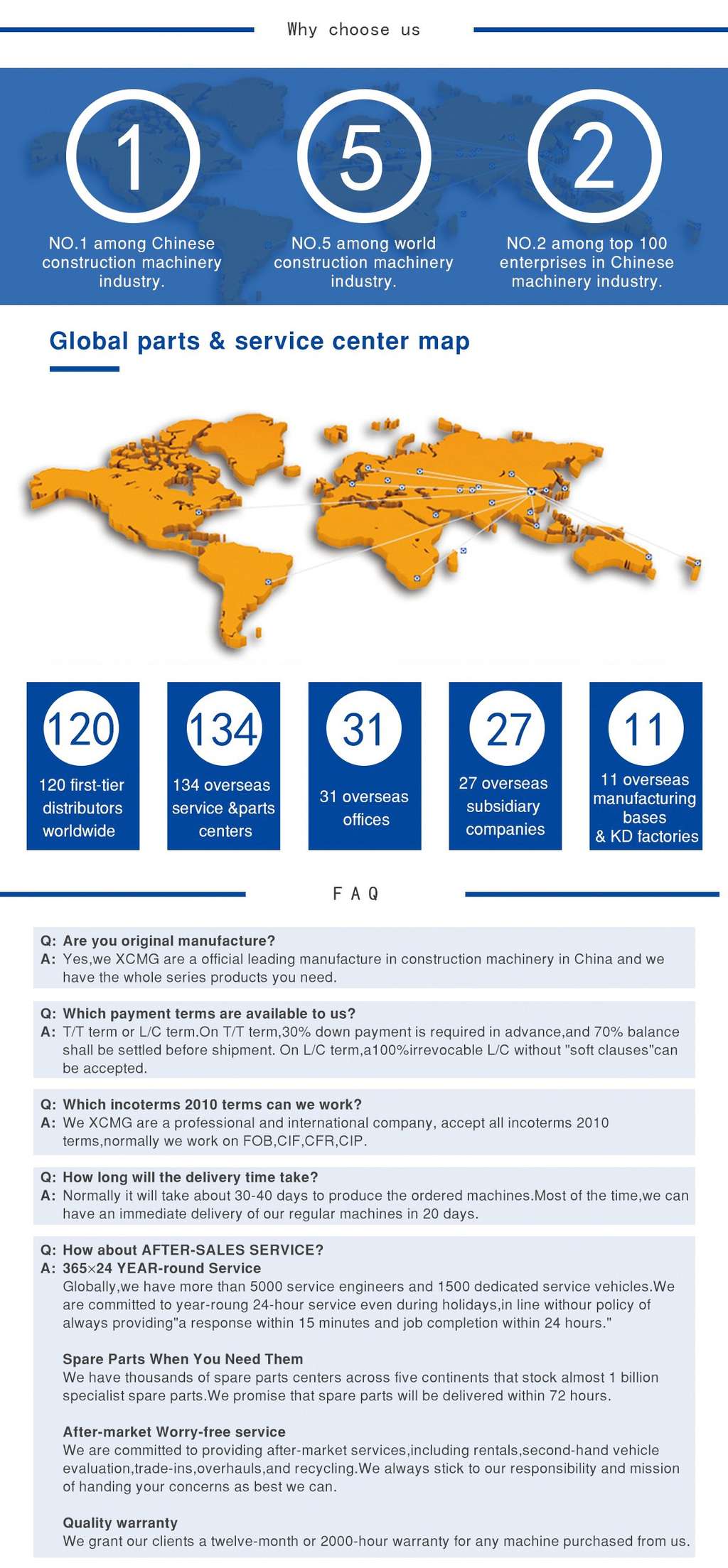 Product Brochure
Response Time : Within 24 hours
Xuzhou Construction Machinery Group Co., Ltd. (XCMG) was founded in 1943. Since then, XCMG has stood at the forefront of the Chinese construction machinery industry and developed into one of the domes