Summary
Application:

Overpressure Relief

Brand Name:

BasCo

Model Number:

YD Type

Place of Origin:

China

Media:

Liquid or Gas

Material:

SS/TEF/SS
Specifications
weight:

0.500kg

Condition:

New

Moving Type:

Other
Reverse acting rupture disc, with the convex on the high pressure side. As the pressure increases, the reverse acting knife blade rupture disc, composed of a single piece of metal, will be flipped and be cut open by the knife blade on the outlet holder to release pressure.
Features
• Non-fragmention designed
• Operating ratios to 90% of the marked bursting pressure on disc tag
• Suitable for liquid, gas, or two-phase applications
• The marked bursting pressure on disc tag does not exceed the MAWP of equipment
• Withstands full vacuum without additional support
•Standard materials: Stainless Steel, Inconel, Monel, Nickel and Aluminum. Special materials are also available
• Sizes from 25mm to 600mm
• Burst ratings from 0.5barg to 150barg
• Resists product build-up. The smooth convex side of the disc is exposed to the process media
• Able to be combined with safety valve
• Attached 3-dimensional stainless steel tag is engraved with complete disc specifications
Option
TFE liners are available to provide protection from corrosive media if required.
Note: the maximum temperature rating of rupture discs supplied with linersis lower than the base disc material.
Fitting Holders
YDJ Holders:Insert type rupture disc holders, designed exclusively for YD Series rupture discs.
Standard materials of YDJ holders: Stainless steel and carbon steel. Other materials are available upon request.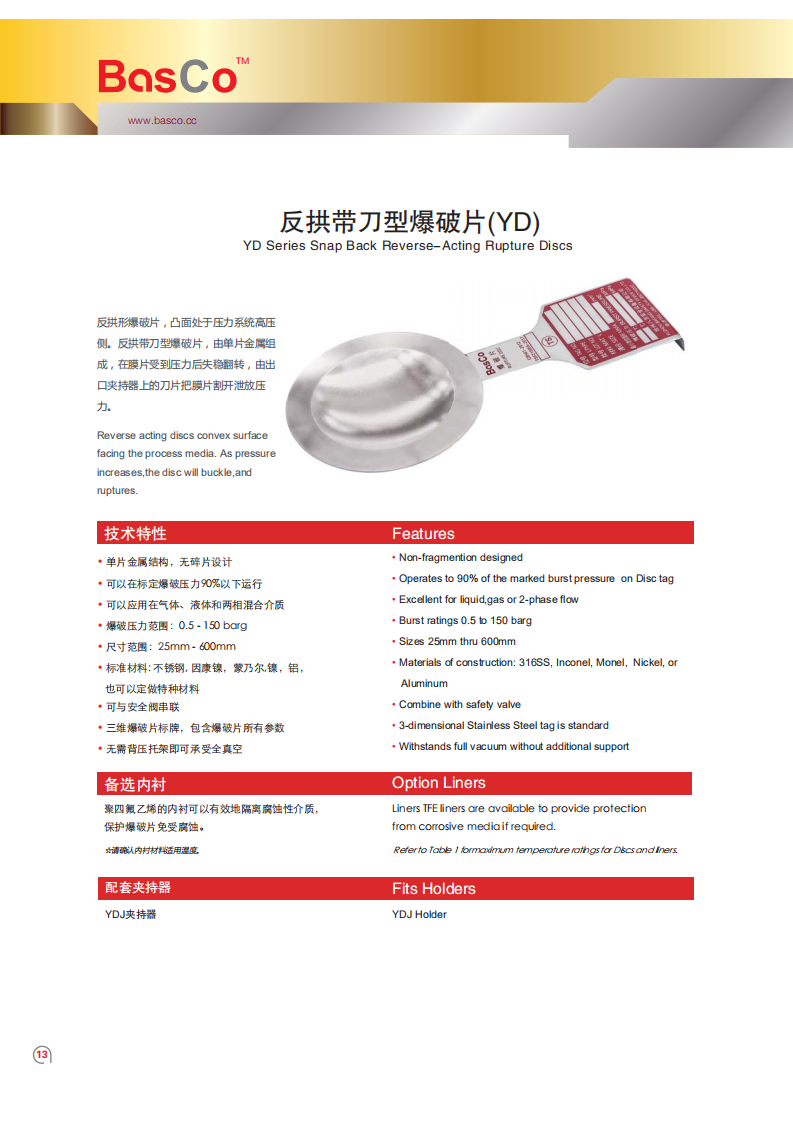 A high-tech enterprise with independent intellectual property rights, the company is committed to developing the world's advanced safety relief and explosion-proof products. The main products are: fla