Summary
Dimension(L*W*H):

3650*1660*1830mm

Weight:

2000kg

Power(W):

30KW

Model Number:

DBJ20B

Brand Name:

Shuo Li

Place of Origin:

Jiangsu,China
Specifications
Weight:

2000.000kg

Condition:

New

Moving Type:

Wheel

Maximum theoretical delivery:

23m3/h

Rated speed:

1475

Shuoli DBJ20B trailer pump viscous food delivery pump 23m3/h.
Process comparison
Traditional bean paste delivery process: the bean paste is transported to the transport tank by a diaphragm pump, transported to the elevator by a forklift, transported from downstairs to upstairs through the elevator, and then transported to the work site to squeeze the bean paste out of the transport tank by air pressure.
Doubanjiang delivery pump technology: Doubanjiang can be directly delivered to the site through the pump.
Performance comparison
1: There are many turnover times, and forklifts and elevators are required for separate transportation. The elevator has a short service life and high cost.
2: The transportation process requires a lot of labor, complicated procedures, low efficiency, and high labor cost
3: The use of screw pumps and other pumping equipment in the conveying process is destructive to the bean paste to a certain extent
Advantages of Doubanjiang Pump
1. Long conveying distance, which has reached 15 to 20M, and the conveying distance can be extended according to user needs
2. The conveying speed is fast, the conveying volume is large, the conveying volume can reach 150 to 200 cubic meters per hour, and the conveying volume can be increased according to user needs
3. Wide application range, in addition to the bean paste conveying, it can also be applied to other sauce conveying pumps in the food industry, such as chili sauce, candy puree, meat conveying, etc.

 

Item

Unit

Parameter

Overall performance

Maximum theoretical delivery

m3/h

23

Maximum theoretical delivery pressure

Mpa

10

Material cylinder cylinder specification*stroke

mm

160*650

Cylinder diameter*rod diameter

mm

90*55

Maximum theoretical conveying distance (horizontal/vertical)

m

200/50

Diameter of discharge port

mm

100

Power system

Motor model

 

YE2-200l-4

Rated power

KW

30

Rated speed

r/min

1475

Hydraulic system

Hydraulic circuit form

 

Open loop

Pumping system pressure

MPa

25

Control system pressure

MPa

3

Hydraulic oil tank volume

L

180

Other parameters

Dimensions: length * width * height

mm

3650*1660*1830

Total mass

kg

2000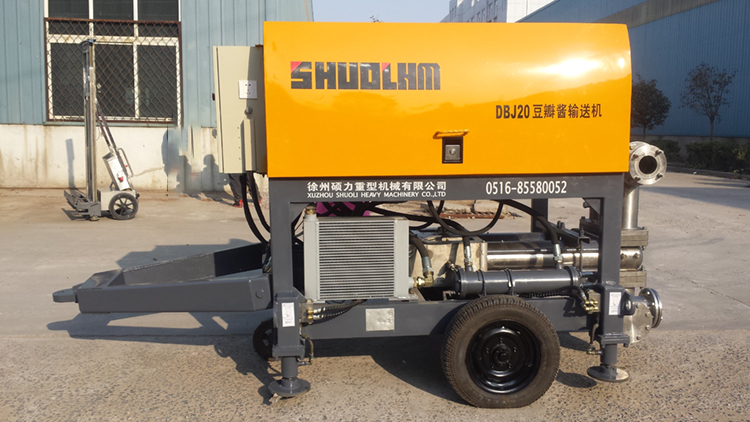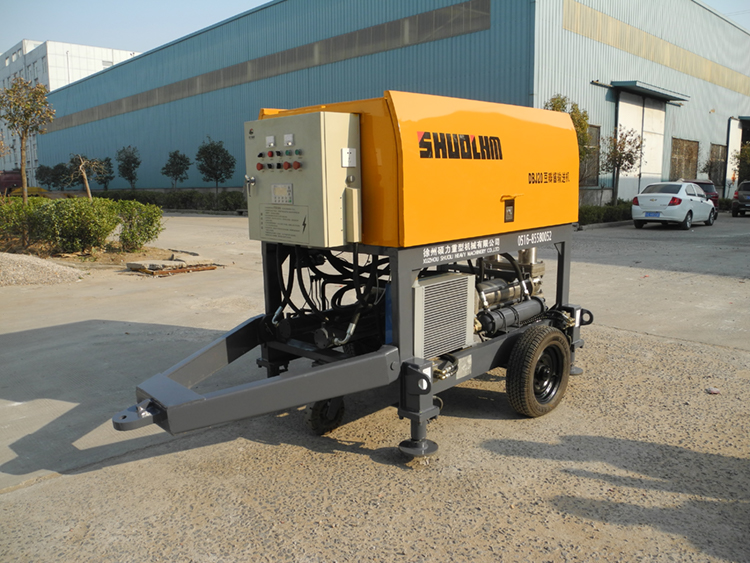 More Trailer Pump