Summary
Specifications
Product PDF
Summary
Specifications
Weight:

31000.000kg

Warranty Period:

3 Months

Condition:

New

Moving Type:

Wheel

Tire:

12.00R20

Fuel tanker capacity :

400L

Wheel base :

1500+4450+1450 mm

Fuel type:

Diesel EUROⅡ

BEIBEN vehicles truck 8×4 LHD 3138PZ 380HP with high safety.
A complete series of classic models that have introduced German Daimler-Benz technology and equipment, BEIBEN vehicles truck 8×4 LHD 3138PZ 380HP has been fully optimized and upgraded, featuring high reliability, high safety, large cargo capacity, and high cost-effectiveness.
The Baotou BEI BEN Axle Co.Ltd.is a wholly-owned subsidiaries of the BEI BEN TRUCKS GROUP CO.,LTD..In the late 1980s the introduction of Germany Daimler—Benz a full set Of technology,including a full set of drawings,technical process, inspection specifications and other technical documents.The Company advanced technology, first-class equipment, axle industry in a leading position in the country.
The main products of the company include 2 series of truck axles and bus axles,8 platforms and over 120 varieties.The Company in strict accordance with ISO9001-2008 system for quality control,relying on advanced CNC processing equipment and digital assembly method to ensure the quality of the product.For the reliability of the products,our company material and parts supply standard strictly enforced DBL standard in Germany.

Wheel base  (mm)

1500+4450+1450

Engine(WEICHAI)

Model

WP10.380E32,water-cooled,four strokes,6 cylinders straight in line,turbocharged,

 

Fuel type

Diesel EUROⅡ

Power

380HP

Fuel tanker capacity (L)

400L

Clutch

Model

Φ430, Diaphragm Spring,Hydraulic boosting  430

Gearbox

Model

12JS160T

Brake system

Service brake

 

Brake gap can be adjusted automatically, double circulation air brake system

 

Assistant brake

 

Engine exhaust brake

Park brake

 

Potential springs pressing on middle and rear wheels

Steering system

Model

8098 Hydraulic boosting

Suspension system

 

Front Suspension

 

Non-free standing leaf spring,telescopic shock absorber with stabilizer bar suspension

Rear Suspension

 

Non-free standing stabilization spring, stabilization suspension

 

Frame (Benz Technology)

Fish belly shape, variable width, variable sections

 

Cross section dimension of frame(mm)

 

317×70×8.5+7+8mm

Front axle (Mercedes Benz Technology)

 

Double-shoe pneumatic brake,6.5tons non-driving steering axle

 

Middle and Rear axle (Mercedes Benz Technology)

 

Double-shoe pneumatic brake, ductile casting casing, with hub redactor, 13tons double reduction driving axle

 

Tire

12.00R20

Electrical system

Battery

2X12V/135Ah

Generator

28V-35A

Starter

5.4Kw/24V

Cab

NG80B Long flat cab with single sleeper,

Full steel skeleton structure, covered with double layer steel plate;

Can be tipped forwardly;

 

Interior trimming:

Integral interior trimming, Integral instrument, digital instrument, radio, high back/shock absorption seat for driver, high back seat for co-driver. Steering wheel can be adjusted. With inner A/C。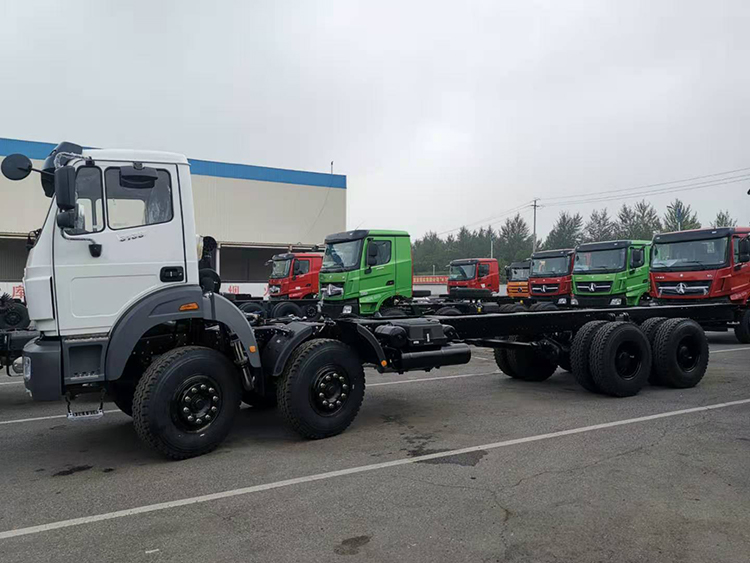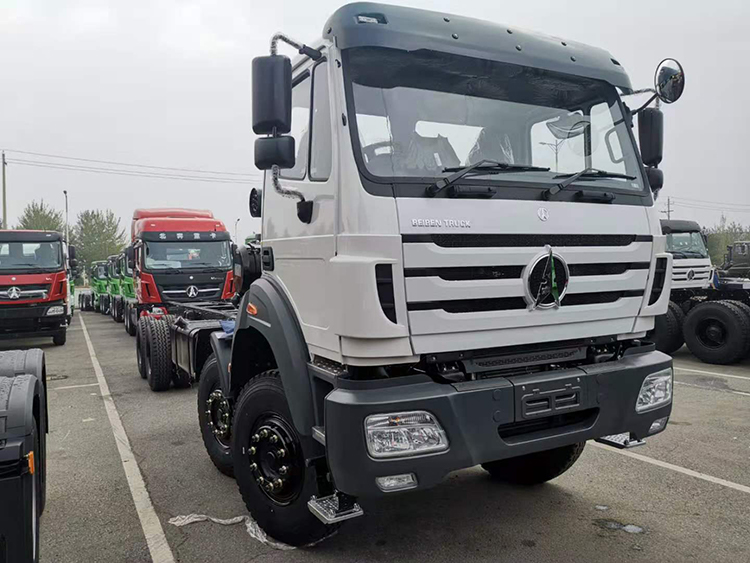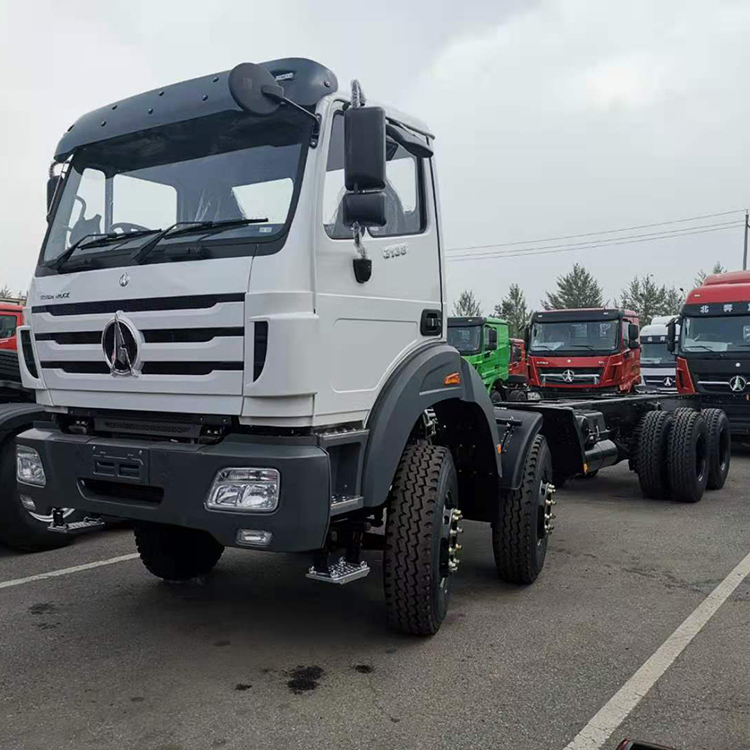 More BEIBEN Truck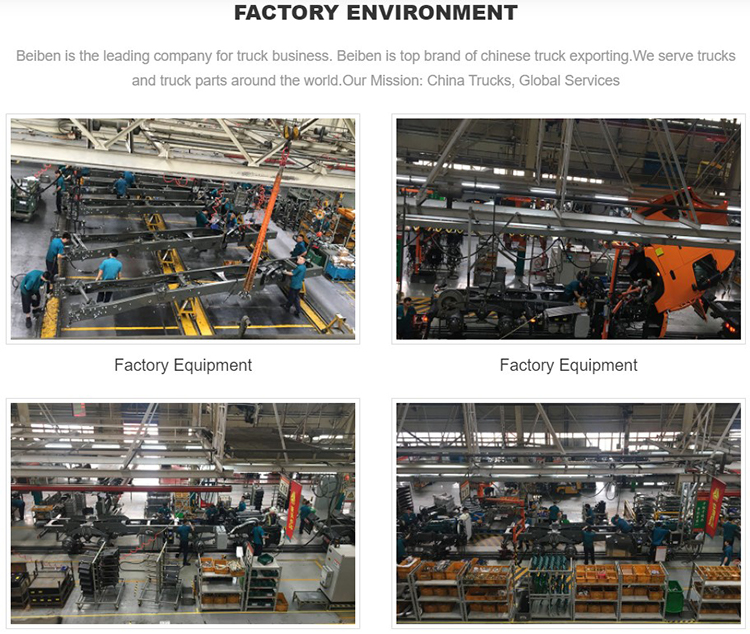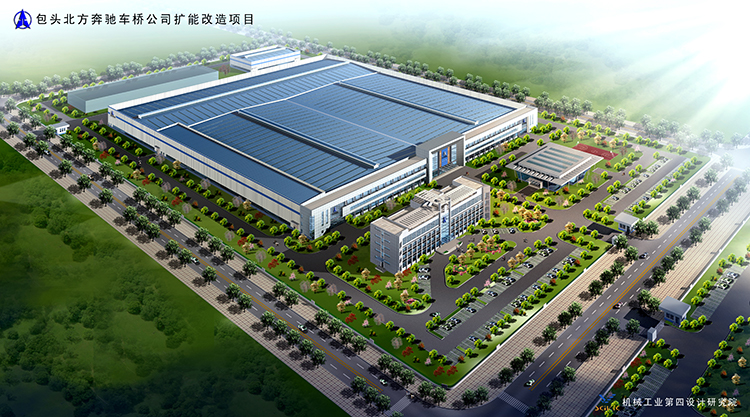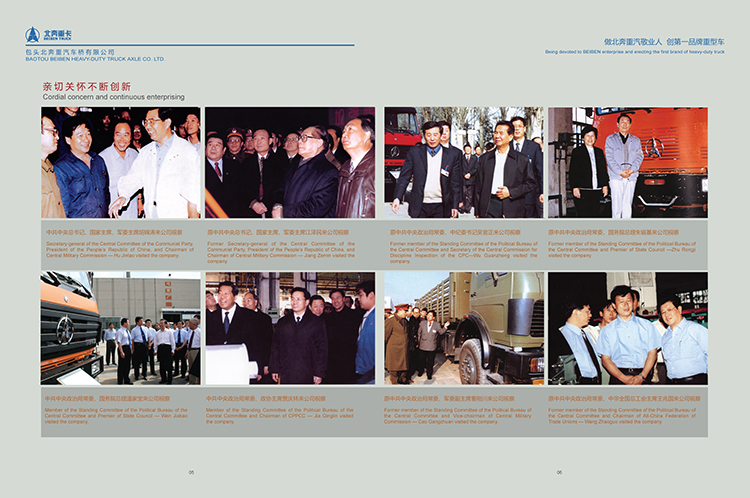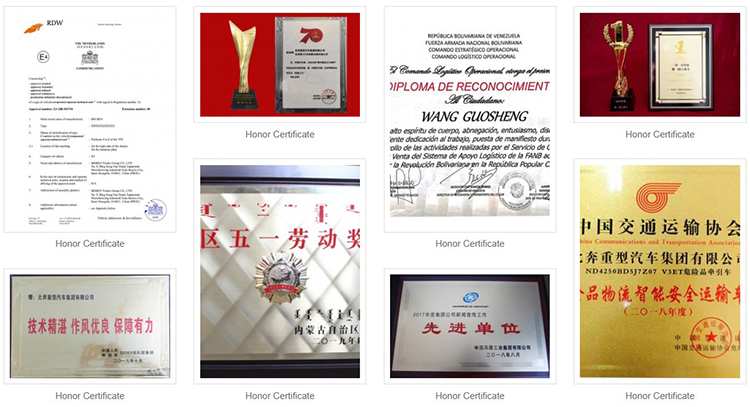 Product Catalog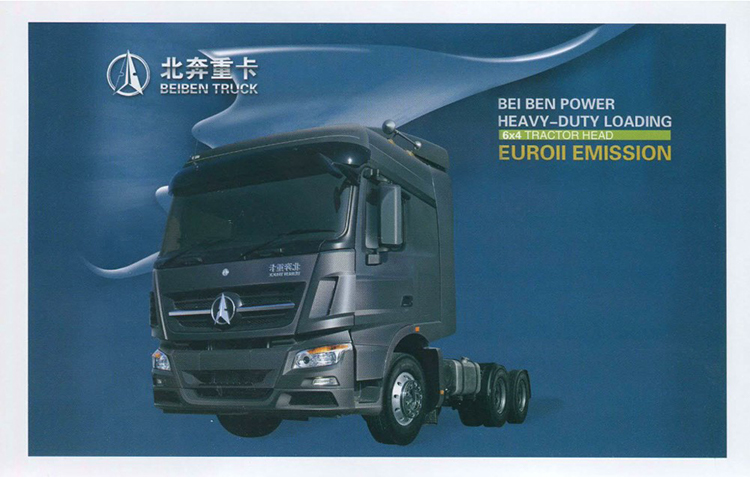 truck, cargo truck, dump truck, tractor truck, lorry trucks for sale