High-speed rail enters the island, XCMG rotary drilling rigs pile foundations on the Yangtze River!
2023-09-08 14:47:11

On the Yangtze River operation platform, seven XCMG rotary drilling rigs accompanied by a roar, lifting, lowering, drilling, and throwing soil, laying the foundation and platform for the world-class project Chongqi Railway and Highway Yangtze River Bridge.
Chongqi Railway and Highway Yangtze River Bridge is an important control node project of the Shanghai-Nanjing-Hefei high-speed railway. It is currently the world's largest span double-tower double-cable plane railway and highway dual-use ballastless track cable-stayed bridge, and also the world's first force-bearing steel truss combined beam cable-stayed bridge of the first system. The pile foundation area of XCMG rotary drilling rig is located in a thick cover layer and a special rock and soil layer. It is a river alluvial landform. The water flow in the water area is rapid, and the navigation environment is relatively complex. The steel casing is difficult to hit, which puts higher requirements on the construction of rotary drilling rigs.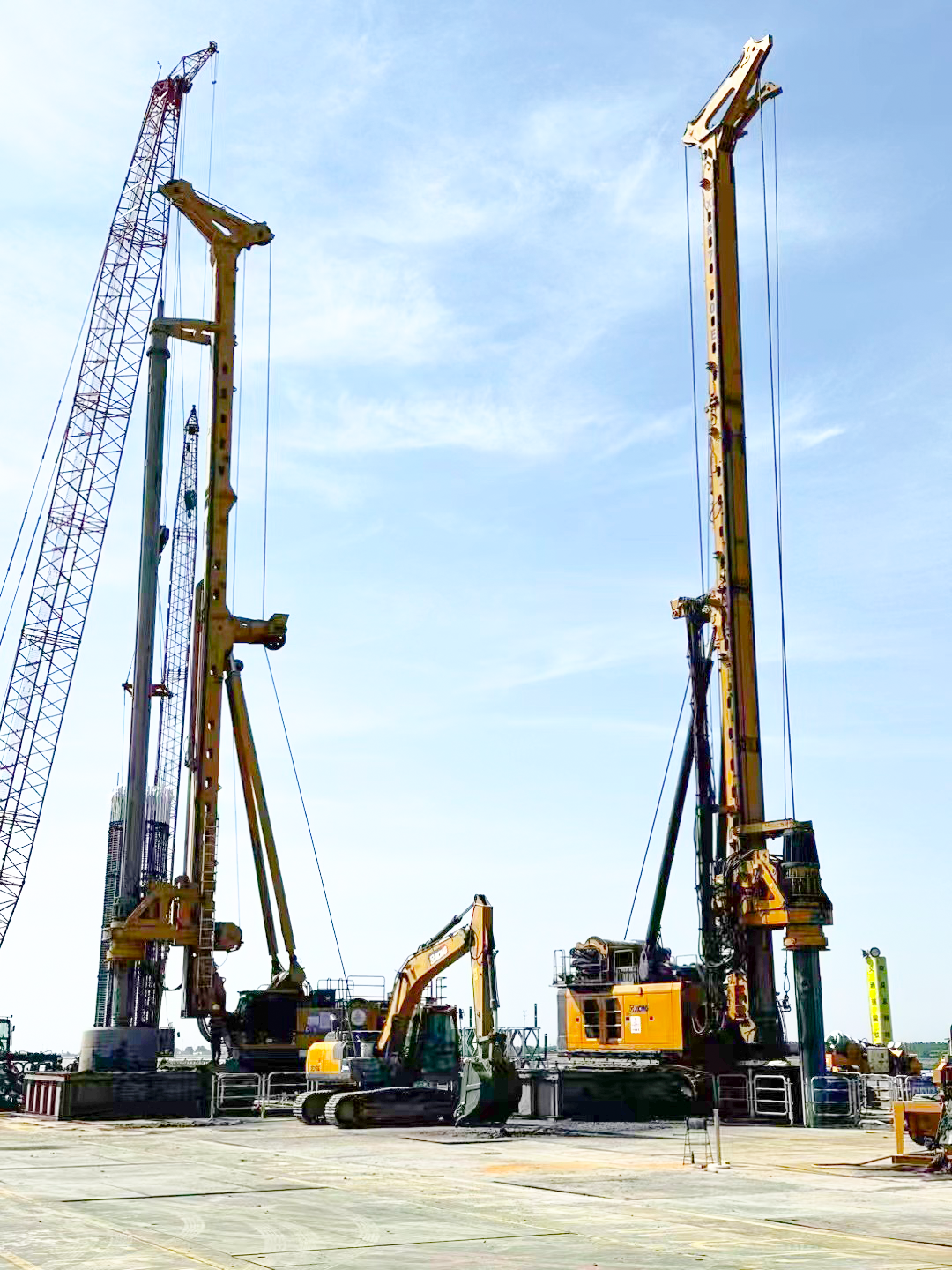 Therefore, the main pier pile foundation on both sides of the bridge is composed of 76 bored piles with a diameter of 2.5 meters and a pile length of 120 meters. The drilling depth of each pile foundation reaches 140 meters. Since entering the site, XCMG XR700E, XR600E, XR550D and XR580HD have a total of seven super-large-tonnage rotary drilling rigs for drilling, cleaning, cage lowering, grouting and piling operations in a one-stop assembly line to ensure that one pile is completed every day.
During the construction, as the main models, XCMG XR700E and XR600E rotary drilling rigs have a maximum drilling diameter of 4m and a maximum drilling depth of 160m and 150m respectively, which perfectly fit the construction requirements.
It is understood that after the completion of Chongqi Railway and Highway Yangtze River Bridge, it will become an important channel for north-south high-speed rail crossing the river, which is of great significance for serving the coordinated development of the Yangtze River Economic Belt and promoting the high-quality integrated development of the Yangtze River Delta.
Related Product
XCMG Official XR160E 56m Used Mini Rotary Drill Rig Piling Drilling Machine for sale
Inquiry

Chat Now