Rushing to the Greater Bay Area! XCMG drainage "assault team" quickly set off!
2023-09-12 14:38:30

In recent days, affected by the continuous heavy rain brought by the residual circulation of Typhoon "Sea Anemone", several cities in the Greater Bay Area, such as Guangzhou, Shenzhen and Hong Kong, were submerged in water, causing serious impact on local life.
Disaster is the order, rescue is the responsibility. XCMG and its local ally Guangdong Pengyang Emergency Rescue Team urgently linked up and quickly dispatched XCMG pickup-type drainage rescue vehicles, vertical-type drainage rescue vehicles and other equipment to urgently rescue Zhaoqing City Gaoyao District and High-tech Industrial Development Zone, and go all out to fight against the flood.
The emergency rescue team carried XCMG vertical-type drainage rescue vehicle to the disaster site for the first time and formulated a drainage plan, quickly debugged the equipment, laid out the water hoses, and started the operation, racing against time. After 18 hours of emergency fighting, they achieved road access in the rescue area, with a total drainage of 63,000 m³.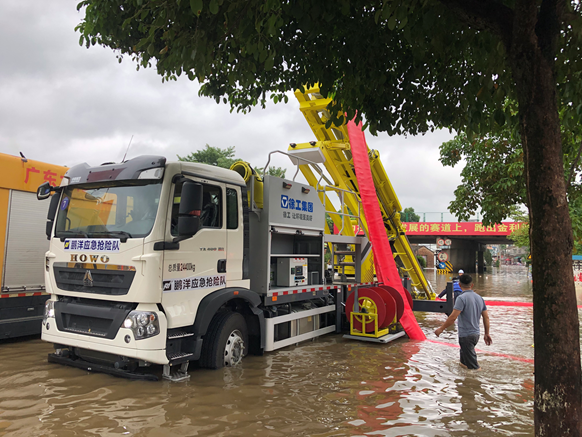 XCMG pickup-type drainage rescue vehicle mainly carried out drainage and silt removal operations in narrow spaces such as commercial blocks and basements, and cleaned up debris carried by rainwater.
Take on big responsibilities, follow big paths, and become big devices. Where there is a need, there is XCMG's presence. XCMG will continue to strengthen close cooperation with government departments and all sectors of society, and contribute to protecting the safety of people's lives! Show the mission and responsibility of a heavy-duty country with actions!