Summary
Overall Dimension(L*W*H):

8612×2490×2980 mm

Weight:

11980 kg

Model Number:

XZJ5161TXS

Brand Name:

XCMG

Place of Origin:

China

Certification:

CE/ISO9001
Specifications
Weight:

11980.000kg

Condition:

New

Moving Type:

Wheel

Chassis Model:

DFL1160BX

Pavement sweep width:

3.5 m

Washing speed:

3~10 km/h

Washing water rated pressure:

4 Mpa

Washing water rated flow:

106 L/min

Sweep width:

3.5 m

Sweeping speed:

3~15 km/h

Maximum cleaning capacity:

70000 m²/h

Maximum inhalation size:

—

Discharge angle:

≥45°

Clear water tank total volume:

9 m³

Trash can effective volume:

7 m³

The lifting Angle:

≥45°

Maximum speed (full load):

90 km/h

Maximum climbing angle:

0.3

Braking distance (full load 30km/h):

≤10 m

Minimum turning diameter:

19 m

Vehicle kerb quality:

11980 kg

Maximum total mass:

16000 kg

Wheelbase:

5000 mm

Front/Rear wheel track:

1880/1860 mm

Approach angle:

18°

Departure angle:

11°

Min. ground clearance:

240 mm

Suction diameter:

2×Φ180 mm

Work ground clearance:

5~10mm

Sweeping diameter:

—


XZJ5161TXS Sprinkler-Sweeping Truck
1、Beautiful and practical Carriage Design
Under the premise of meeting the requirements of the use and strength, it overall employs SUS304 single-layer stainless steel production with the advantage of simplicity and practicality and with good technology. Besides, trash integrates water tank so as to increase the volume of water, and bring mass production and processing. Trash can be set up within the anti-overflow alarm device and high pressure spray cleaning device. When it operates, the anti-overflow alarm device can prevent the sewage from the straw, which can avoid resulting in secondary pollution. Furthermore, after dumping garbage, the high pressure spray cleaning device can automatically clean the tank, greatly reducing the operators' labor intensity.
2、Cleaning Mechanism with Self-adaptive Control
Ground pressure of side washing system employs spring as adjustment mode which could adjust the ground pressure at any time according to the road conditions during work to reduce the washing wear. In order to reduce the washing wear, ground pressure of side washing system employs spring as adjustment mode which could adjust the ground pressure at any time according to the road conditions during work. In order to solve the problems on sweeper brushes' obtacles-free, one end of the supporting oil cylinder employs connected shackle to keep oil cylinder floating. When the sweeper brushes encounters obstacles, it has the function of automatic collision avoidance.
3、High Efficient Duct System
Duct system is the basis of pneumatic transmission of sweeper-washer vehicle and it includes suction nozzles, carriage channels and fans. The total three key parts decide the suction force, air loss, systematic power and etc. And they are the core parts in the design of sweeper-washer vehicle.
(1)Efficient suctions disc
The vehicle employs a full floating nozzle structure with double suction nozzle built-in high pressure spray bar so that the road garbage collection, ground high pressure washing and sewage recovery function can be achieved completely in one-stop opearation.
(2)Efficient centrifugal fan
It employs high pressure centrifugal fan which is self developedped and its max air volume can reach 10000m3/h. It has big full pressure and high efficiency. The fan leaves are made of special steel materials and their shapes are not easy to wear.
4、Reliable and effective waterway system
(1)Waterway with low pressure and dust
Equipped with stainless steel sprinkler and with a low-pressure fan-shaped surface of the nozzle, the scraper can suppress the dust from the brush. Nozzle is also installed with dust spray pipe and self-made large-diameter nozzle, which can suppress the dust that comes with picking up the garbage by the scraper.
(2)High pressure waterway
High-pressure pumps are imported from Itay. When the high-pressure pump starts and the work valves switch, the pump can automatically unload. With the triple protection of the air cycle, safety valve and relief valve, high-pressure water pump can be effectively prevented from damage. The rear part of the car is equipped with mechanical automatic winding reel and with 20m high pressure hose, which can be used to clean the body, other equipment and
5、Handy PTO interface
Assistant engine employs JMCS JX493ZG3 / JE493ZG5. The assistant engine drives hydraulic pump directly through PTO interface to improve transimission efficiency, reduce trasmission of supporting housing, save oil consumption, reduce operation cost of users and decrease the failure rate effectively.
6、Power Take-off System
Assistant enging of sweeper-washer vehicle employs automatic clutch output protection device as its protective setting to ensure the unloading start and stop of assistant engine. It solve the problem that the power take-off impact is large and it has better performance in protection of engine, fan and high pressure water pump.
7、Intelligent Control System
(1)Integrated control mode
The sweeper-washer vehicle is equipped with advanced intelligent control mode. When operating, it just needs to select the job mode. Then the operation of startting and shutting down is automatically controlled by the program. The operation mode includes full cleaning operation, left washing operation, right washing operation, full sweeping operation, left sweeping operation, right sweeping operation and pure suction operation mode etc.
(2)Muti-safety protection
The muti-safety protection includes voice alarm protection, voice avoidance warning, voice failure alarming, low water level of clean water carriage, high water level of garbage carriage, low oil level of hydraulic oil carriage, rear door unopened alarm, safety supporting which is not put down and other protective devices. The vehicle has a reverse protection device. That is to say, the automatic recovery of the work device can be achieved when the vehicle reverses.
(3)Real-time job monitoring
The monitoring probe with high-definition is set in the right turret and the rear of the trash. Besides, a high-definition LCD display ia also set in the cab. As a consequence, the screen can be switched to the right and the rear of the trash position respectively so that the quality of vehicle operations can be monitored.
A high-pressure water pump belt detection device is set. When the high-pressure pump belt is removed, it ensures the cleaning can be carried on without water can. When the high-pressure pump belt can be normally installed, it can alarm, thus protecting the high-pressure water pump.
8、Safe and reliable hydraulic system
By adopting the chassis and assistant engine power of the dual-power hydraulic components system, dumping discharge, nozzle lift and sweep lift can be achieved by chassis and vice engine. When the dumping is carried out, it is only necessary to start the chassis engine, without starting the assistant engine. As a result, the number of revolutions of assistant engine increases. All these not only extend the service life of the assistant engine but also save the fuel.
By using three-valve independent hydraulic system, the hydraulic system work without interference and is easy to maintain.
By using plate stack valve procuded by the well-known domestic manufacturers in Beijing Huade, it is reliable and easy to maintain with stable performance.
9、High Wear Technology Sweeping and Washing with Mixed Materials
Through self-development, the proportion of polypropylene, polyethylene raw materials, inorganic filler and its addictive has been adjusted to design and develop a formula of brushes which is with excellent performance in friction wear. At the same time, all experimental formula has been tested to develop speical nylon sweeping brush hair for Xugong and its service life has been increased two times.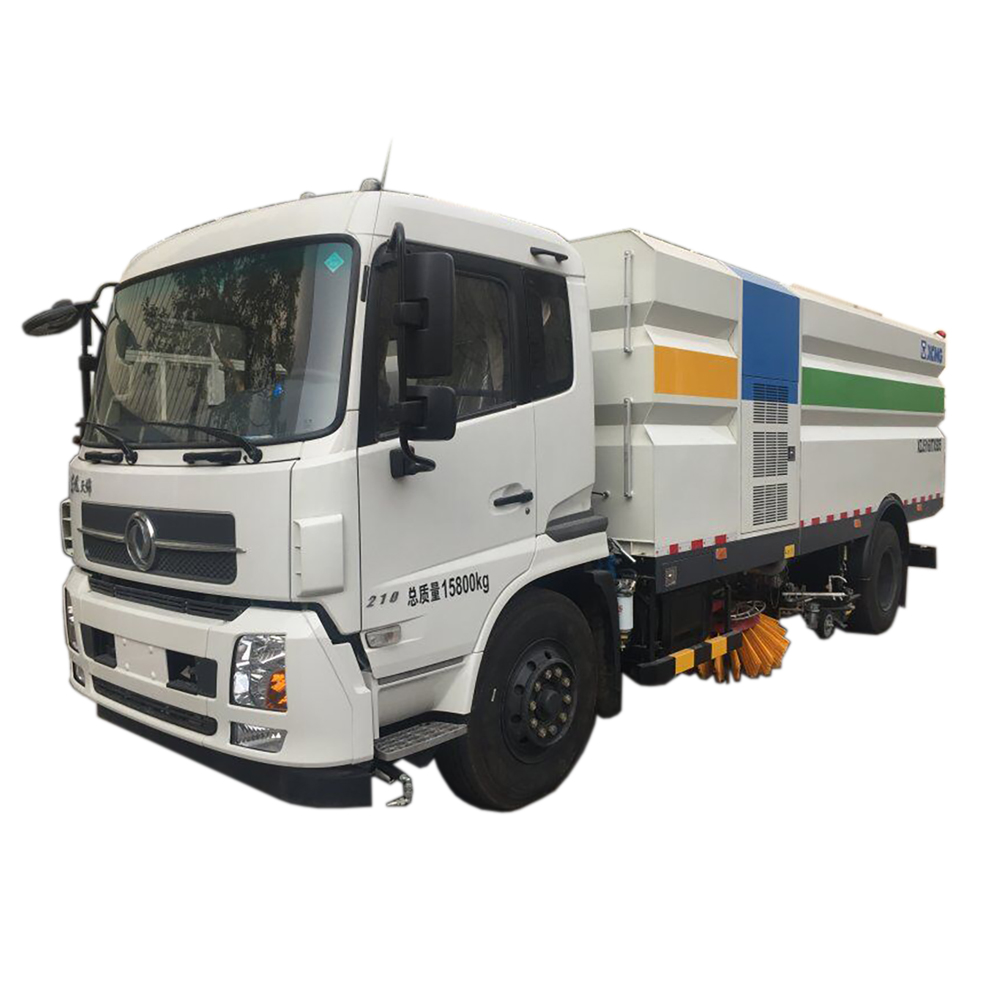 Item

Contents

XZJ5161TXS

The chassis parameters

Model

DFL1160BX

Power

150kw

Wheelbase

5000mm

Auxiliary engine

Model

QSB5.9-C160-30(StateⅢ)

Power

120kw/2200r/min

The vehicle parameters

Maximum total mass

16000

Dimensions

8612×2490×2980mm

Curb mass

11980kg

Bin parameters

Bin capacity

7 m³

The tank volume

9 m³

The lifting Angle

≥45°

High-pressure waterways parameter

System operating pressure

5MPa

System usage flow

106L/min

Low-pressure waterways system

The water pump model

80QZB60/90

The pump flow

60m³/h

Rinse the width

24m

Suction nozzle

Pipe diameter

2×Φ180mm

Off-ground at work

5~10mm

Working performance

Scrubbing operation

Maximum sweeping width

3.8m

Width of road cleaning and sweeping (excluding the width of road cleaning)

3.5m

Cleaning speed

3~10km/h

Rated pressure of cleaning water

4MPa

Rated flow of cleaning water

106L/min

Cleaning operation

Cleaning the width

3.5m

Sweeping Speed

3~15km/h

Maximum cleaning capacity

70000m² /h

Discharging Angle

≥45°

Low pressure washing width

24m

Driving performance

Maximum speed (full load)

90km/h

Maximum climbing Angle

30%

Braking distance (full load, 30km/h)

≤10m

Minimum turning diameter

19m

Structure size

Wheel track

Front wheel

1880mm

Rear wheel

1860mm

Approach Angle

18°

Departure angle

11°

Minimum ground clearance

240mm

Hydraulic system

The rated pressure

14MPa

Hydraulic oil capacity

60L

Electrical system

Chassis system voltage

24V

The working unit system voltage

24V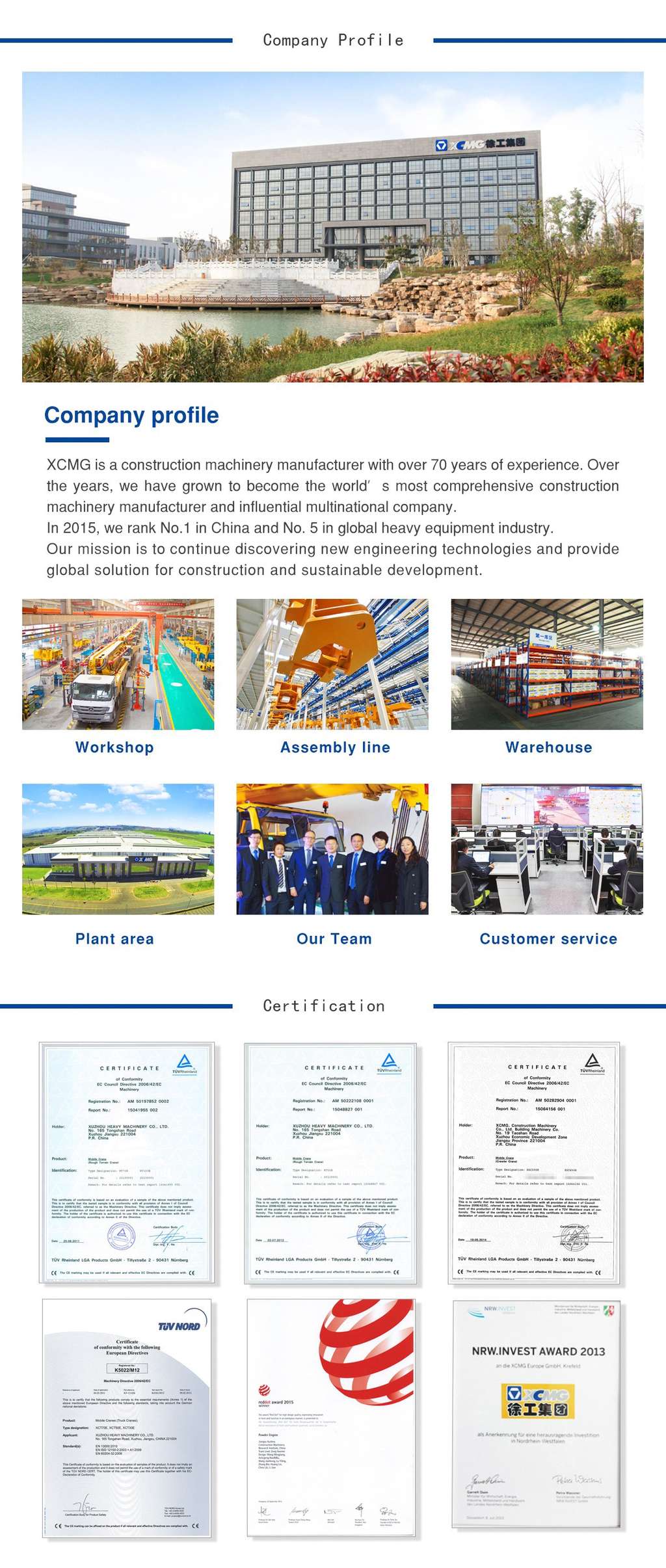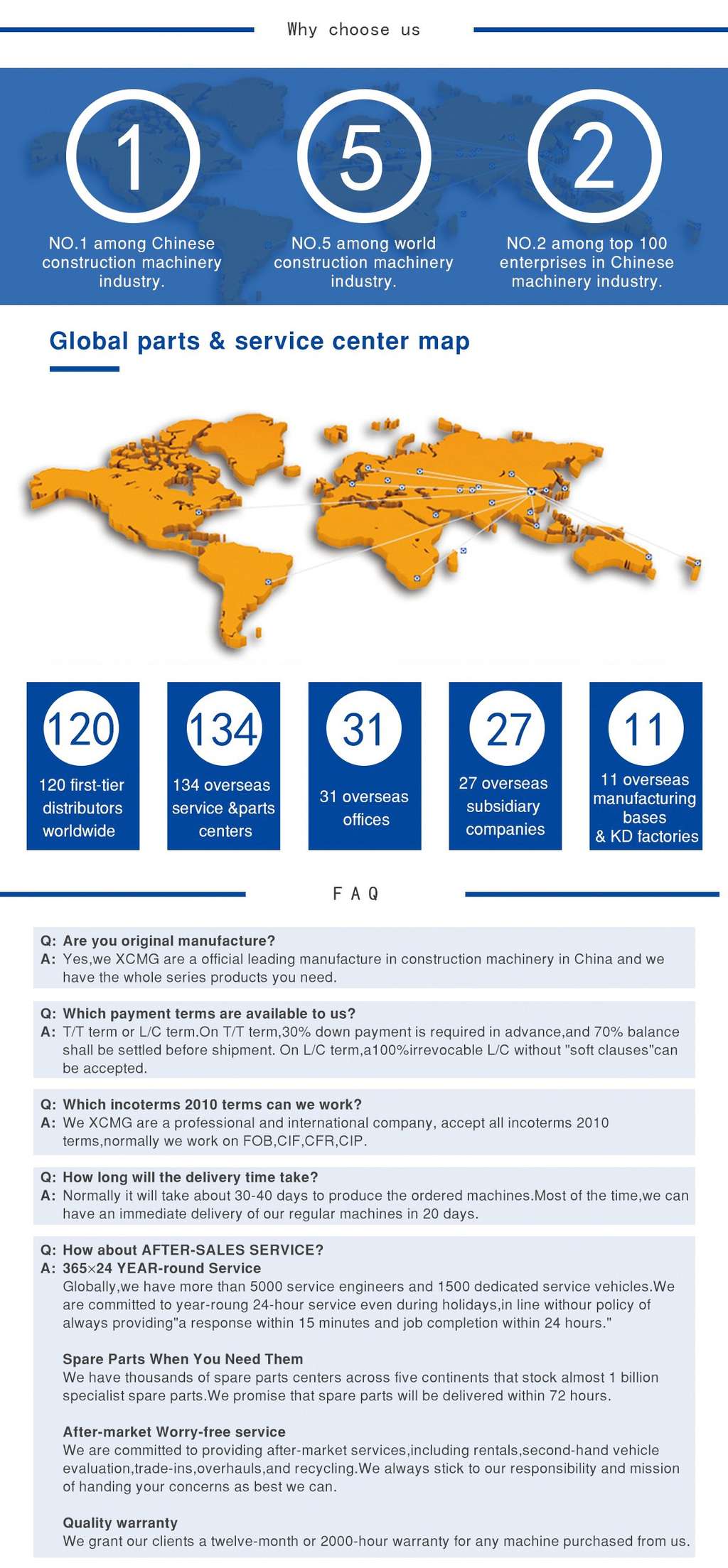 Response Time : Within 24 hours
XCMG was founded in 1943. XCMG products include: excavators, loaders, cranes including earth-moving machinery, road machinery, concrete machinery, mining machinery and other 12 construction machinery.