Engineering & Construction Machinery
>
Engineering & Construction Crane
>
All-Terrain Crane
>
XCMG
>
XCMG Official XCA100 All Terrain Cran...
Summary
Model Number:

XCA100

Brand Name:

XCMG

Place of Origin:

China

Certification:

CE/ISO9001
Details
Product Name:

G5ACB07482953B

Display online time:

2019-11-11

weight:

48000.000kg

After-sales Service Provided:

Engineers available to service machinery overseas

Warranty:

12 Months

Condition:

NEW

Moving Type:

wheel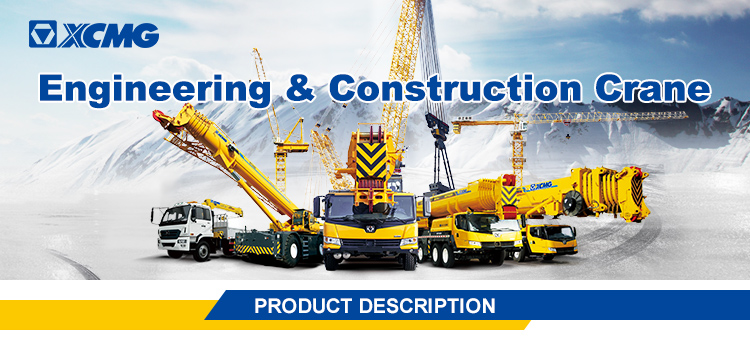 1、The lifting capacity takes the lead in the industry with strong power, the 4-axle extreme 100-ton all terrain crane with high intelligent level.
2、 Closed hydraulic system for lifting and slewing system, equipped with large-displacement pump, lifting speed with heavy load highly. Mature double-variable mechanism with fine control tactic, matching perfectly stably.
3、 Automatically recommend the most proper working conditions. Searching and setting work condition simply.
4、With first launched multi-mode drive technology in the industry, real-time intelligent control for various working conditions is realized so that the crane has optimized travel state and crane safety and reliability are improved.
5、Axle load monitoring technology: Proper gear (the highest gear engaged) and axle driving mode are matched automatically by axle load monitoring technology, which provides protection for crane safety in traveling.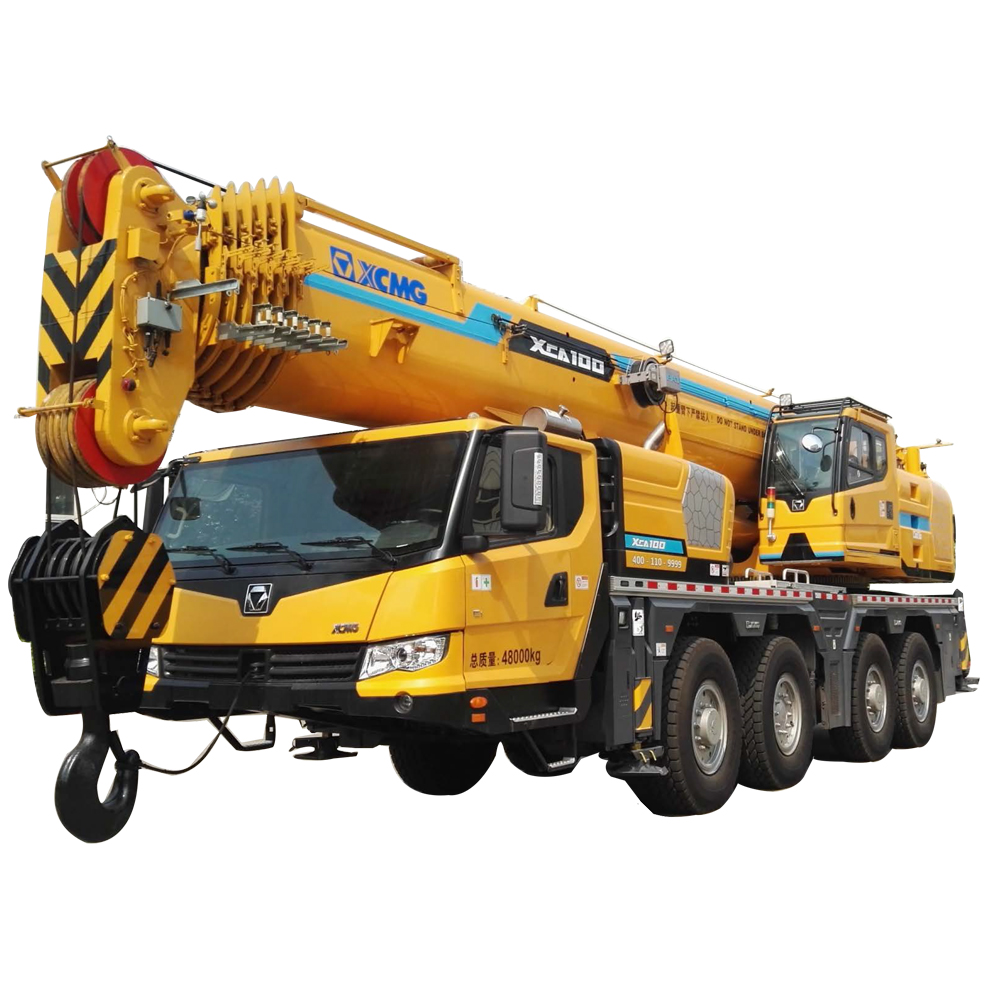 weight

Axle

1

2

3

4

Total weight

t

12

12

12

12

48

Hook

No.of lines

Weight kg

Remarks

75t

12

730

Single hook

20t

3

270

Single hook

Working speeds

Km/h

385/95 R 25

(14.00 R 25)

3~80

60%

445/95 R 25

(16.00 R 25)

2.2~85

55%

525/80 R 25

(20.5 R 25)

2.2~85

55%

Drive

Working speed

Max.single line pull

Rope diameter/length

0-130m/min,single line,5th layer,no load

6.6t

18mm/290m

0-97 m/min,single line,2nd layer,no load

6.6t

18mm/200m

0-1.7 r/min

Approx. 50s for boom elevation from -0.5° to 83°

Approx. 550s for boom extension from 11.7m to 60m

XCMG——XCA100
Technical specifications

Safety devices

Hydraulic counterbalance valve, hydraulic relief valve, double-way hydraulic valve, LMI, display,central controller,length/angle sensor, overwinding switch, oil pressure sensor, joystick spring return system, lowering limiter for preventing wire rope from over-releasing, anti-two block at boom head for preventing wire rope from over-winding and anemomete

Fixed jib

Independent jib head of 2.9 m, two

insets each 7 m, and a device fbr
continuous luffing of jib

Control

system

Radio remote control fbr erection of counterweight

Operator
cab

New steel cab with a full-view windshield, safety glass, sun shield, adjustable operator's seat. Windshield wiper and roof window wiper. Armrest-integrated crane control levers. Ergonomically arranged standard controls and indicators in the cab. A sliding door and a pull-out step for easy and safe access to the cab. 20° tilted. Heater and air conditioner.

Chassis

engine

Cummins (Xi'an)ISMl 1E4 440,6

cylinders, diesel. Rated power/rpm: 318

kw/1900 rpm.

Rated torque/rpm: 2080 N.m/1200 rpm.

Emission standard: China IV

Hydraulic

system

the electric proportional variable piston pump is used to control hoisting, elevating, telescoping and slewing operations; load sensitive proportional multi-waydirectional

control valve; air-cooled hydraulic oil cooler

Tank capacity: 1000L

Chassis

engine

Cummins (Xi'an)ISMl 1E5 440,6

cylinders, diesel. Rated power/rpm: 326

kw/1900 rpm.

Rated torque/rpm: 2080 N.m/1200 rpm.

Superstru

cture

engine

DEUTZBF6M1013EC, 6 cylinders, diesel.

Rated power/rpm: 174 kw/2200 rpm.
Max. torque/rpm: 854N.m/1400 rpm.

Engine emission: China IL

Chassis

engine

MANMC 11.44-50,6 cylinders, diesel.

Rated power/rpm: 316 kw/1900 rpm. engine Rated torque/rpm: 2100 N.m/1400 rpm.

Emission standard: China V

Tires

16.00 R25 ; 20.5 R25

Product parts details As mentioned above, please refer to the product quotation for specific parts.

XCMG——XCA100
Technical specifications

Chassis

Superstructure

Fram

Designed and manufactured by XCMG, made of high strength steel with inverted trapezium cross-section

Boom

11.7 m~60 m, 7-section boom with U- shaped cross-section, welded structure

Outriggers

Four-point supporting, hydraulic control. An outrigger control station at each side of the chassis. A luminous level gauge, an illuminator and an accelerator button on each control station. A check valve

for each outrigger cylinder and a doubleway hydraulic valve fbr each jack cylinder.

Fixed jib

Lattice jib, welded. Three offset angles of0° ,15° and 30° . 10.6 m/18.1 m.

Engine

Cummins (Xiran)ISME420 30, 6 cylinders, diesel.

Rated power/rpm: 306 kw/1900 rpm.

Rated torque/rpm: 2010 N.m/1200 rpm. Emission standard: China III.

Fuel tank capacity: 350 L.

Elevatin

g System

Single cylinder, gravity fall plus power lowing boom mode, with selfcompensation electric-proportional counterbalance valve.

Speed: <50 s for elevating operation from-0.5° to+83° .

Trans mission

American Allison 6-speed automatic transmission.

Main winch System

Hydraulic motor with planetary gear reducer and constant-closed brake, Main specific anti-disorder rope winding drum, Winch anti-coiling wire rope. Speed (single line, System the 5th layer, no load): >130 m/min.

Rope diameter X length: q)18 mm X 290

m

Axle lines

High-strength axles, three axles fordriving:8x6x8

Auxiliary winch System

Hydraulic motor with planetary gear reducer and constant-closed brake, specific anti-disorder rope winding drum, anti-coiling wire rope.

Speed (single line, the 2nd layer, no load): >97m/min.

Rope diameter X length: cpl8 mm X 200

m

Steering system

Front two axles are mechanicallysteered, rear two axles areequipped withXCMG electric- hydraulic steering system

Slewing system

Single-row four-point ball contact external tooth slewing ring is driven by the planetary gear reducer of slewing mechanism driven by a hydraulic motor, and may continuously slew 360° □.Power control or free slewing function and stepless speed regulation are available.

Max. slewing speed is 1.7 r/min.

Suspension system

All wheels with hydro-pneumatic suspension system: the suspension cylinder travel ranges from -100mm ~ |+140mm.

Braking system

Double circuits, pneumatic and disc

brake.

Service brake: double-circuit air Brakin pressure brake, acting on all wheels, system Parking brake: spring-loaded brake,

acting on the wheels of axles 2, 3 and 4;

Auxiliary brake: engine compression

brake and transmission retarder brake.

Tires

14.00R25

XCMG——XCA100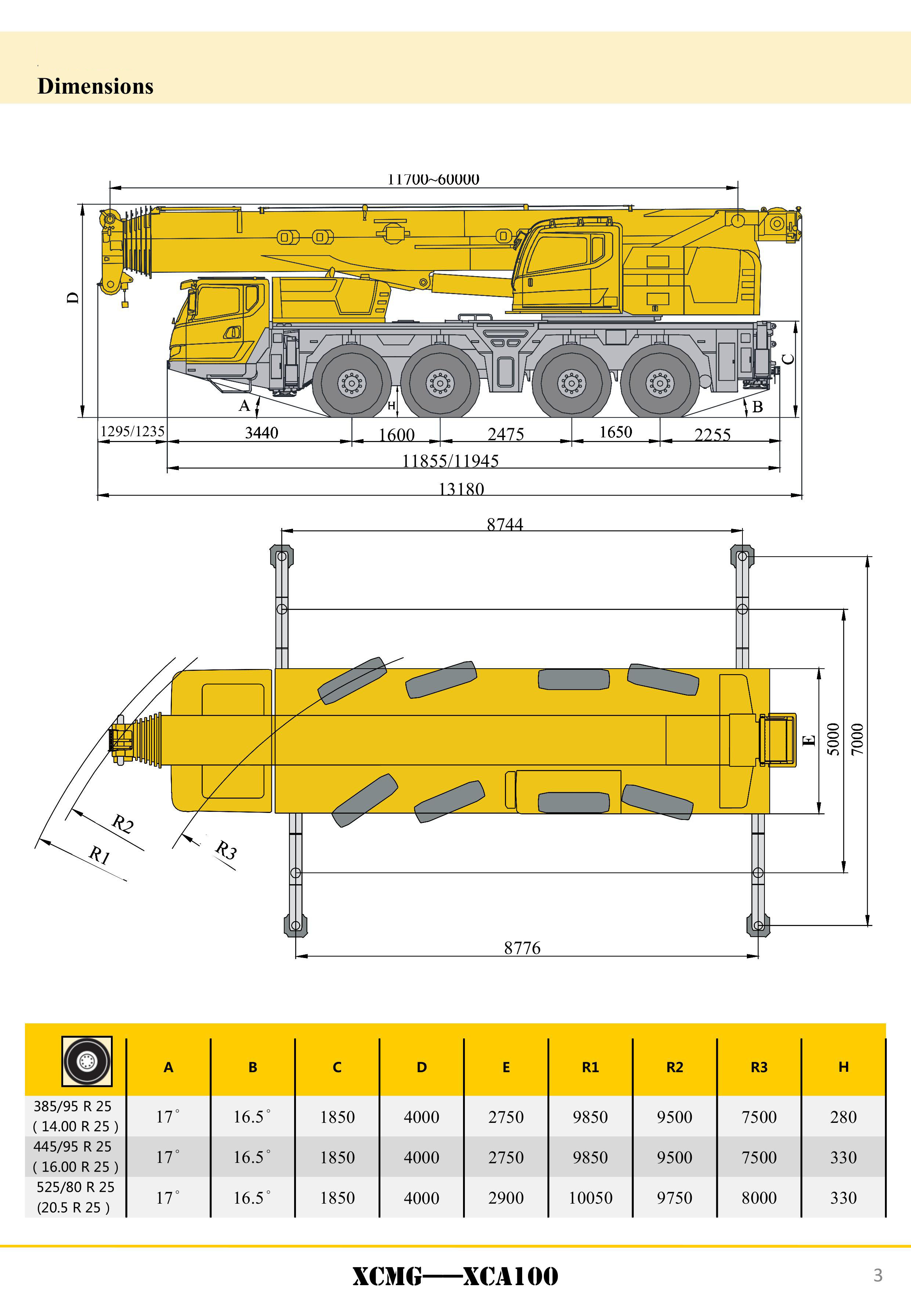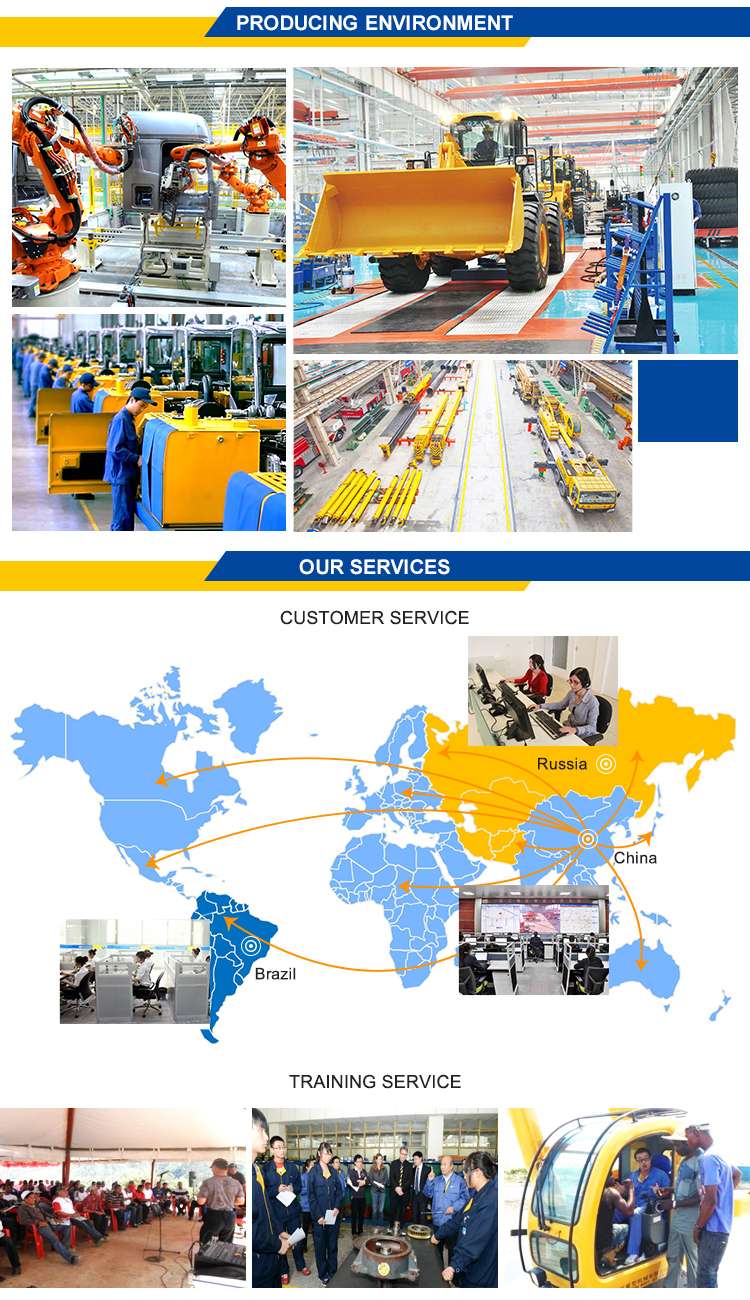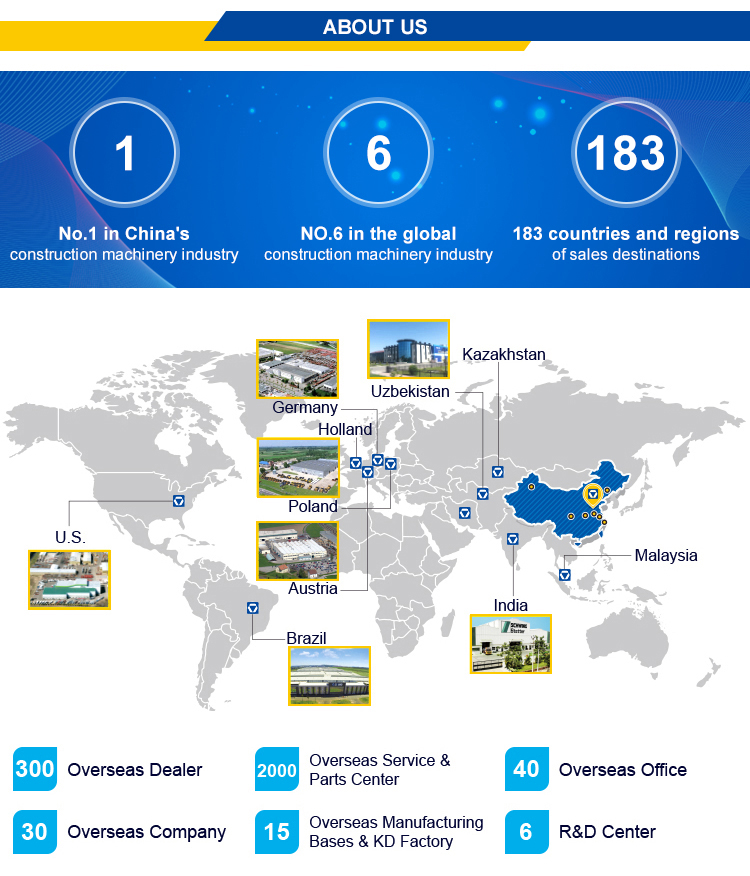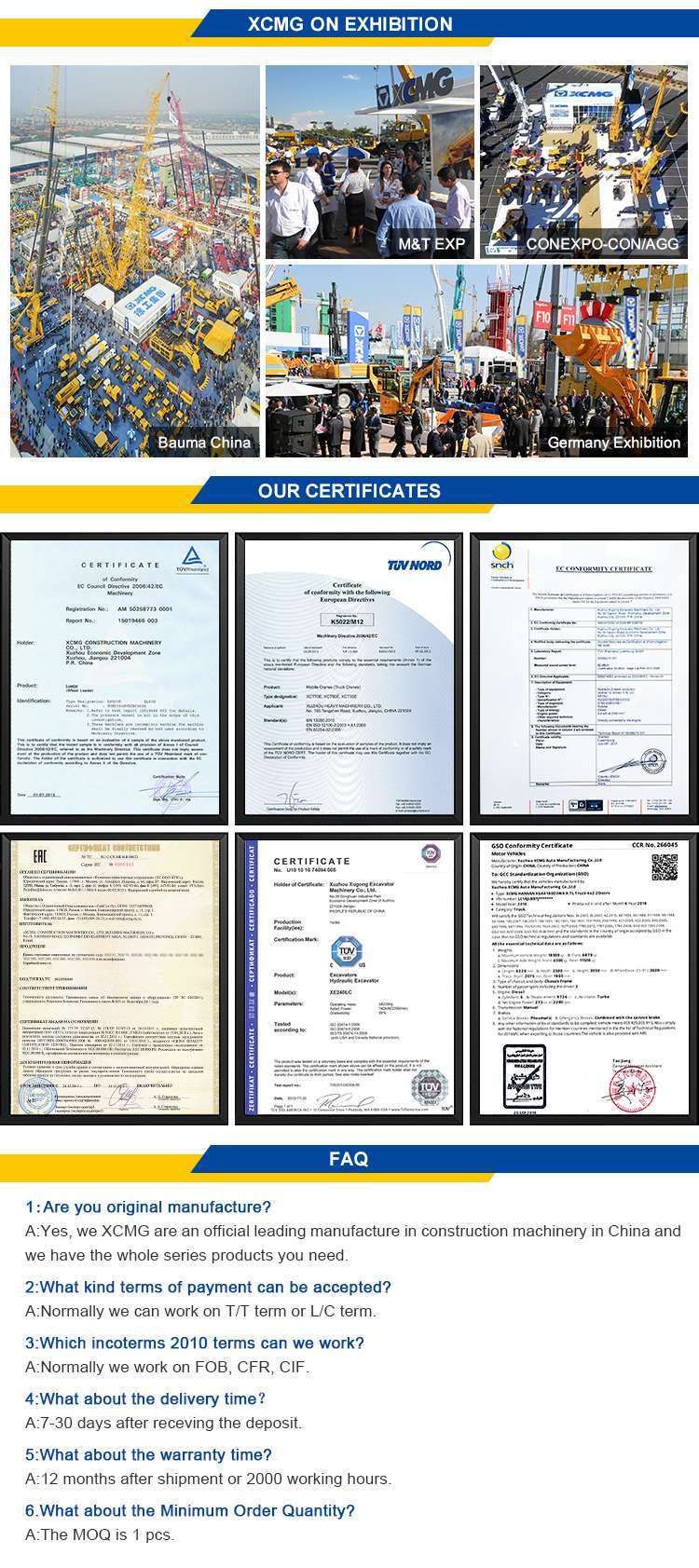 Response Time : Within 24 hours
Xuzhou Construction Machinery Group Co., Ltd. (XCMG) was founded in 1943. Since then, XCMG has stood at the forefront of the Chinese construction machinery industry and developed into one of the domes