Engineering & Construction Machinery
>
Engineering & Construction Crane
>
All Terrain Crane
>
XCMG
>
XCMG Official XCA300U All Terrain Cra...
Summary
Model Number:

XCA300U

Brand Name:

XCMG

Place of Origin:

China

Certification:

ISO9001
Details
Product Name:

G5ACB1870917B1

Display online time:

2019-11-11

weight:

73400.000kg

After-sales Service Provided:

Engineers available to service machinery overseas

Warranty:

12 Months

Condition:

NEW

Moving Type:

wheel


XCA300U All Terrain Crane
1、The lifting capacity takes the lead in the industry with strong power, the 6-axle all terrain crane with high intelligent level.
2、Dynamically choosing different braking modes, which contributes to precise control on power performance and avoids invalid braking control or insufficient braking force, and can shorten emergency braking distance, effectively avoid traffic accident, reduce the abrasion of braking system and increase the service life3、Comfort: Improved designs, such as imperial man-machine interactive interface, US principle braking system, electronic rearview mirror and reserved ports for attaching boom dolly, significantly satisfy the operating habits of North Americans.4、Safety: FSG outrigger length detection system, outrigger pressure detection system, and several warning functions, such as braking disk abrasion warning, superstructure low slewing pressure warning (with DOLLY attached) are available, well ensuring the traveling safety.
5、The leg length and length sensor, leg pressure sensor and rotary angle sensor are equipped to collect the crane's attitude accurately, and display information to the user automatically with the help of vehicle mounted display.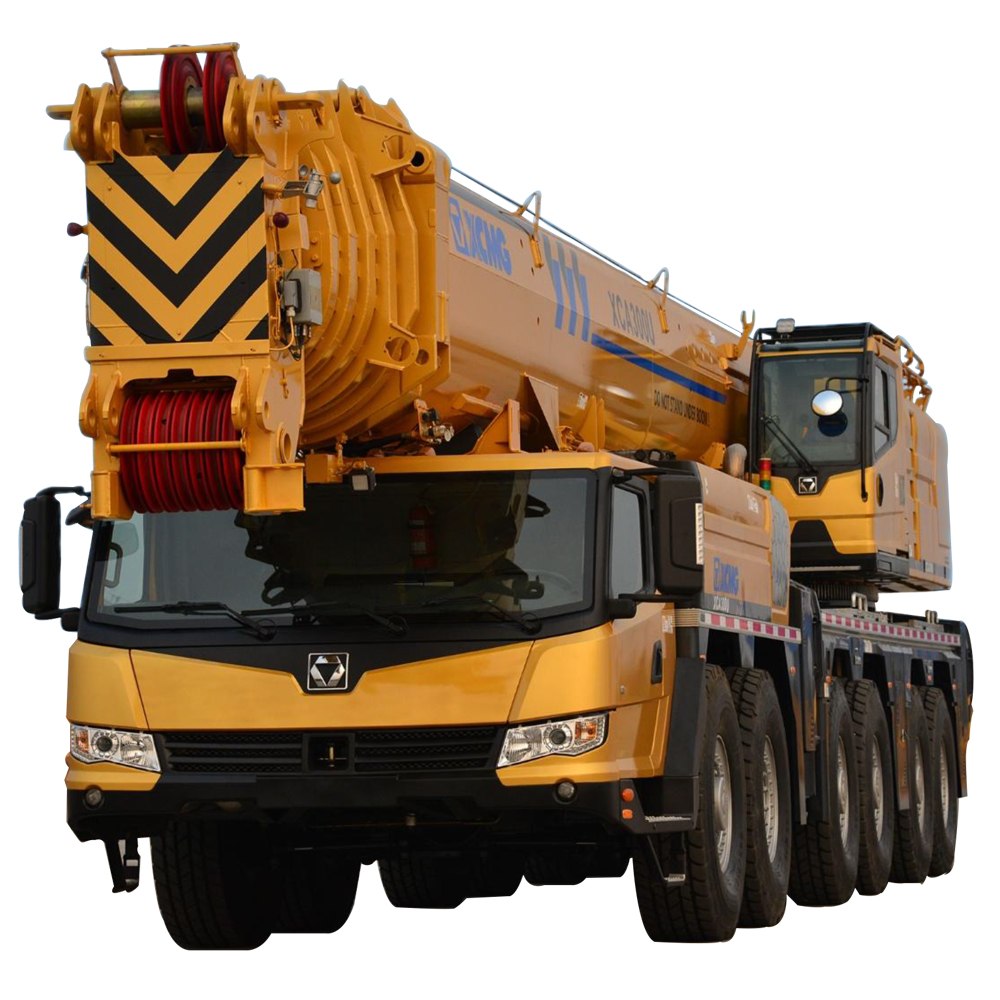 weight

Axles

1

2

3

4

5

6

Total weight

lb

27595

27595

26639

26639

26639

26639

161820

Hook

No.of lines

Weight lb

Remarks

154USt

14

4259.4

Double hook,Optional

121USt

11

3192.3

Double hook,Standard

88USt

7

4045.5

Double hook,Standard

33USt

3

3176.9

Single hook, Standard

13USt

1

1009.7

Single hook, Optional

Working speeds

mph

445/95 R 25

(16.00 R 25)

1.24~55.9

52%

385/95 R 25

(14.00 R 25)

1.24~51.5

60%

525/80 R 25

(20.5 R 25)

1.24~55.9

52%

Drive

Working speed

Max.single line pull

Rope diameter/length

0-416.7fpm,single line,5th layer,no load

24691.9lb

0.9 in/1213.9 ft

0-416.7 fmp,single line,5th layer,no load

24691.9lb

0.9 in/1213.9 ft

0-1.2 r/min

Approx. 85s for boom elevation from -1° to 83°

Approx. 900s for boom extension from 49.2ft to 262.5ft

XCMG——XCA300U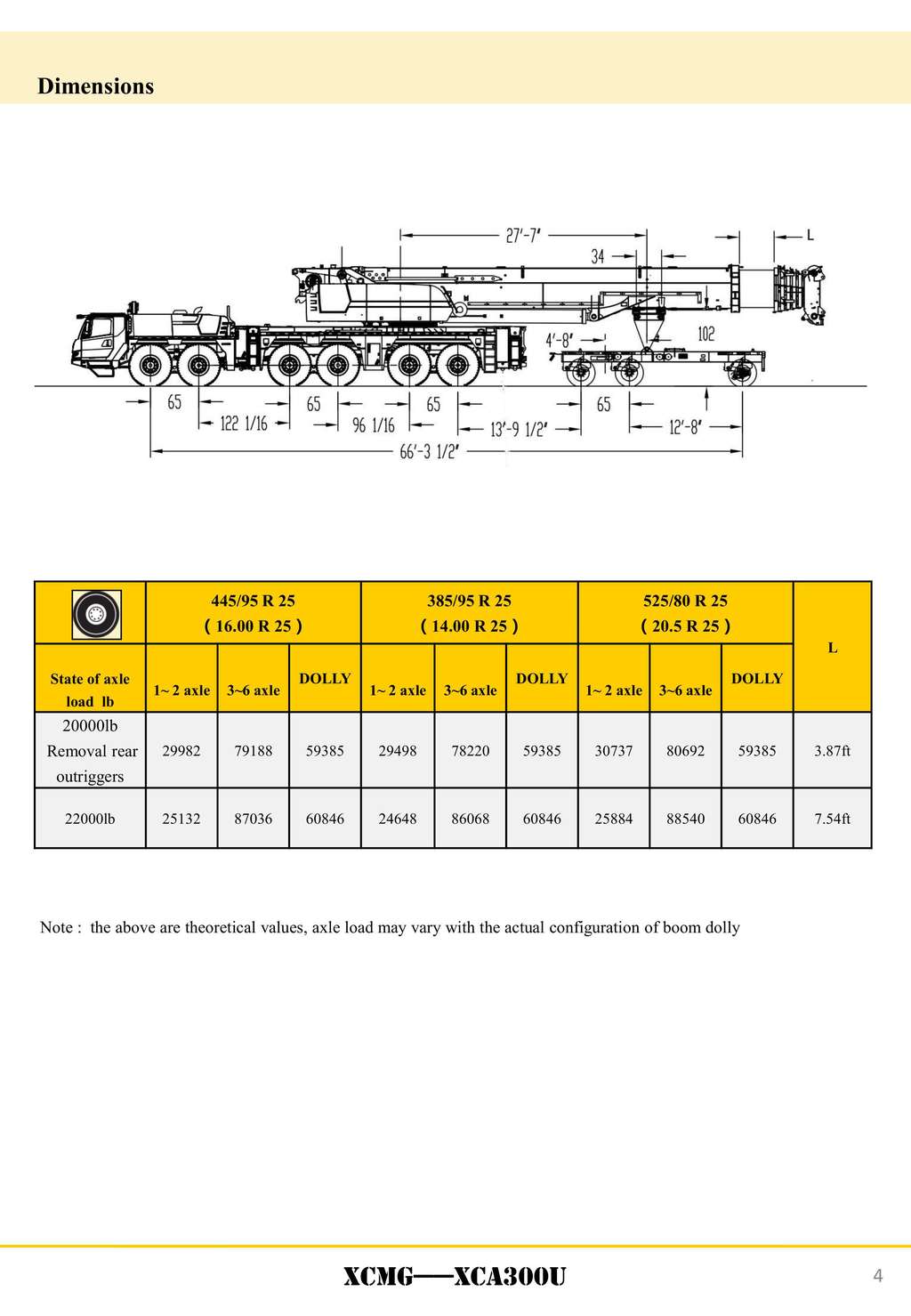 Technical specifications

Chassis

Fram

Designed and manufactured by XCMG, with all covered walking surface, made of imported high strength steel with inverted trapezoid cross section.

Brakes

Service brake: double-circuit air pressure brake, acting on all wheels.

Parking brake: spring energy brake, acting on wheels of 2-6 axles.

Auxiliary brake: engine brake, transmission retarded brake.

Outrigger

Variable pump driven by chassis engine, used for hoisting, elevating, telescoping and slewing operation. Imported electro-hydraulic direction valve, matching perfectly stably. Air-cooled hydraulic oil cooler, which may effectively reduce the temperature of oil in the system, suction filter and return filter.

Steering

All axles steering, advanced electro-hydraulic proportional steering control is suitable for various demands of working conditions, some steering modes followed may be realized.

Engine

OM473LA.E4-2, in-line six-cylinder water- cooled EFI diesel engine, manufactured by Daimler, rated power 576.6hp /1700 rpm, max. torque 2028.3 lb-ft / 1300 rpm, EPA Tier4f / CARB Tier4f / EU Stage4 emission standards.

Fuel tank capacity : 118.9gal.

Driver's cab

New type steel structure full dimension cab with suspension connecting structure, and there is shock absorb fitted at the rear of the cab, equipped with adjustable seats, safety glass of electrically operated door window lift , electric-adjustable mirrors, steering wheel adjustable in height and angle, reverse displayer, large screen liquid crystal display. Combined control panel reasonably arranged ergonomically designed concept. Heater and air conditioner are standard.

Hydraulic

system

The Twin-variable variable displacement

pump is connected to the engine through PTO for controlling the movements of outriggers, steering, suspension and heat dissipation.

Electrical

System

DC 24 volts is in series with two 12-volt battery packs.

Superstructure

Gearbox

Electric controlled transmission with hydraulic torque converter imported from Allision America, equipped with retarded brake, with 6 forward gears and 1 reverse gears available

Frame

Designed and manufactured by XCMG, made of high-strength steel.

TYansfercase

Electric controlled transmission with hydraulic torque converter imported from Allision America, equipped with retarded brake, with 6 forward gears and 1 reverse gears available

Superstructureengine

OM936LA.E4/3 , in-line six-cylinder water- cooled EFI diesel engine, manufactured by

Daimler, rated power 281.6hp/ 2200 rpm, max. torque 848.2lb-ft / 1200 ~ 1600 rpm, EPA Tier4f / EU Stage4 emission standards.

Fuel tank capacity : 76.6gal.

Alxes

High strength axle with reliable performance, imported originally from KESSLER Germany, equipped with pneumatically controlled drum brake. The 4th axle is fitted an axle-disconnecting device. 1st, 3rd and 5th alxes driving is applied during normal road travel, and 1st, 3rd, 4th and 5th alxes driving on complex road conditions.

Hydraulic system

Variable pump driven by superstructure engine, used for hoisting, elevating, telescoping and slewing operation. Imported electro- hydraulic direction valve, matching perfectly stably. Large power Air-cooled hydraulic oil cooler, which may effectively reduce the temperature of oil in the system.

Suspension

Hydro-pneumatic suspension is adopted for all axles, providing good shock absorbing effect. Functions of automatic leveling, suspension lifting, elastic/rigid state switch-over, etc. are available.

Stroke of suspension cylinder: -5.1in~+5.1in.

Operating mode

Variable continuous speed regulation. Electric proportional pilot control of all operation of

hydraulic pump and proportional valve to control the crane by 2 control handle.

Tires

12 tires, each axle is equipped with single tire, manufactured by Michelin, large bearing capacity.

Tire specifications: 445/95R25(16.00R25).

Main winch

system

Hydraulic controlled speed regulation, with groove drum equipped, driven by hydraulic variable motor through planetary gear reducer, and with built-in constant closed brake, equipped with imported wire rope and pouch socket.

Brakes

Service brake: double-circuit air pressure brake, acting on all wheels.

Parking brake: spring energy brake, acting on wheels of 2-6 axles.

Auxiliary brake: engine brake, transmission retarded brake.

XCMG——XCA300U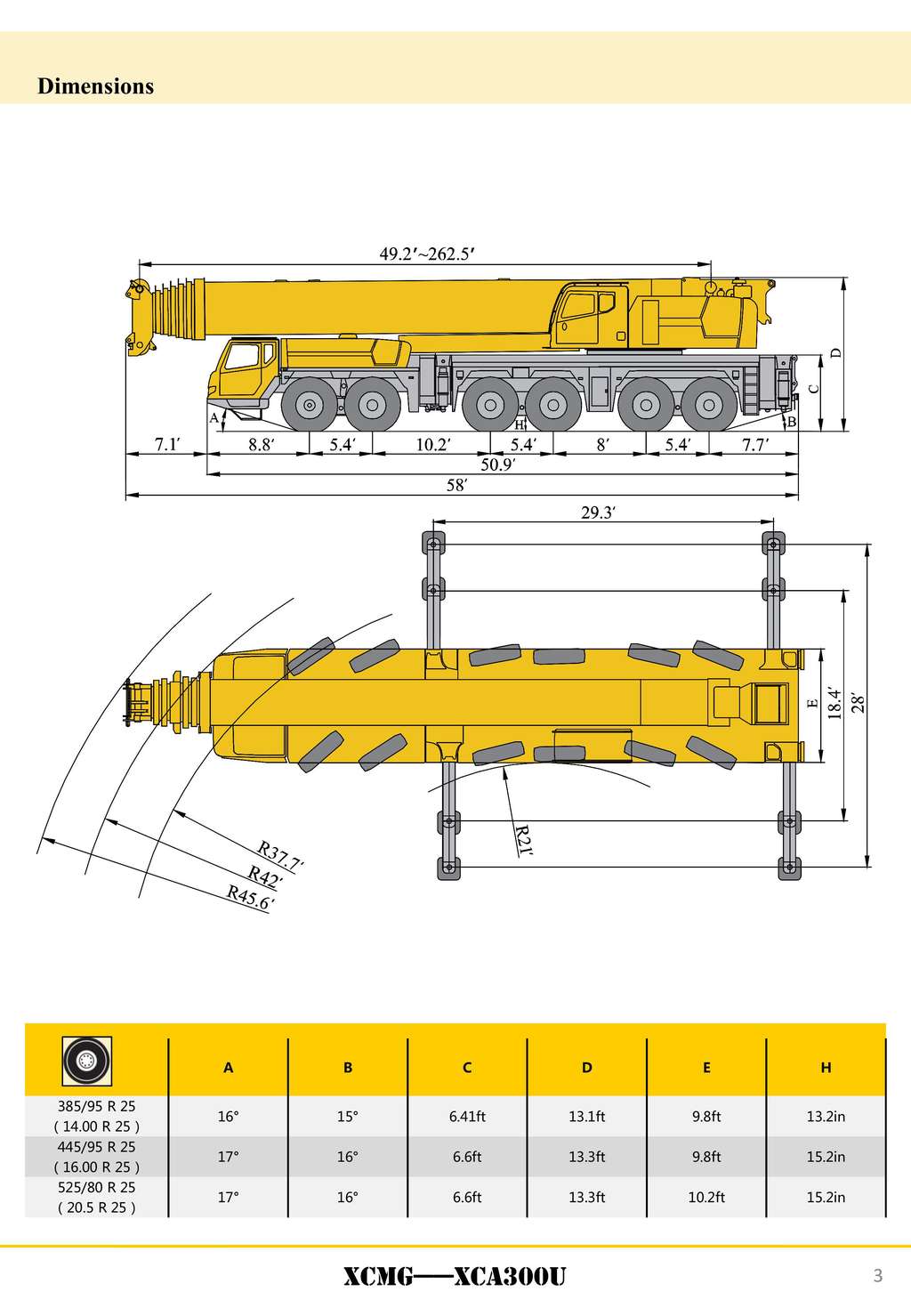 Technical specifications

Additional equipment

Slewing system

Single row four-point ball contact external gearing slewing ring and right-arranged double slewing mechanism, driven by a hydraulic motor, with a planetary gear reducer and a normally closed brake equipped, for 360° continuoxis rotation. Power control and

free slewing function as well as stepless speed regulation are available.

Auxiliary winch system

Hydraulic controlled speed regulation, with groove drum equipped, driven by hydraulic variable motor through planetary

gear reducer, and with built-in constant closed brake, equipped with imported wire rope and pouch socket.

Operator's

cab

Large arc glass, swing-out door, adjustable seat, equipped with safety glass and top protective rails, LMI, controller box, electric wind shield wipers, engine accelerator pedal, engine start switch and windshield visor, etc. are also available, heater and air conditioner are standard.

Jib

Lattice welding structure, with 0° , 20° and 40° jib offset angles available.

Jib length: 19.7ft〜118.1ft

Length of wind power jib: 26.2ft.

Safety

devices

Hydraulic balance valve, Hydraulic relief

valve, Double-way hydraulic valve, LMI.

Spring centering system for control levers. Lowering limiter for preventing wire rope from over-releasing. Anti-two block at boom head for preventing wire rope from overwinding. Anemometer fbr measuring the wind velocity.

Single top

Installed at the boom top, used for single line operation. Its lifting performance is the same as that fbr boom, but the max. lifting load could not exceed 24691.91b.

LMI

The safety protection device is installed in operator's cab. When actual moment approaches overload value, it may send out visual alarm, and automatically stop dangerous movements before overloading. Overload memory function (black box) and fault selfdiagnosis function are available.

Super-lifting

Y-type super lifting device may be installed at the end of the basic boom. The design of two parts of line super lifting wire rope enables the pulling force of the super lifting double i叫roving. With the super lifting device, under longer boom length, the boom deflection may be reduced by 20%-30%, and the lifting performance be doubled.

Combined counterweight

Total weight is 22046lib.

6 counterweight combinations of 01b, 440931b, 881851b, 1322771b, 1763691b and 2204611b are available.

Tires

12 tires, each axle is equipped with single tire, manufactured by Michelin, large bearing capacity.

Tire specifications:385/95R25 ( 14.00R25 ) or 525/80R25 ( 20.5R25 ).

Electrical

System

DC 24 volts is in series with two 12-volt

battery packs.

Brake

Eddy-current retarder brake, which are safe and reliable, and will prolong the service life of brake lining.

Boom system

Boom

7-section, U-shape cross section, welding structure. Single-cylinder pinning interlocked telescoping system. One double-acting cylinder with safe valve assemblies used for control of the telescoping movement of all booms, 46%, 92% and 100% telescoping pattern are available.

Boom length:49.2ft ~ 262.5ft.

Light jib

Lattice welding structure, with 0°, 20° and 40° jib offset angles available.

Light Jib length: 37.4ft ~ 129.3ft.

Suspension

The front and rear suspensions all adopt multi-disc leaf springs, with features of large bearing capacity, strong universality and easy maintenance.

Product parts details As mentioned above, please refer to the product quotation for specific parts.

XCMG——XCA300U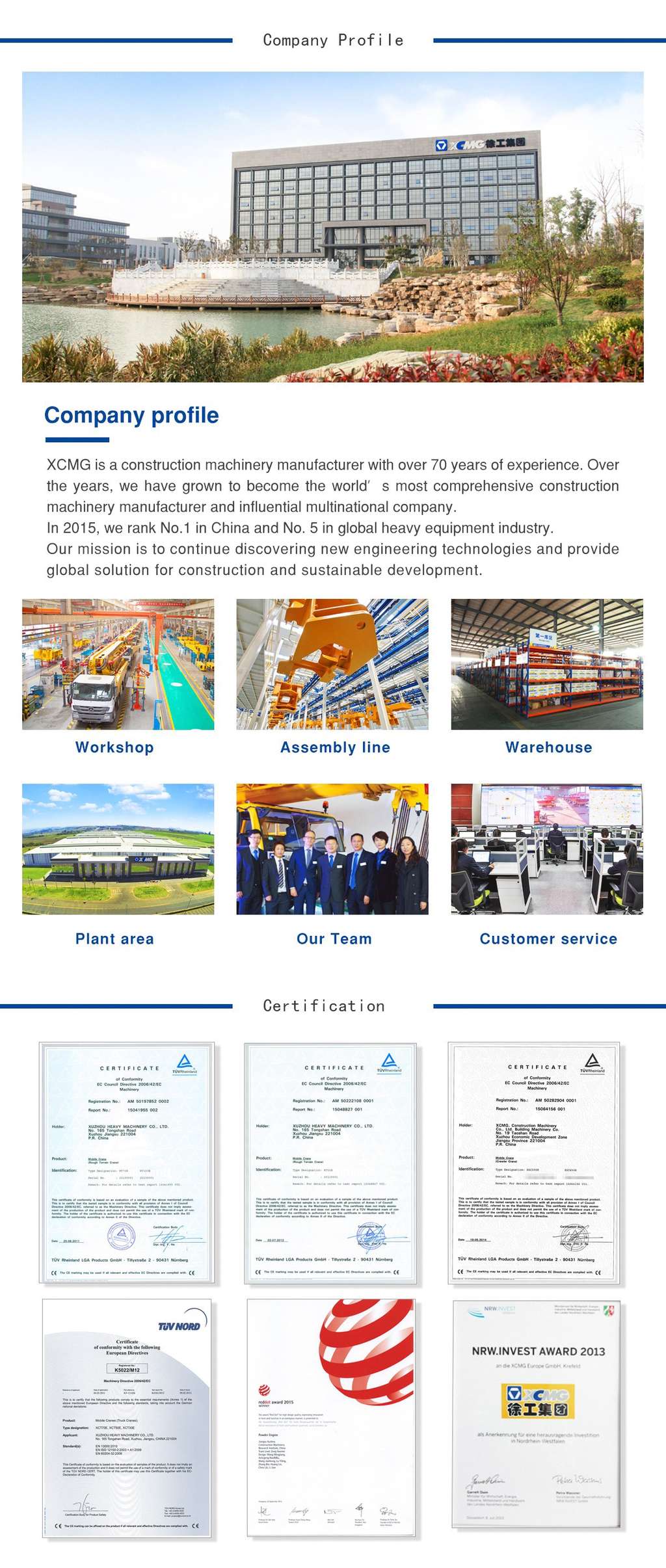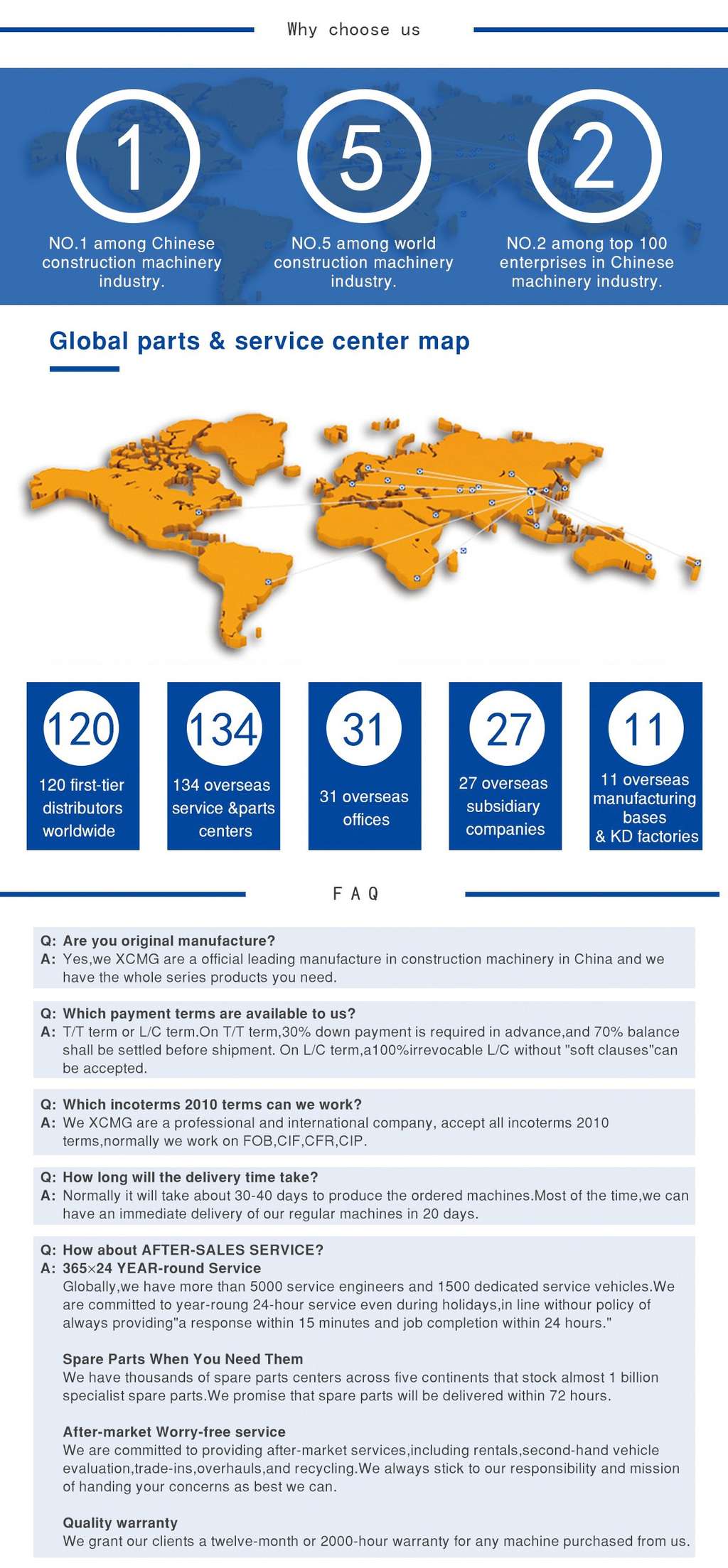 Response Time : Within 24 hours
Xuzhou Construction Machinery Group Co., Ltd. XCMG was founded in 1943. Since then, XCMG has stood at the forefront of the Chinese construction machinery industry and developed into one of the domes