Engineering & Construction Machinery
>
Road Construction & Maintenance Machinery
>
Cold Recycler
>
XCMG
>
XCMG Official China Road Cold Recycle...

Summary
Details
360-Degree VR Videos
Summary
Rated Power:

571kw

Model Number:

XLZ2305K

Place of Origin:

Jiangsu,China

Rated Speed:

2100rpm

Paving Width:

2300mm

Paving Thickness:

430mm

Certification:

CE/ISO9001
Details
weight:

33500.000kg

Condition:

New

Moving Type:

Other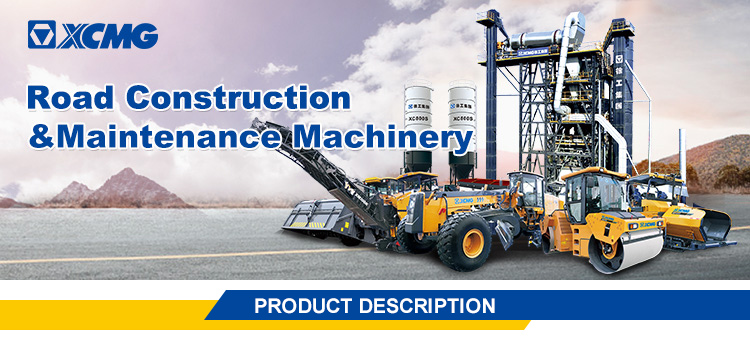 XCMG Official China Road Cold Recycler XLZ2305K.
XLZ2305K road reclaimer is a set of multi-functional road maintenance equipment. It is mainly used for upgrading and reconstruction of old asphalt pavement. It is mainly used for mixing fillers, cement, limes and other objects with natural soil, so as to improve mechanical and physical properties of soil. It can be also used for milling damaged asphalt or asphalt concrete pavement with the thickness of 250mm and below.
* The milling width of the road reclaimer is 2300mm; generally, the maximum milling depth is 430mm.
* Milling rotor will be driven by two groups of (13) belts of automatic tightening devices, quick-change tool apron rotor getting Xugong patent technology guarantee cutter can be installed and disassembled conveniently, so a worn cutter can be quickly changed, thereby greatly lowering the cutter changing labor intensity, extending the effective working time of the machine and improving working efficiency.
* Running system has 4 speed governing gears. It has four wheels for running and steering; their low-pressure wide base big pattern tyres can run stably, with big adhesive force.
* Sprinkling system has water spraying function; and it can manually and intelligently control the medium spraying volume.
* Automatic depth control: built-in sensor of hydraulic cylinder is used for detection, and milling depth can be displayed on display.
* The intelligent control system can achieve on-line display, fault diagnosis, fault alarm, maintenance hints and other advanced functions in working mode and walking mode; at the same time, various data can be directly read through display.

| | | |
| --- | --- | --- |
| Item | Unit | XLZ2303K |
| Milling width | mm | 2300 |
| Maximum milling depth | mm | 430 |
| Cutter spacing | mm | 18 |
| Diameter of milling wheel (with cutter) | mm | 1480 |
| Manufacturer |   | Weichai |
| Cooling type |   | Water-cooling |
| Model |   | WP17G700E302 |
| The quantity of cylinder stator |   | 8 |
| Rated power | kW | 515 |
| Engine speed | rpm | 2100 |
| Oil consumption: Full load | kg/h | 111.4 |
| Working speed | km/h | 0-3 |
| Traveling speed | km/h | 0-12 |
| Theoretical gradeability (working gear) | % | 50 |
| Ground clearance | mm | 350 |
| Front axle load | kg | 19500 |
| Rear axle load | kg | 14000 |
| Shipping weight | kg | 33500 |
| Fuel tank | L | 1500 |
| Hydraulic oil tank | L | 320 |
| Water tank | L | 200 |
| Voltage of electric system | V | 24 |
| Machinery(length*width*height) | mm | 9340x3218x3197 |